Lo Mein
This Vegetable Lo Mein gets 10 out of 10 for flavor! It's SO good. With ginger, garlic, and fresh vegetables, there's no better way to do dinner on a weeknight.
Don't be suckered into Chinese takeout. It might be convenient, and it might even be delicious, but you can do better in your own kitchen! All it takes is a few spices, some noodles, fresh vegetables, and Chef Shamy Parmesan Basil Garlic Butter!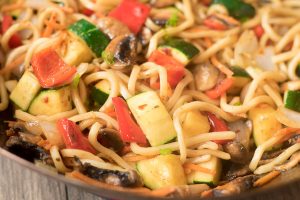 Ginger and Garlic
Ginger and garlic are two of the most recognizable flavors in Asian cooking. So add some fresh grated ginger to Garlic Butter to give yourself the base for any of your favorite Chinese dishes.
I always prefer to use fresh grated ginger. It's easy to buy, and you can find it in almost any grocery store. And it's pretty cheap.
But if you're in a pinch, and you only have ground ginger, have no fear. Here's some easy conversion information. So use what you have, but next time you're at the store, buy fresh ginger!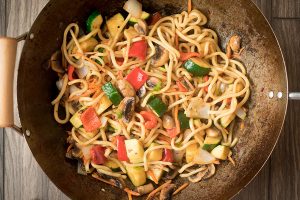 Lo Mein Noodles
There are a lot of different ways to honor traditional lo mein noodles. You can buy the actual noodles at specialty Asian food stores, or at your grocery store (some grocery store won't carry them).
Sometimes I use Ramen noodles. Cook them, but don't add the flavoring packets; this sauce will be plenty of delicious flavor for them.
If I'm really in a bind, I'll use spaghetti noodles. They'll do a passable imitation of lo mein.
As always, feel free to do whatever works for you!
Enjoy!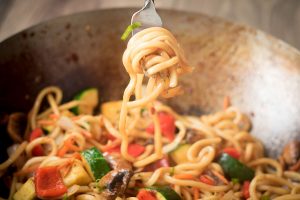 Vegetable Lo Mein with Garlic and Ginger
Course: Lunch, Dinner
Ingredients
1 T freshly grated ginger

8 oz cremini mushrooms, sliced

1 red bell pepper, diced

2 zucchini, diced

1 carrot, grated

1 onion, diced

16 oz lo mein noodles

FOR THE SAUCE

⅓ cup reduced sodium soy sauce

2 T brown sugar

1 T chile paste

1 tsp sesame oil
Directions
In a small mixing bowl, whisk together soy sauce, brown sugar, chili paste, and sesame oil until combined. Set aside.
In a wok or large skillet, melt Garlic Butter over medium high heat. Add ginger and saute 1-2 minutes, until fragrant.
Stir in mushrooms, bell pepper, zucchini, carrot, and onion and saute until vegetables are about tender.
Add cooked noodles and sauce and toss to combine. Allow sauce to reduce a little and coat the noodles and vegetables.
Serve warm, garnished with green onion.