Baked Ziti
Super Cheesy Baked Ziti is one of my favorite Italian dishes! It's similar to a lasagna, except without the layers. Or the lasagna noodles. But the elements are the same. A delicious red sauce bursting with meat, and a soft ricotta cheese mixture flavored with fresh herbs.
And pasta. We use ziti, which is a long tubular noodle. It's a perfect texture to go with the rest of the ingredients. And once everything is combined, baking it like a casserole really helps to marry the flavors together.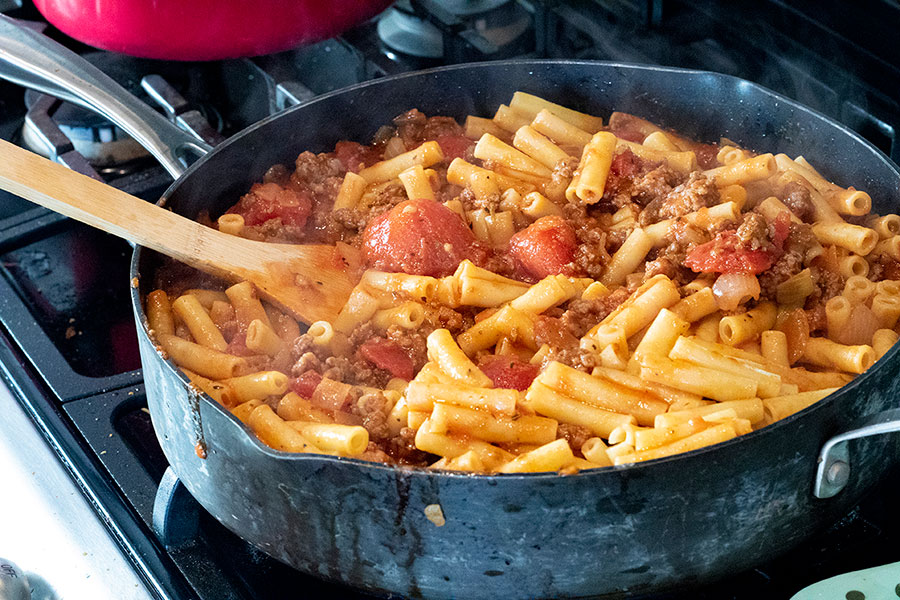 Cheesy
There's no such thing as too much cheese. I've said it before and I'll say it again. Cheese is life. And as the title suggests, there is a lot of cheese in this recipe. Three different types of cheese, in fact: mozzarella, Parmesan, and ricotta.
Each cheese is important. Mozzarella is a must for Italian food. Parmesan is salty, and ricotta is creamy and delicious.
We supplement our ricotta mixture with some fresh parsley, and of course, our Fresh Churned Garlic Butter.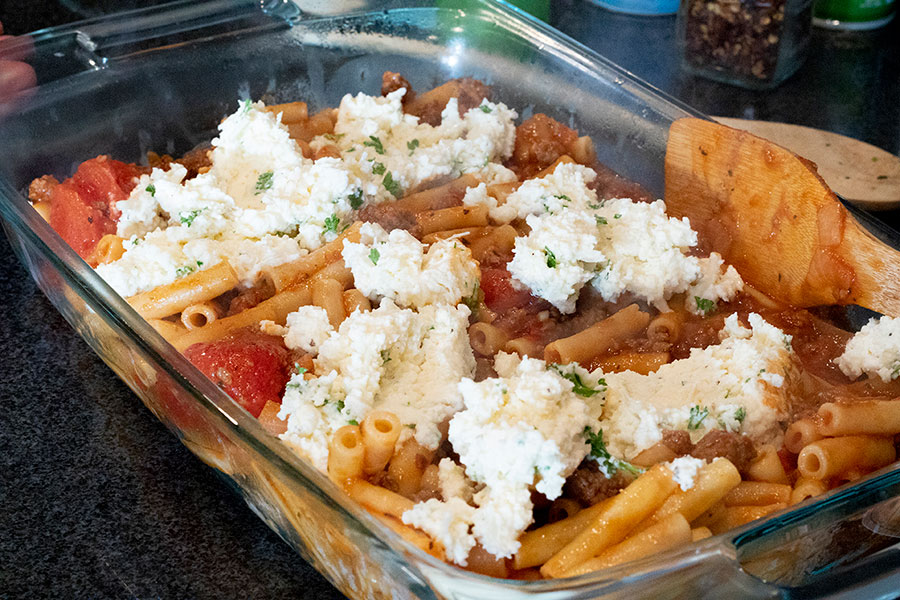 Meat Sauce
In a baked ziti dish like this, the meat sauce is really important. Ours starts with onions sautéed in Garlic Butter. It's a great way to impart flavor into the onions. Then we used both ground beef and Italian sausage. The two meats together are a great combination. The sausage adds a little hint of heat.
Add some tomato sauce– both marinara and canned whole tomatoes, and some herbs and spices. Let it simmer to get all the flavors married.
Once it's combined with the pasta and ricotta mixture, top with a little extra cheese.
Because there's no such thing as too much cheese!
Enjoy!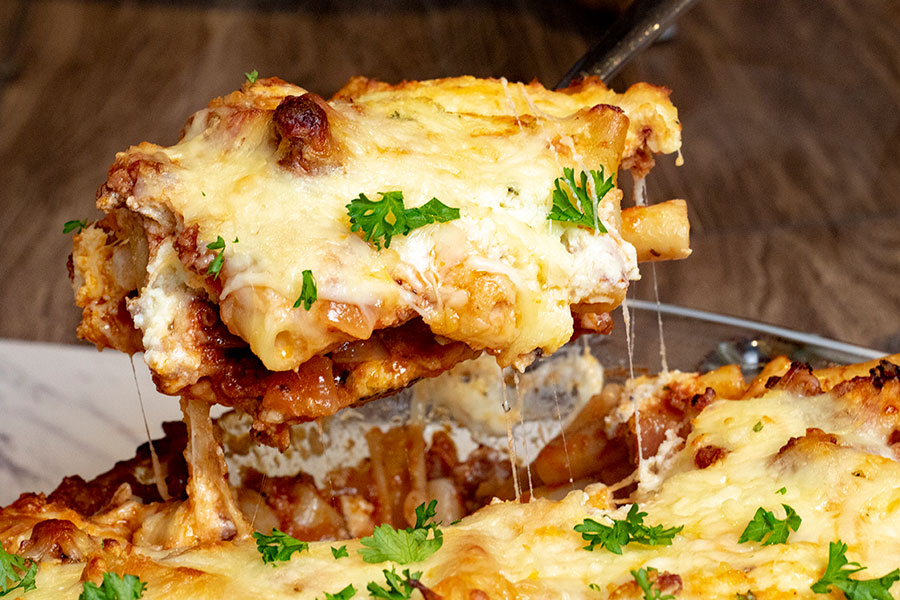 Super Cheesy Baked Ziti
Course: Dinner
Ingredients
1 onion, diced

1 lb ground beef

1 lb Italian sausage

23 oz jar marinara sauce

1 (28 oz) can whole tomatoes with juice

1 tsp dried oregano

1 tsp dried basil

½ tsp pepper flakes

Salt and pepper, to taste

1 lb ziti

2 cups Mozzarella cheese

15 oz tub ricotta cheese

½ cup grated Parmesan cheese

2 T chopped fresh parsley

1 egg

½ Mozzarella cheese for the top
Directions
Preheat oven to 375° F.
In a large skillet or pot, melt Garlic Butter over medium heat. Add onion, ground beef, and Italian sausage, and cook until meat is browned. Add marinara sauce, whole tomatoes, oregano, basil, red pepper flakes, salt, and pepper.
Bring to a simmer and cook for 15-20 minutes.
Meanwhile, cook the ziti according to package directions, in a pot of boiling water.
Meanwhile, scoop the ricotta cheese into a mixing bowl. Add Parmesan, parsley, Garlic Butter, and egg. Mix until completely combined and smooth.
In a large greased 9×13 pan, spoon half the meat mixture into the bottom.. Dollop the ricotta mixture and spread as evenly as possible. Top with the remainder of the meat mixture.
Sprinkle extra Mozzarella cheese on top.
Bake at 375° F for 20 minutes, or until cheesy is melty and sauce is bubbling.
Serve.