Stir Fry
Spicy Shrimp Stir Fry is a great recipe for a couple of reasons. I love a good stir fry– they're easy and delicious. This one is bursting with flavor and can be made in in under 20 minutes.
A stir fry is usually packed with vegetables, and this one is no exception. There are 4 of your 8-10 recommended servings of vegetables and fruit every day: red bell peppers, sugar snap peas, onions, and broccoli. And you could add another veggie or two if you so desire: try some zucchini, or throw another color of bell pepper in there!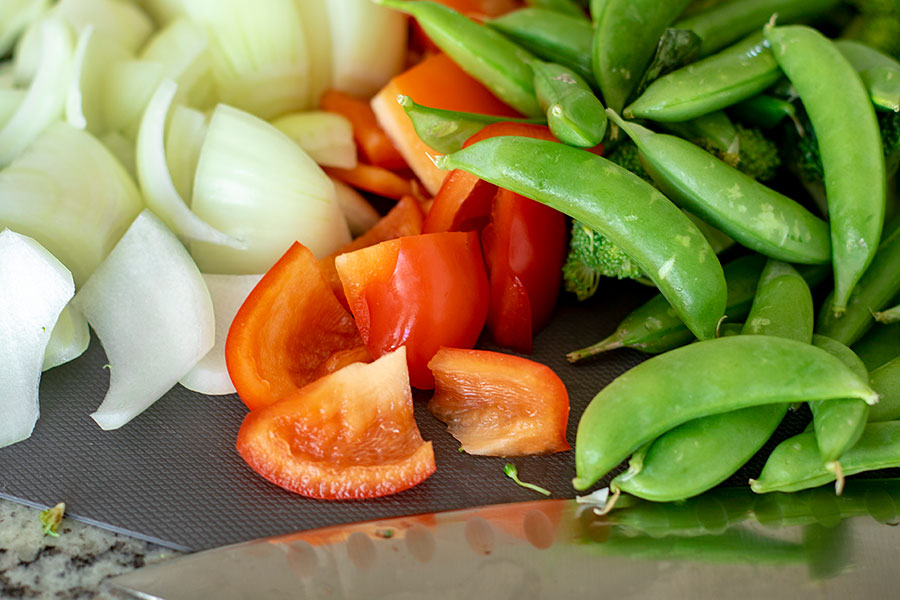 Shrimp
Let's talk shrimp. If you're lucky enough to live in a place where access to fresh seafood is easy and cheap, then this won't be a problem for you.
If you live in a landlocked state, or find yourself far from the ocean, then shrimp is more of an issue. We used frozen shrimp– the key is to make sure they are clean, and as fresh as possible. You don't want shrimp that have been sitting in your freezer for several months.
Don't over cook them! This recipe is quick. If you prefer really tender vegetables, cook the shrimp, then remove them from the pan. This allows time for the veggies to cook down without overcooking the shrimp.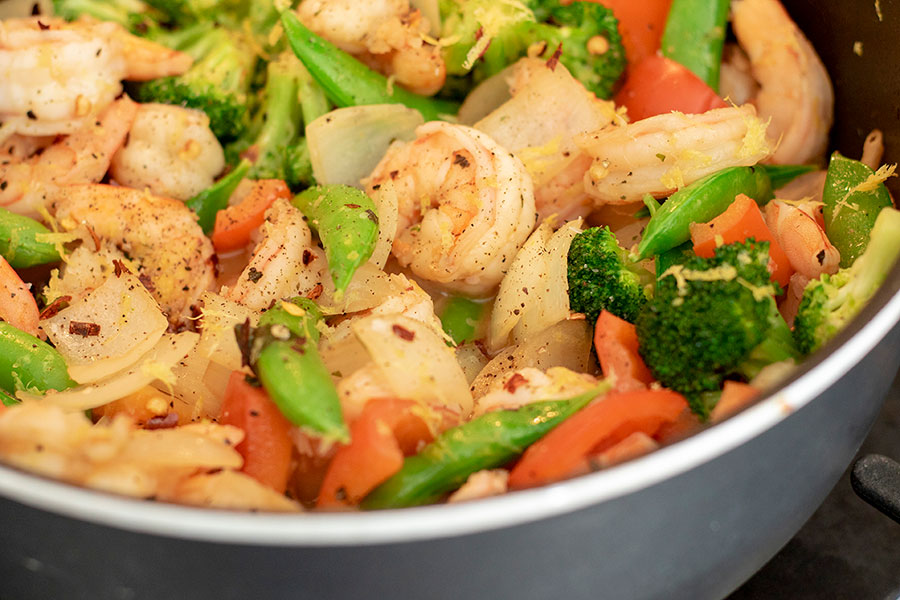 The Flavors
The first and most important flavor in this dish comes from Chef Shamy Garlic Butter. It creates a delicious base layer of seasoning on everything. There's a great punch of garlic, as well as some richness from the butter itself.
As for the rest of the flavor, we use chili flakes, lemon, and soy sauce. The amount of chili flakes you use is totally customizable. If you like spicy food, make the recipe as is. Otherwise, add a little less. Lemon brings out some brightness and acidity in the dish, and you can't have a stir fry with at least a little soy sauce.
And don't forget salt and pepper!
Enjoy!
Spicy Shrimp Stir Fry
Course: Dinner
Ingredients
2 cups frozen shrimp

1 red bell pepper, large dice

4 oz sugar snap peas

1 medium onion, chopped

1 cup chopped broccoli florets

2 tsp chili flakes (add less if you don't want it too spicy)

Juice of half a lemon

Zest of half a lemon

1 T Soy sauce

Salt and pepper
Directions
Melt butter in a large skillet over medium heat. Add shrimp, and stir to coat. Cook for 2 minutes, then add bell pepper, peas, onions, and broccoli.
Then add chili flakes, lemon juice, lemon zest, and soy sauce.
Cook about 5 minutes, until everything is combined and cooked.
Season with salt and pepper to taste.
Serve with rice.