Shepherd's Pie
Shepherd's Pie is a British dish traditionally made from leftover meat and vegetables, topped with mashed potatoes. A classic pie is made with lamb, but we prefer ground beef because lamb is both expensive and hard to find.
The ground beef is cooked with vegetables (onion, carrot, peas, and corn) and beef broth. It's a saucy, delicious mixture that's topped with mashed potatoes and baked until the top is crusty.
This is a perfect weeknight dinner that the whole family will enjoy!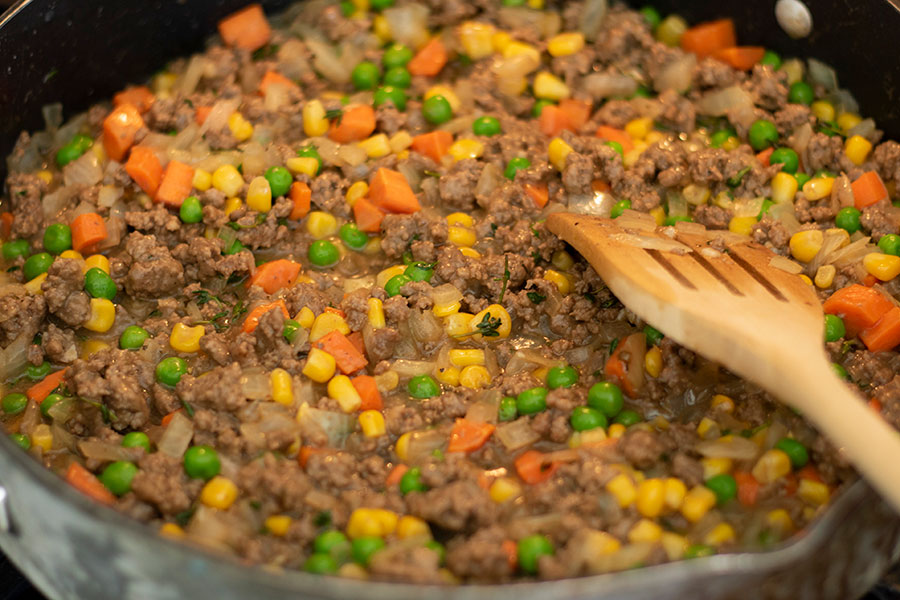 Cheesy Potatoes
Shepherd's Pie isn't normally cheesy– sometimes there's a sprinkle of cheese on the top of the potatoes. But our motto is that there's no such thing as too much cheese.
So our recipe calls for a bunch of shredded cheddar in the mashed potatoes, enough to make them really cheesy! And it really compliments the meat mixture underneath. I love having the cheese in the potatoes instead of just on top– it helps the potatoes stay really creamy and flavorful.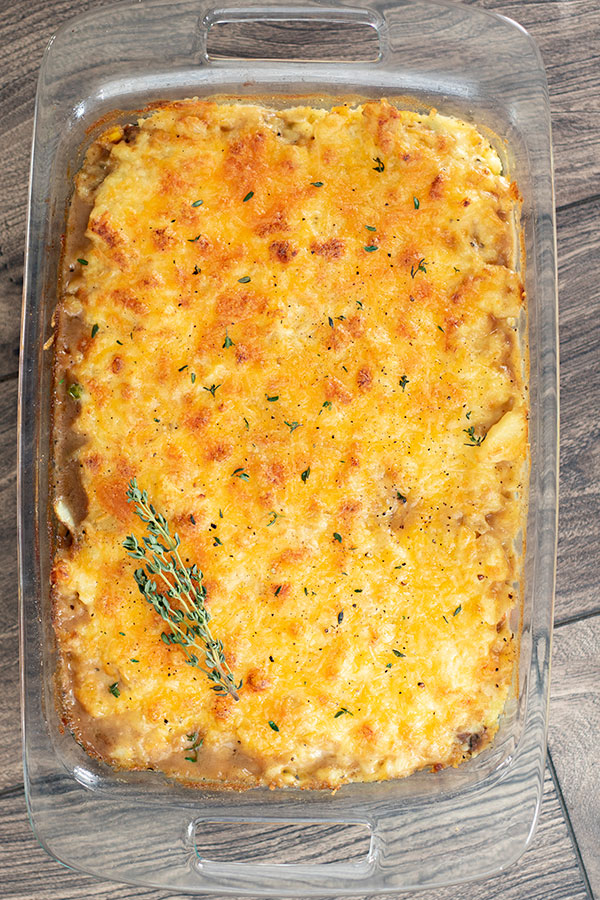 Garlic Butter
Speaking of flavorful, the real key to this recipe is Chef Shamy Garlic Butter. And we use it twice in this dish!
The first is in the meat mixture. We saute the onions and carrots in Garlic Butter to add a lot of flavor at the beginning!
Then we add some more Garlic Butter to the taters. There's nothing better than a delicious garlic mashed potato!
Amp it up another step by serving Garlic Bread as a side dish!
Enjoy!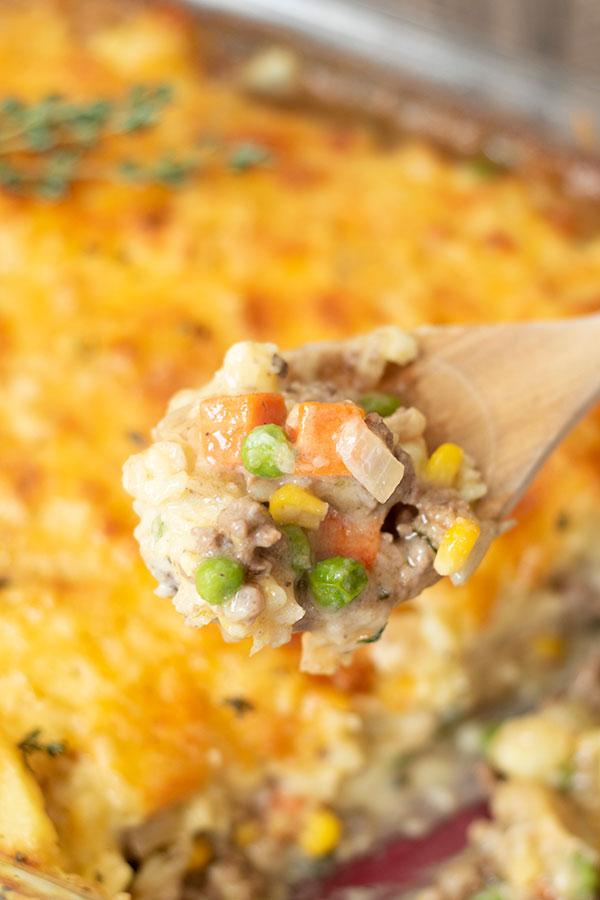 Easy Cheesy Shepherd's Pie
Course: Dinner
Ingredients
FOR THE BEEF AND VEGETABLE LAYER:

1 lb ground beef

1½ cup onion, chopped

1 cup carrot, chopped

½ cup frozen peas

½ cup frozen corn kernels

2 T Flour

1 T fresh thyme

1 cup beef broth

Salt and pepper, to taste

FOR THE MASHED POTATO LAYER:

1½ lb potatoes, peeled and cubed

½ cup half and half

1¼ cup shredded cheddar cheese

Salt And pepper, to taste
Directions
In a large saucepan or skillet, brown ground beef over medium heat, about 5 minutes, Drain fat, then add Garlic Butter. Add onion, carrot, peas, and corn to the skillet and mix to coat.
Cook an additional 5 minutes. Sprinkle flour into the mix and stir to thicken. Add beef broth slowly, allow the mixture to become gravy like. Add thyme, salt, and pepper, and turn off heat.
Meanwhile, place potatoes into a large pot and cover with water. Bring to a boil and cook until potatoes are soft.
Add half and half, Garlic Butter, cheese, and salt and pepper. Mash until smooth.
Preheat oven to 425° F.
Pour meat mixture into the bottom of a greased 9×13 baking dish. Spread cheesy potatoes over top, and sprinkle extra cheese on top, if desired.
Bake at 425° for 20-25 minutes, or until there is a slight crust on the potatoes.
Serve.