Say it with me now: Banana Pancakes!
One of my favorite breakfast foods is pancakes. There's something nostalgic about it for me: my mom always made banana pancakes from scratch. The smell of the frying pan heating up, the sound of the batter sizzling as it's being poured into it, the sweet taste of the syrup- it all takes me back to Saturday mornings when we'd pour ourselves a big glass of milk and wolf down two or seven banana pancakes. Sometimes, my mom would even make them for dinner on the weekends when she just wanted to whip up something quick.
Banana Pancakes with Macadamia Nuts
We put bananas and macedemia nuts in our favorite ones- they were delicious and magically tropical. The sweetness of the bananas with the occasional crunch of the rich, buttery nuts; not to mention a little extra Cinnamon Brown Sugar Honey Butter on top, it hit the spot. Add a little whipped cream or syrup and you've got a beautiful breakfast (or lunch or dinner!) that could rival any candy, but it's healthier than candy… right?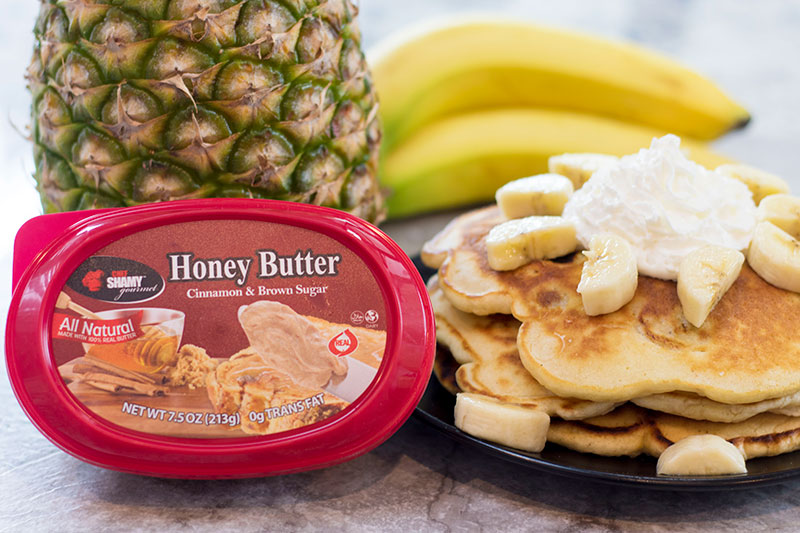 The Magical Versatility of Pancakes
One of the best things about pancakes is their versatility because you can add whichever ingredients you want. Any kind of fruit would work well and when it comes to fruit, I say the more the merrier! Adding fruit brings a freshness and natural sweetness without needing to put as much syrup on the pancakes. How ever you decide you want to do it, it'll be sure to be a family favorite!  You can add caramels or chocolate chips.  Or even vegetables… haha, no, don't do that- let's be real. (If you are looking for a healthier pancake, I find this one to be a good recipe.)  Sometimes I like to put peanut butter and jelly on mine.  Or a favorite that sounds weird is simply lemon and powdered sugar.
Macadamia Nut Banana Pancakes | Chef Shamy Butter
Course: Breakfast
Directions
In a large bowl combine the wet ingredients
In a separate bowl combine the dry ingredients
Fold the dry ingredients and combine until mixed, don't over-mix
In a large pan, melt a pat of butter and slowly pour in 1/2 cup of the batter
Cook until the bubbles have stopped rising to the surface and then flip
Cook an additional 3 minutes
Top with whipped cream and more bananas or any Chef Shamy Butter