Cookies in a Skillet
One of my favorite things is a good old-fashioned chocolate chip cookie. Is there anything more classic? We all have our family recipe and we all think it's the best one. But have you ever tried make your recipe into a cookie skillet?
It's pretty straightforward: make the cookie dough and press it into a 10 inch cast iron pan. Bake it as one large cookie, then serve with vanilla ice cream! For me, it's the perfect way to do it, because the crust of the cookie gets nice and crisp, while the inner portion is still a little gooey. It's decadent beyond decadent!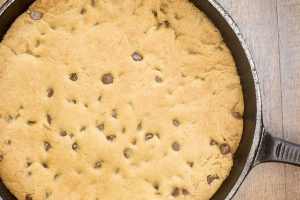 Vanilla, Two Ways
Vanilla is an important thing in this recipe:
Obviously, vanilla is important in the cookie dough itself. That's where Chef Shamy Vanilla Bean Honey Butter comes in. It's kind of great to have your butter already infused with real vanilla beans!
The other vanilla is, of course, vanilla ice cream. You can't have a cookie skillet without vanilla ice cream! So choose your favorite brand and plop a couple scoops right on top. And don't forget the chocolate and caramel sauce!
Enjoy!