Salmon
Salmon– you either love it or you hate it. But I guarantee you'll love this easy Sheet Pan Salmon and Vegetables recipe!
The key to salmon is twofold: great flavor and cooking it well.
Chef Shamy Garlic Butter has you covered as far as flavor is concerned. The buttery garlic taste compliments the fish perfectly. Add a squeeze of fresh lemon juice and you're in business!
If you overcook salmon, it can be dry, rubbery, and tasteless. And because fish doesn't have to be well done, it's better to serve it medium. This prevents the salmon from overcooking.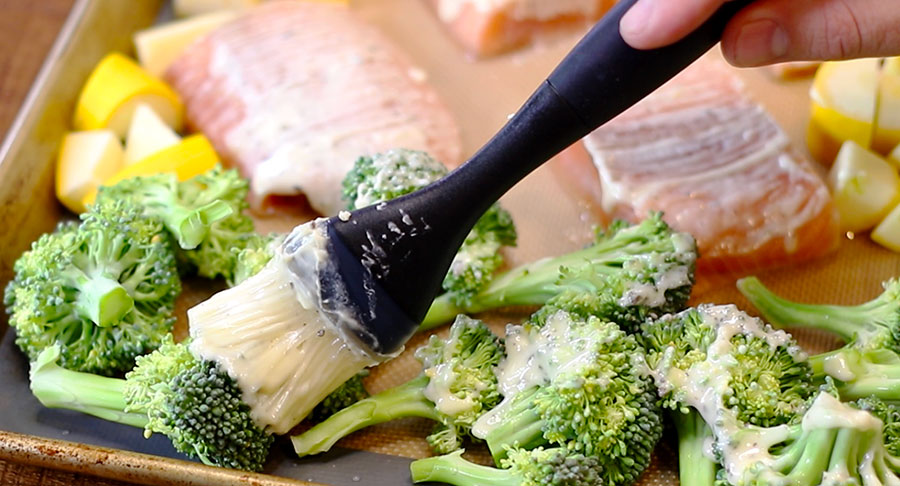 Sheet Pan
I love to cook salmon in the oven. You can control the temperature and the fish can bake for just long enough to be perfect. This handy dandy sheet pan method means that not only will you have fantastic fish, you'll have perfect vegetables as well!
The cleanup is easy because you're only using one pan. One pan meals are the best– There's something so gratifying about having the whole meal done at the same time!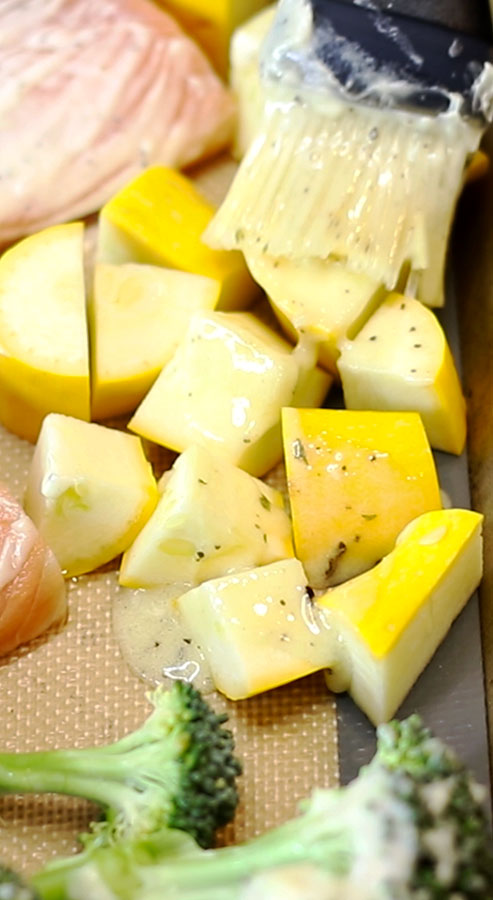 Vegetables
Our recipe calls for red onion, broccoli, and yellow squash. All of these pair well with salmon, all them taste great with Garlic Butter, and all of them were in season and on sale in our grocery store!
But you can pick and choose based on any of those criteria. Choose what you like! Eating healthy is no fun if you don't like the veggies you're eating.
Pick what's in season and what's on sale! Everything tastes better with Garlic Butter, so whatever you choose will be delicious!
Enjoy!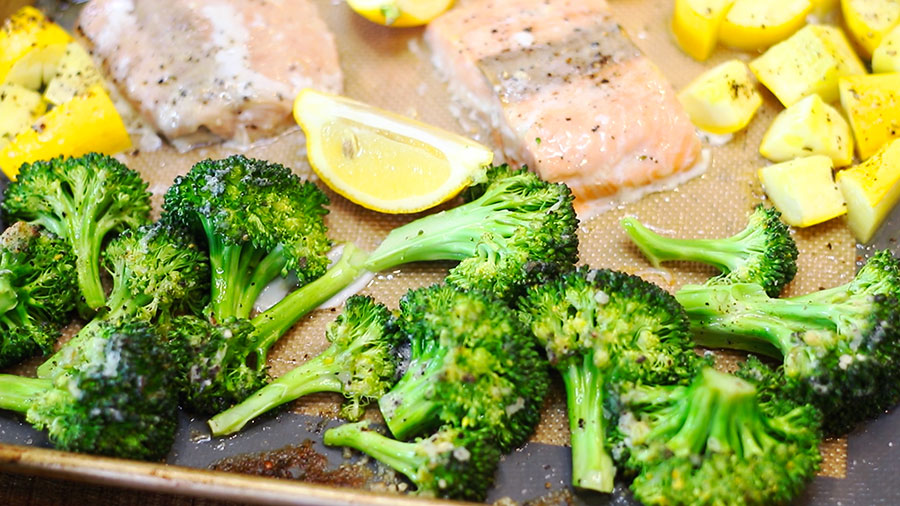 Sheet Pan Salmon and Vegetables
Course: Dinner
Ingredients
4 (4 oz) salmon filets

1 medium yellow squash, cut into 1/2 inch pieces

2 cups broccoli florets

1 cup red onion, large chopped

Salt and pepper

1 lemon, cut into wedges
Directions
Preheat oven to 400° F.
On a large sheet pan, arrange the salmon filets, squash, broccoli, and red onion.
Brush salmon generously with half of the Garlic Butter. Drizzle the rest of the Garlic Butter evenly over the vegetables.
Season with salt and pepper.
Bake at 400° F for 12-15 minutes, or until salmon is cooked to your liking.
Garnish with lemon wedges, and squeeze some lemon juice onto the salmon.
Serve immediately.