Ramen
Ramen is the the new food craze– the big thing around town! These places are popping up all over the place! But why go out when you can make it just as easily at home? This Quick Homemade Chicken Ramen seriously takes about 15 minutes to make.
What is Ramen anyway? (Besides the packaged noodles we remember from our college dorm rooms.)
It's simply noodles in a delicious broth with some vegetables and some meat (or not if you're vegetarian). Simple. Straightforward. Healthy. EASY.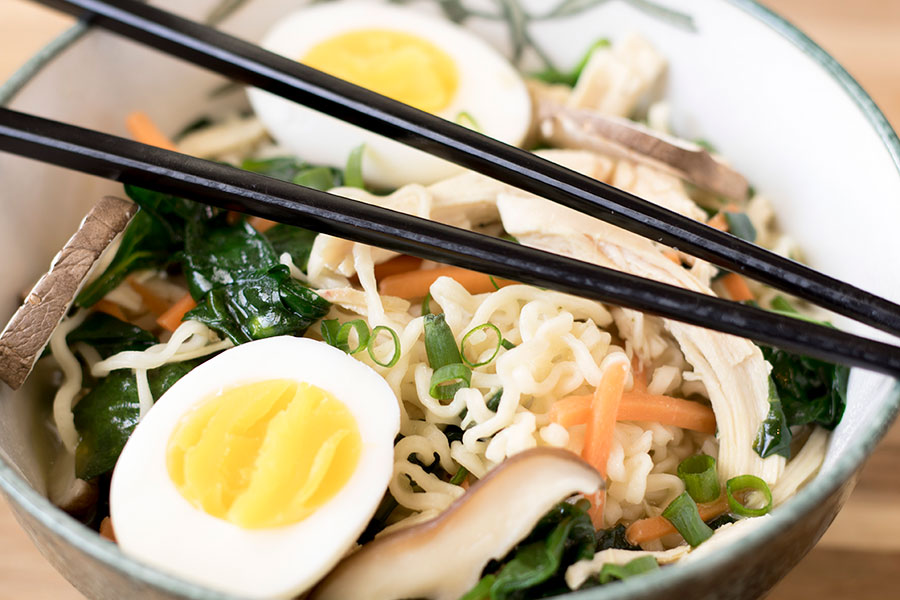 Garlic and Ginger
It's no secret that garlic and ginger are a match made in heaven. So the perfect way to start this chicken ramen is some Chef Shamy Garlic Butter and some fresh ginger. All of the other ingredients you add will soak up those delicious flavors, and the whole dish is perfectly balanced and delicious.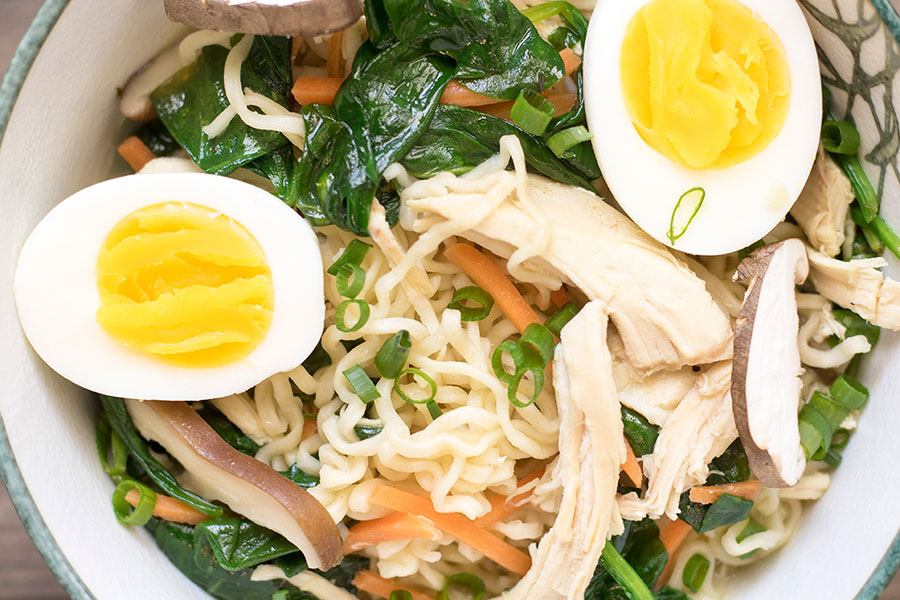 Making Things Easy
This recipe calls for rotisserie chicken, just to make things easy. If you want to make your own chicken and shred it up, do it! It's all about making this an easy dinner.
We're using the cheap ramen. If you'd rather find some different, more authentic Asian noodle, go for it. Even make your own, if you're in the mood!
Also, we bought matchstick carrots, rather than grating our own. And we bought sliced mushrooms as well! There's no shame in trying to get dinner on the table as quickly as possible!
Your family will love this quick and filling meal!
Enjoy!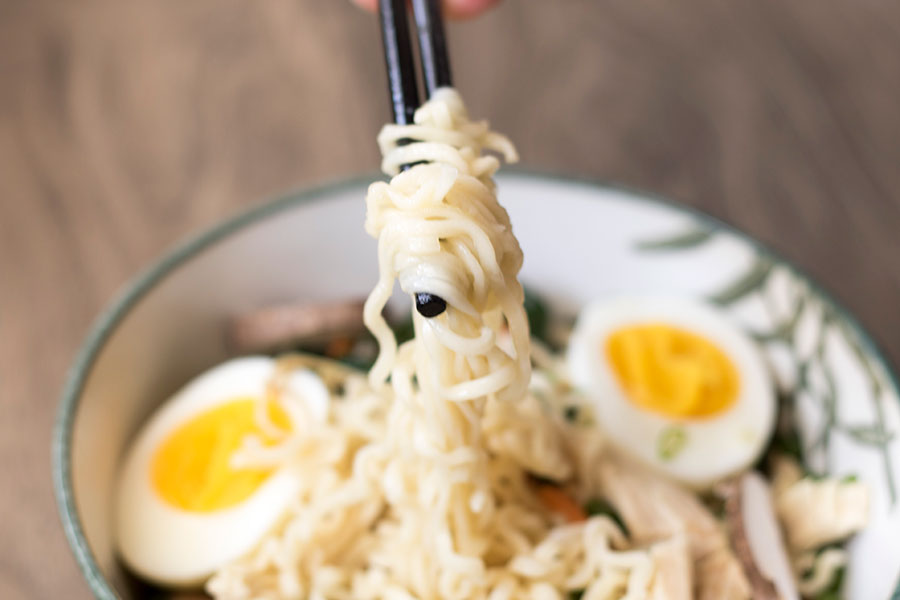 Quick Homemade Chicken Ramen
Course: Dinner
Ingredients
2 large eggs

1 T freshly grated ginger

¾ cup shiitake mushrooms, sliced

1 ½ cups shredded rotisserie chicken

7 cups chicken broth

2 T soy sauce

4 packets ramen noodles

3 cups baby spinach

1 carrot, grated

2 T green onions
Directions
Medium boil eggs in a saucepan. Fill pan with cold water, covering the eggs by 1 inch. Bring to boil and cook 1 minute. Take pan off heat and cover pan. Let eggs sit for 8-10 minutes before removing them. Let them cool before peeling.
In a large saucepan, melt Garlic Butter over medium heat. Add ginger and saute until fragrant. Add mushrooms and chicken, coating with the butter and ginger.
Pour chicken broth and soy sauce and bring to a boil. Add uncooked ramen, spinach, and carrot. Simmer just as long as is needed to cook the ramen, only about 3-5 minutes.
Remove from heat. Serve immediately.
Garnish with halved medium boiled eggs and green onion.