Jambalaya
There's something about New Orleans food that's comforting to me. I love the blend of spices and herbs. And this Quick and Easy Cajun Jambalaya is full of flavor! Actually, my favorite thing about it is all the colors from all the different vegetables. Eating something colorful makes you feel good and healthy, and it nice to be full at the same time!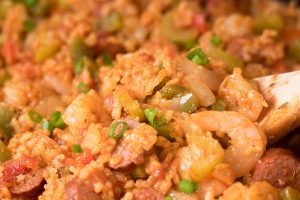 What About Garlic Butter?
So how does Garlic Butter fit into the equation? Because, let's be honest, we're Chef Shamy. There's got to be some butter in there somewhere.
True! Chef Shamy Parmesan Basil Garlic Butter actually adds a lot to this recipe! Garlic is an important flavor in any southern food, but Garlic Butter plus Cajun seasoning? Come on.
Speaking of Cajun Seasoning: you can make your own if you want to! Sometimes it's not worth the trip to the store if you already have all the components.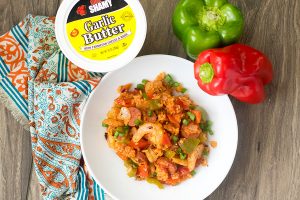 Let's Talk About Okra
It's gross.
Actually, not true. But I don't personally like okra. So it's not in this recipe. But you can add it in if you want to! A lot of jambalayas have okra, and a lot don't. Do you like okra?
Regardless of the okra issue, this recipe is delicious. It's sure to become one of your favorites for a busy weekday night!
Enjoy!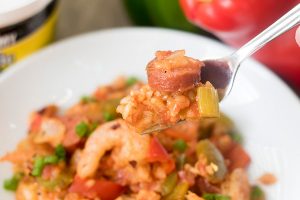 Quick and Easy Cajun Jambalaya
Course: Dinner
Ingredients
2 ribs celery, chopped

1 onion, diced

2 bell peppers, cored and diced (I used a red and a green)

2 jalapeno peppers, seeded and diced

1 pound andouille sausage, sliced into rounds

3 cups chicken or beef stock

1 (14 oz) can crushed tomatoes

1½ cups uncooked short grain white rice

1½ T Cajun seasoning

1 bay leaf

1 tsp dried thyme

1 pound raw shrimp, peeled and deveined

salt and pepper

Green Onions for garnish
Directions
In a large pot or deep saucepan, melt Garlic Butter over medium heat.
Add celery, onion, bell peppers, and jalapeno and saute until halfway cooked, about 3-5 minutes. Put in the sausage and saute an additional 3-5 minutes.
Add chicken or beef stock, tomatoes, rice, cajun seasoning, bay leaf, and thyme and stir until combined.
Reduce heat to low and cover. Simmer for 15-25 minutes, or until rice is tender and and liquid is most absorbed.
Uncover and add shrimp. Stir the shrimp and allow to sit for 5 minutes, so the shrimp can cook in the steam.
Season with salt and pepper.
Garnish with green onions and hot sauce, if desired.
Notes
For a more spicy Jambalaya, add an additional 1/2 Tablespoon of cajun seasoning.