Berry Parfait Cups
One of my favorite things about summer is the fresh fruit. Especially berries. I love it all– blueberries, strawberries, raspberries, blackberries — everything. And our new Berry Parfait Cups make great use of all the fresh berries summer has to offer. It's a parfait in a cup– oat and honey "cups" filled with yogurt and macerated berries. Delicious!
Let's talk about it.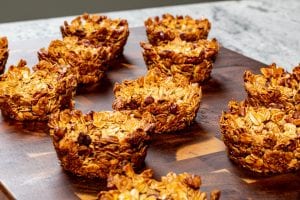 Granola Cups
We start with the granola: oats, pecans, honey, and our Fresh Churned Cinnamon Brown Sugar Honey Butter. The Cinnamon Honey Butter adds a great punch of cinnamon sweetness to the oats and nuts.
Press that mixture into the wells of a muffin tin. Make a little hole in the middle to form a cup shape. Bake in the oven until crispy.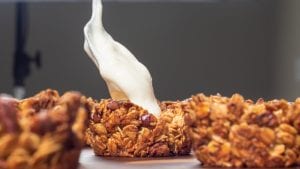 Yogurt and Fruit
Add a dollop of yogurt ( we used Greek honey vanilla) into the middle, then top with berries.
Before you do, toss your berries into some sugar and add a little fresh mint. The mint adds a great herby flavor to the sweet berries. Use whatever berries you have! We used blueberries, blackberries, and strawberries.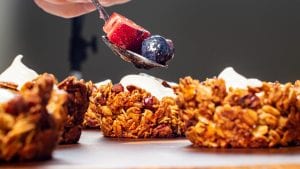 Eat these for breakfast, dessert, or a snack– just don't fill them until you're ready to eat. The longer the yogurt sits in the cup, the less crispy the cup will become.
Enjoy!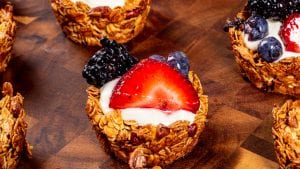 Berry Parfait Cups
Notes
Don't fill cups until ready to eat-- the yogurt will soften the cups over time.
Berry Parfait Cups
Course: Dessert, Snack, Appetizers
Ingredients
2 cups old-fashioned rolled oats

½ cup pecans, coarsely chopped

2 T honey

3 T Cinnamon Brown Sugar Honey Butter, melted

1 egg

Pinch of salt

2-3 cups berries (blueberries, blackberries, raspberries, strawberries)

2 tsp sugar

3 leaves fresh mint, chopped

1½ cups vanilla yogurt
Directions
Preheat oven to 350° F.
In a medium mixing bowl, mix together oats, pecan, honey, melted Cinnamon Honey Butter, and salt.
Press mixture into the wells of a well greased muffin tin. Shape into a cup, with a dip in the middle.
Bake at 350° F for 15-20 minutes, or until edges are crisp.
Allow to cool completely, then remove from the tin.
Meanwhile, toss berries in sugar and fresh mint. Allow to sit 15-20 minutes.
Put a dollop of yogurt into each cup, then top with berries.
Serve immediately.