Potatoes
A twice baked potato is a wonderful thing! Every year, when football season rolls around, and I start thinking of game day snacks, potatoes are always on my mind! These Loaded Twice Baked Potatoes are the new go-to on Sunday afternoons!
Potatoes are a really versatile ingredient. Not only can they be prepared lots of different ways (boiled, baked, fried), potatoes will take on any flavor you put in them.
Chef Shamy Garlic Butter is a natural fit for potatoes, because there's plenty of flavor to make your taters sing!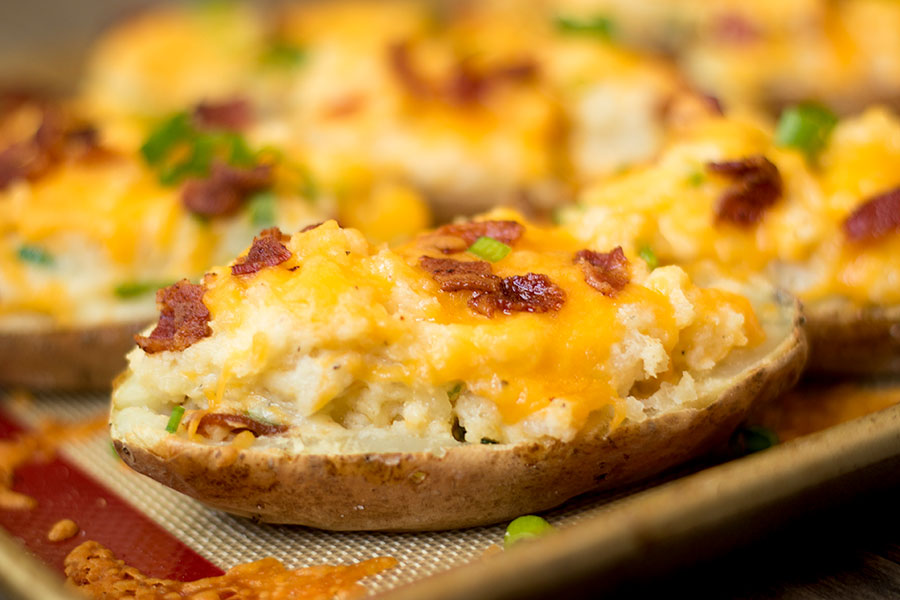 Twice Baked
So what are twice baked potatoes anyway?
First, bake some potatoes.
Once they're baked and cooled, cut them in half and scoop out the insides, leaving the skins intact. Mix the potato insides with some stuff, then put that mixture back into the skins. Bake them again!
Hence, twice baked.
We decided to make our twice baked potatoes loaded– meaning that they have everything that a loaded baked potato would. Cheese, sour cream, bacon, green onions, and of course, Garlic Butter.
The mixture is creamy, cheesy, and beautifully flavored!
Versatility
Not only are potatoes in general versatile, so is this recipe! Feel free to tweak it to suit your personal taste.
You can serve these a number of different ways! I think they make a great football-watching snack. Use smaller potatoes for a delicious appetizer! Or make it an easy dinner on a busy weeknight! It would also work as lunch on a cold afternoon!
Enjoy!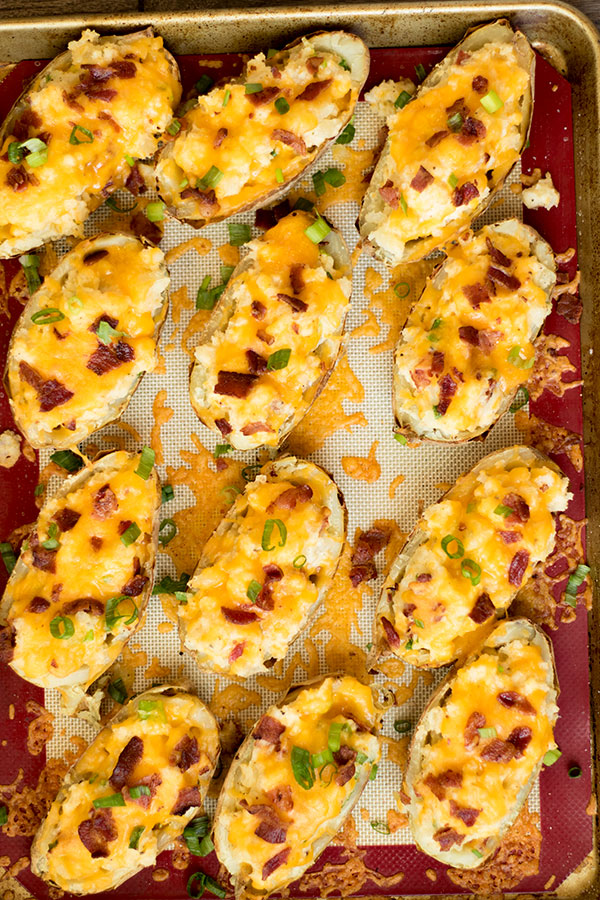 Loaded Twice Baked Potatoes
Course: Sides
Cooking time
1
hour
15
minutes
Ingredients
6 large baking potatoes

8 oz bacon

1 cup sour cream

2 cups shredded cheddar cheese, divided

¼ cup chopped green onions
Directions
Preheat oven to 350° F.
Poke potatoes several times with a fork, then bake in oven for 60 minutes, or until tender.
Allow potatoes to cool completely.
Meanwhile, cook bacon in a skillet until crispy. Crumble and set aside.
When the potatoes have completely cooled, cut them open lengthwise. Use a spoon to scoop out the insides into a mixing bowl. Leave the skins intact.
In the mixing bowl, mix potato insides with sour cream, Garlic Butter (at room temperature), half of the cheese, half of the green onions, and half the crumbled bacon. Mix until combined and creamy.
Divide this mixture evenly between the potato skins. Top with remaining shredded cheese and the rest of the bacon.
Bake at 350° for 15-20 minutes, or until warmed through and cheese is melted.
Garnish with the rest of the green onions, and serve.