Orzo
Lemon Dill Chicken Orzo Soup is now one of my favorite soups! It's a beautiful mix of chicken, spinach, lemon, and orzo. The flavors combine to form a warm, comforting, and light soup. The mystery here is orzo. Do you know what orzo is?
Orzo is a type of short cut pasta. They're small and shaped like a large grain of rice. Orzo is easy to find. They'll be in the pasta section of most grocery stores. If your store doesn't have orzo, there are several other small pastas you can use instead of orzo: ditalini, pastini, or even acini de pepe!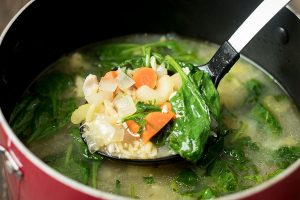 Lemon Dill
The main flavor here is Chef Shamy Lemon Dill Saute Butter. There's a great lemon flavor, mixed with dill and other herbs and spice. Saute butters are the best, because they have a slightly higher salt content than the regular savory butters. That means you won't need to add any extra salt to your soup!
Make sure you get a nice crusty piece of bread to dip in your soup! It will be delicious!
Enjoy!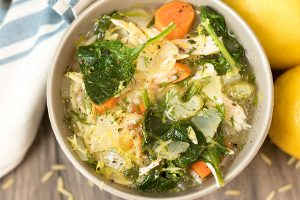 Lemon Dill Chicken Orzo Soup
Course: Lunch, Dinner
Ingredients
1 large onion, diced

2 medium carrots, cut into rounds

2 stalks of celery, cut into half moons

3 garlic cloves, minced

juice and zest of 1 lemon

8 cups of chicken broth

¼ cup chopped parsley

1 cup orzo pasta

Handful baby spinach leaves

2 cups shredded chicken

Salt and pepper to taste
Directions
In a large stockpot, melt Lemon Dill Butter. Add onion, carrot, celery, and garlic, and saute until tender.
Add lemon juice, zest, chicken broth, and parsley. Bring to a boil, then add orzo pasta. Cook 10 minutes, or until pasta is tender.
Add spinach, cooked chicken and warm through.
Salt and pepper to taste, and serve.
Garnish with fresh chopped dill and more lemon zest.