BBQ Chicken Sandwiches
If you're looking for an easy dinner in less than 30 minutes that tastes like you've been cooking all day, this is it! Our Instant Pot BBQ Chicken Sandwich will please everyone in your family, and make your house smell delicious!
This is a really easy recipe, but let's talk about it anyway.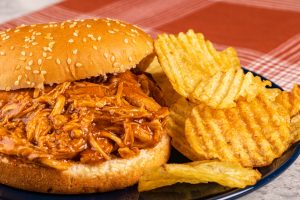 Instant Pot
The pressure cooker is a great way to cook chicken. The meat stays super moist. This recipe calls for both chicken thighs and breasts. I like a good mix of dark and white meat. You're free to adjust the ratios however you like– though remember dark meat is usually more moist and flavorful.
Put the chicken in the Instant Pot with your favorite bottled BBQ sauce. Let it cook on Manual for 15 minutes, then allow a natural pressure release for 10 minutes.
Shred the chicken, then put it back in the pot. There will be some extra moisture in the bottom of the pressure cooker, but the shredded chicken will soak most of that up. Add some more BBQ sauce, and you're ready for the buns!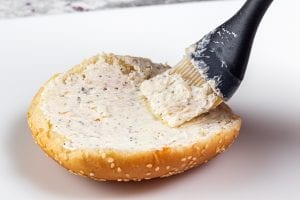 The Buns
The buns are the best part. Spread some of our Fresh Churned Garlic Butter on the buns and toast them under your broiler. The Garlic Butter really compliments the BBQ chicken, and it adds great flavor to the bun.
This one will be a keeper– enjoy!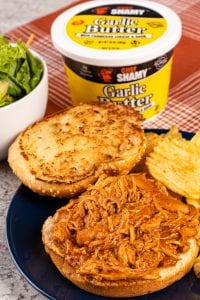 Instant Pot BBQ Chicken Sandwiches
Course: Dinner, Lunch
Ingredients
2 lbs boneless skinless chicken thighs

1 lbs boneless skinless chicken breast

4 cups BBQ sauce

12 sandwich buns

4 T Fresh Churned Garlic Butter, melted
Directions
Place chicken thighs and breasts in the pressure cooker, with 3 cups BBQ sauce. Stir to combine.
Set Instant Pot on Manual (High) for 15 minutes. Let the pressure release naturally for 10 minutes.
Shred chicken and put back in the pot. The chicken will soak up most the moisture. Add the rest of the BBQ sauce and stir to combine.
Meanwhile, make the Garlic Butter buns.
Place buns on a baking sheet, flat side up. Brush buns generously with melted Garlic Butter, then broil 2-3 minutes, until butter is melted and buns are toasted.
Serve chicken on garlic buns.