Tomato Soup
Soup is one of winter's ultimate comfort foods. There's nothing like a bowl of hot, steaming soup to warm you up on a crisp day. And even though it's not quite winter yet, I'm feeling some changes in the weather, and I think the time for soup has come! One of the classical and quintessential soups is: Tomato Soup! Most of us get our Tomato Soup from a can– it's easy, convenient, and gets the job done. But once you've had it homemade, you'll never want to go back to the can. Our Homemade Tomato Soup is flavorful and easy– much easier than you may expect. And served in a Garlic Bread Bowl, you can't go wrong!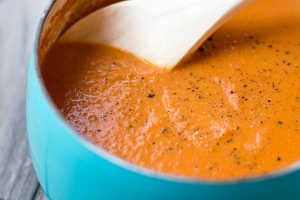 Bread Bowls
It was a great day when I realized that you could have bread bowls at home! Previously, I had only had them at cafes or restaurants. But bread bowls are common in most grocery store bakeries! Usually, especially during the winter months, they'll just be ready to buy. Occasionally, you'll have to call ahead and place an order. But you can most likely pick the bowls up the same day.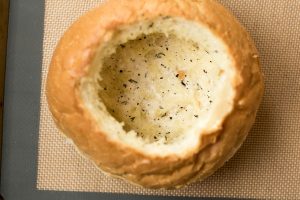 If you're feeling adventurous, here's a recipe for Homemade Bread Bowls that you can make yourself!
What really puts these bread bowls over the top is making them into Garlic Bread Bowls. For that, you need Chef Shamy Parmesan Basil Garlic Butter! Just melt it down, spread the Garlic Butter all around the inside of the bread bowl, and broil it for a couple of minutes.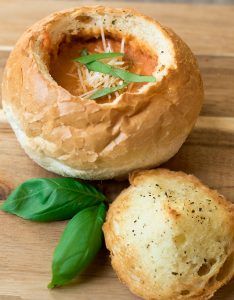 Tomato Soup in a Garlic Bread Bowl
Homemade Tomato Soup in a Garlic Bread Bowl
Course: Dinner
Ingredients
1 medium onion, diced

1 tsp salt

1 pinch red pepper flakes

1 (28 oz) can whole peeled tomatoes

2 cups vegetable stock

½ tsp black pepper

½ tsp balsamic vinegar

½ cup heavy cream

¼ cup basil chopped

½ cup Parmesan cheese

Bread Bowls:

2 bread bowls

½ cup Chef Shamy Parmesan Basil Garlic Butter, melted
Directions
Soup
In a medium saucepan over medium heat, melt Garlic Butter. Once butter has melted, add onions and salt, and cook until onions have become translucent.
Add red pepper flakes and cook another minute.
Add tomatoes (undrained) and cook 10-15 minutes, smushing tomatoes with the back of the spoon.
Add vegetable stock, black pepper, and balsamic vinegar, and continue to cook until tomatoes are falling apart.
Remove from heat and use an immersion blender to puree the soup. If you don't have an immersion blender, puree soup in batches in a regular blender.
Slowly stir in the heavy cream. Add more salt and pepper if needed
Serve in bread bowls with fresh chopped basil and Parmesan cheese as garnishes.
Bread Bowl
Cut a hole in the top of the bowl and scoop out excess bread from the inside. Paint inside and top with Chef Shamy Garlic Butter, then broil for 2 minutes