Brussels Sprouts
I was well into my mid 20s before I even tried Brussels sprouts. I had heard awful things about them. They were gross, they said. They tasted bad, they said. No one likes them, they said. Well, guess what? I LOVE them. I think they're delish. And ever since then, I've been eating Brussels sprouts at every chance I get.
Before we go any further, let's throw out this disclaimer: Brussels sprouts are good when they are prepared well. Luckily, our Garlic Roasted Brussels Sprouts with Bacon are a slam dunk in both preparation and taste!
Garlic Makes Everything Better
The trick with any vegetable is seasoning. Even the most fussy kid, the most picky eater will eat vegetables and love them if the flavor is right. Thankfully, we have Chef Shamy Parmesan Basil Garlic Butter to give us the taste we all love. Garlic makes everything better.
We've heard countless stories of parents who struggle to get their children to eat vegetables, only to find that when they put some Chef Shamy Garlic Butter on them, the kids love it! The garlic, the slight bite of the Parmesan, the little taste of basil, and the lovely saltiness all make up a great garlic butter flavor that will send your taste buds over the moon!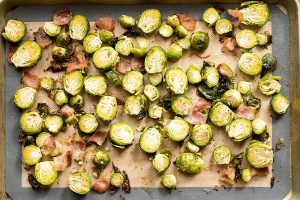 Brussels Sprouts Tips
Brussels sprouts are SO good for you. They're high in Vitamin C and Vitamin K, and contain a moderate amount of B vitamins, all of which are essential for humans to stay healthy. They're high in fiber as well.
There are a couple tricks to be sure you prepare your Brussels sprouts properly. The first is to chop off the stems. If you don't, they'll taste like sulfur. If you do, the organic compound that gives the sulfuric taste will be released, and your taste buds will be saved!  The same is true if you overcook them– they'll taste like sulfur and they'll be soft and gray.
In this recipe, we then cut the sprouts in half lengthwise, but that's more for easy eating as opposed to something you have to do for taste.
The right amount of garlic butter is important. You really don't need too much– the Brussels sprouts really soak up the flavor. Adding bacon is, of course, lovely, but make sure that your pieces are small enough that they'll get crispy in the time it takes for the sprouts to be done.
Enjoy!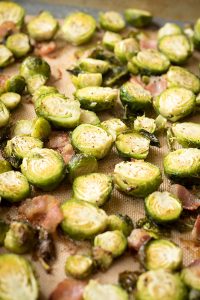 Garlic Roasted Brussels Sprouts with Bacon
Course: Sides
Ingredients
24 oz Brussels sprouts, halved

3-4 slices bacon, diced into small pieces

Salt and pepper
Directions
Preheat oven to 400° F
Toss the Brussels Sprouts and bacon pieces in melted Garlic Butter until sufficiently coated. Arrange them on a baking sheet, making sure not to overlap. Season with salt and pepper to taste.
Bake at 400° for 15-20 minutes, or until sprouts are done and bacon is crispy.
Serve immediately