Pizza Fries
I live for simple recipes. There's something liberating about making something delicious that's secretly really easy to make. It's that important combination that cements a recipe in my arsenal: tasty + easy. Garlic Pepperoni Pizza Fries falls squarely into this category. It's now one of my go-to appetizers, and it's certainly my new favorite way to eat fries! And it's so easy, especially since you don't have to spend 20 minutes peeling and slicing potatoes!
Also, say it with me: Chef Shamy Parmesan Basil Garlic Butter! It's the magic ingredient that makes everything taste better!
Of course, if you'd rather cut fries yourself instead of using the frozen ones, that's totally fine! Just make sure to bake the fries long enough to get them crispy! And add a little extra salt and pepper — you don't want them to be under- seasoned.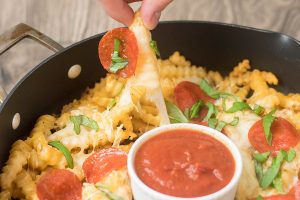 Variations
These Pizza Fries are Pepperoni. But you can be as creative as you want! Try mushrooms, green peppers, onions, and black olives for a vegetarian option. Or go tropical with ham and pineapple! Just like pizza, there's no wrong way to do pizza fries! Let us know what you choose!
There's also some variety in what type of fries to use. Like I said above, you can make your own, but if you're lazy like me, there's a wide selection of freezer fries to choose from. I chose crinkle cut, because I like the look of them, and they bake well. But there's waffle fries, steak fries, wedges, or even tater tots if you so desire.
Isn't it nice to know there are so many choices?
Whichever you choose, just follow the baking instructions on the packaging, and you can't go wrong. Not when there's Garlic Butter!
Enjoy!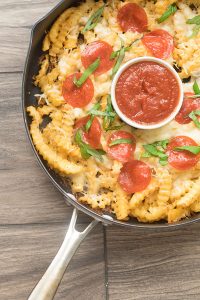 Garlic Pepperoni Pizza Fries
Course: Sides
Ingredients
1 (32 oz) bag frozen French Fries

2 cups shredded mozzarella cheese

10-15 slices pepperoni

2 T fresh basil, chopped

1 cup pizza sauce
Directions
Preheat oven to 400° F.
Lay the frozen French Fries in a cast iron pan or on a baking sheet.
Put 3 T of Garlic Butter on top. There's no need to spread the butter out, it will melt and spread as the fries bake.
Bake for 30-35 minutes, or according to package directions.
Remove fries from the oven and top with mozzarella cheese and pepperoni.
Bake for an additional 5 minutes, or until cheese is melted.
Garnish with chopped basil.
Dip in warm pizza sauce