Mushrooms!
Not everyone likes mushrooms. In fact, if I did a poll, probably half of you might say that you don't like them, or that you prefer not to have them. And I don't blame any mushroom haters out there– I used to identify them as something my mom put on pizza to ruin it. But as I've gotten older, my tastes have changed, and I quite like a mushroom every once in a while. And frankly, the best I've ever had are Chef Shamy's Garlic Mushrooms in Pot Stickers Sauce! You can't even taste the mushroom-i-ness– but the delicious flavor of Garlic Butter and Pot Stickers Sauce.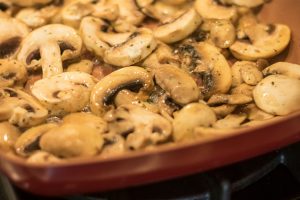 Butter and Sauce
I mean, you can't really go wrong when you're dealing with Chef Shamy Parmesan Basil Garlic Butter. It's flavorful, garlicky, perfectly salty– and most of all, it makes cooking easier. That's really the point; to give you gourmet flavor without having to do gourmet style work. All I can say is, I always have a tub of Garlic Butter in my fridge.
The secret ingredient here is, I realize now, not all that secret. But it may be surprising. Pot Stickers Sauce! Click on the link to get the Chef Shamy recipe, and also to hear me wax poetic about all things ginger and chili. Because those are some of the main flavors in this delicious Asian style marinade. The butter and the sauce go SO well together– it's a perfect marriage of flavors.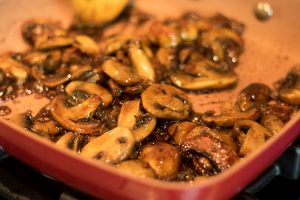 Mushroom Cooking Tip
The most important thing to remember when cooking mushrooms is to not overcook them– which is easier said than done, to be sure. The key in this recipe, though, is to only turn the mushrooms once (don't toss them around). Cook them in the Garlic Butter and turn them once, making sure each side gets nice and caramelized. But don't go longer than that, because they'll continue cooking in the Pot Stickers Sauce as well.
Here's A Cooks Guide to Mushrooms! Hope it helps.
Enjoy!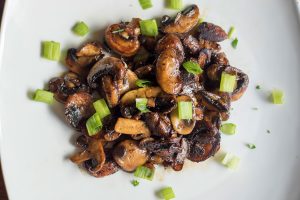 Garlic Mushrooms in Pot Stickers Sauce
Course: Sides
Directions
Heat pan to smoking hot
Add Garlic Butter, stirring to coat all mushrooms
Turn mushrooms once to coat and brown both sides
Add Pot Stickers sauce and cook on high heat till liquid is gone
Serve warm, garnished with green onion