Baked Potatoes
Baked potatoes are kind of plain and boring. But because they don't really taste of anything, you can add lots and lots of fun flavor to help. Broccoli and cheese are one of the classic combinations to put on top of a baked potato, and these are the best ever!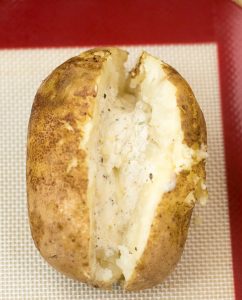 The only thing that can make it better is Chef Shamy Parmesan Basil Garlic Butter. Let's be honest, Garlic Butter makes everything better. It's got amazing garlic flavor, the perfect amount of saltiness, and a sharp tang of Parmesan; all things that do wonders for these baked potatoes!
You'll never do baked potatoes without Garlic Butter again!
Easy Meals
One of the reasons I like this recipe is because it's SO easy. It's what I call an "assembly recipe," meaning that there's very little actual cooking. It's just assembling simple ingredients to make a meal.
Assembly recipes are great for an easy lunch, or for a quick weeknight dinner. And because it's potatoes, it'll be filling enough for the whole family!
Enjoy!
Garlic Broccoli and Cheese Baked Potatoes
Course: Sides, Dinner
Ingredients
6 large russet potatoes

1 T olive oil

Salt and pepper

2 cups steamed broccoli

1 cup shredded Cheddar cheese
Directions
Preheat oven to 400° F
Scrub potatoes with a brush to make sure they're clean. Rub all the potatoes with olive oil and season with salt in pepper. Wrap all the potatoes in foil.
Bake at 400° F for 25-35 minutes, until the potatoes are fork tender.
Allow the potatoes to cool, then slice them in half lengthwise.
Spread Garlic Butter over the potatoes, then place florets of broccoli as generously as you wish over the potato halves. Top with shredded cheese.
Put potatoes back in the oven for about 5 minutes, until the cheese and butter are melty.
Serve immediately, with extra salt, pepper, and Garlic Butter.