Quick Bread
Loaded Mashed Potato Bread is such an easy and delicious way to use up leftover mashed potatoes!
This recipe is a quick bread. That means it's bread that doesn't use yeast to help it rise. Also called "soda bread," these quick bread use baking soda or baking powder create rise in the oven. They're "quick" because you can just pop them in the oven without allowing time for the dough to rise.
Sometimes soda breads can be a little dry. Adding mashed potatoes makes the bread really soft and moist!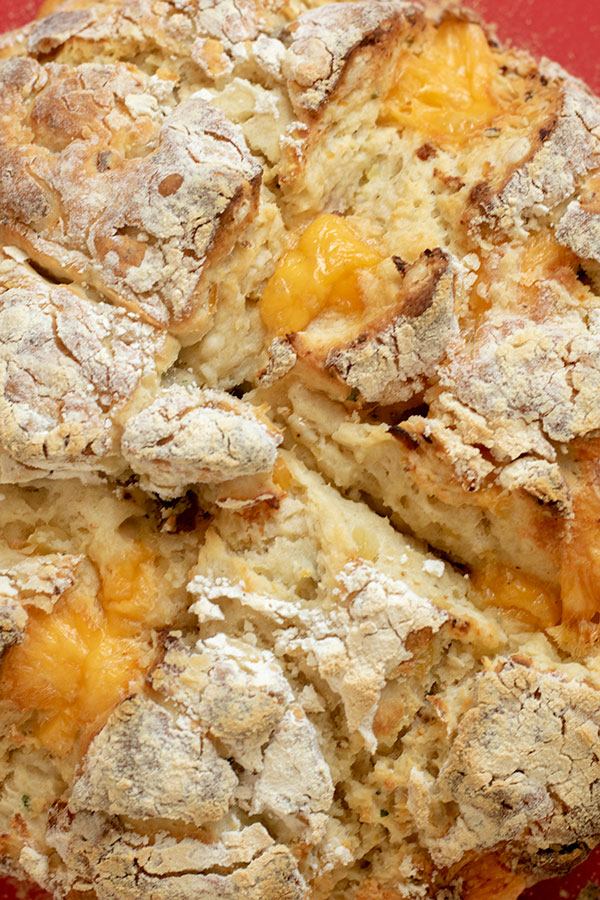 Mashed Potatoes
Whether they're Thanksgiving mashed potatoes, or from a different meal, this is a great way to use them. And the nice thing is, it doesn't matter what type of taters you made. Regardless of whether you put cream cheese, butter, or milk in them, they'll all work in this recipe.
We make the "loaded" by use Chef Shamy Garlic Butter in our dough. If you've already used the butter to make mashed potatoes, that just means the bread will taste that much better!
We also add bacon, cheese, and chives to complete the "loaded" aspect.
I recommend using cubes of cheese rather than shredded. You get all kinds of cool cheesy pockets that way.
Serve it with soup, salad, or just eat a piece or two for lunch!
Enjoy!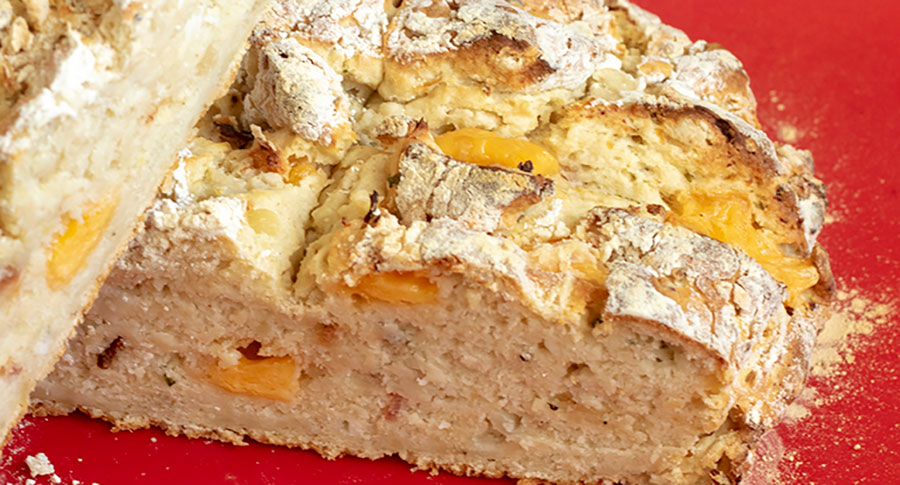 Loaded Mashed Potato Bread
Course: Sides, Breads
Ingredients
3 cups flour

4 tsp baking powder

2 tsp salt

3 cups mashed potatoes

4 TB Chef Shamy Garlic Butter, melted

⅔ cup milk

1 cup cubed cheddar cheese

½ cup crumbled bacon

2 T chopped chives
Directions
Preheat oven to 400° F.
In a large mixing bowl, whisk together flour, baking powder, and salt. Add mashed potatoes, melted Garlic Butter, and milk.
Stir to with a wooden spoon until just combined. Add cheddar cheese, bacon, and chives. Stir to combine. Don't overmix!
Pour dough on to a lightly floured surface. Do not knead. Gently form into a round loaf, then score the top in an X shape.
Place on baking tray. Bake at 400° F for 40-45 minutes, or until internal temperature is 200°.
Allow to cool, then slice.