Cake Mix Cookies
If you haven't made Cake Mix Cookies before, you should! They're an easy way to have some fresh, home-baked goods without making a full cookie recipe.
It's only three ingredients to make a simple recipe; we've added sprinkles as our 4th ingredient.
This calls for a white cake mix– white and yellow are essentially the same, but when it comes to a boxed mix, white is a little fluffier. Usually white cake uses cake flour, which brings a lighter texture. It works great for a cookie– it really adds to the chewiness.
Strawberry
These cookies are flavored with our delicious Fresh Churned Strawberry Honey Butter. A typical cake mix would use oil, but you never use oil when making cookies. And fat can be substituted for fat, so butter works just as well. Using Strawberry Honey Butter adds a delicious undertone of fruitiness to the cookies.
That, combined, with the sprinkles, is absolutely scrumptious.
Rainbow Sprinkles
Who doesn't love sprinkles? We used rainbow sprinkles, partly because they're fun, and partly because they add a bunch of color! Sprinkles don't add much of taste, a little sweetness perhaps. So add as many or as few sprinkles are you want!
Enjoy!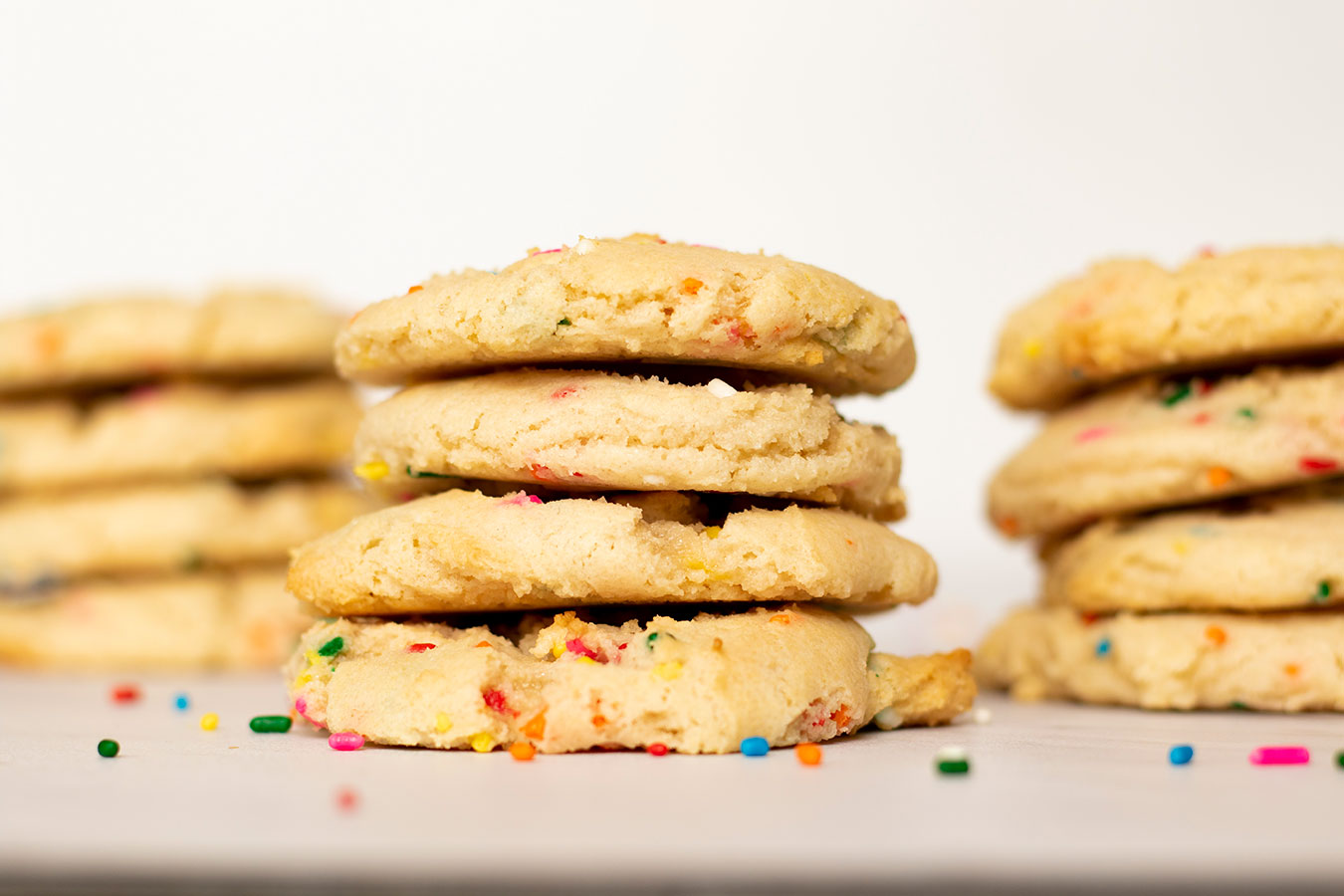 Rainbow Sprinkle Cake Mix Cookies
Course: Dessert, Snacks
Ingredients
1 box white cake mix

2 eggs

3-4 T rainbow sprinkles
Directions
Preheat oven to 350° F.
In a large mixing bowl, add white cake mix, eggs, and melted Strawberry Butter. Mix until combined. Texture should resemble cookie dough
Add rainbow sprinkles and mix with a wooden spoon.
Use a cookie scoop to place balls of dough on a greased baking sheet.
Bake at 350° for 8-10 minutes.
Allow to cool completely, then serve.
Makes 2 dozen.