Green Beans
These Bacon Green Beans are absolutely delicious! It's a quick and easy side dish that showcases a fantastic summer vegetable!
I have very vivid memories of growing green beans in our family garden as a kid. We had to plant them in rows. We spent (what felt like) hours every week weeding them, and when harvest time rolled around, we picked buckets of them. I remember sitting in front of the TV snapping the ends off of the beans: two big bowls, one of unsnapped beans and one with snapped beans.
This process was tedious to an eight year old, but there's nothing better than fresh picked green beans!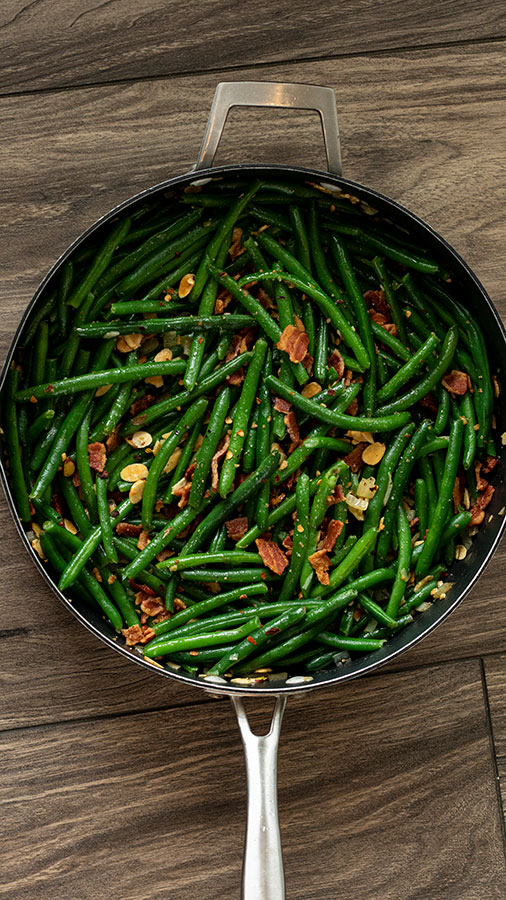 Bacon
Bacon makes everything better! It's a fact. And bacon adds both a different texture and a deeper flavor in this dish. Let's talk about it.
Start with the bacon. Brown half a pound in a pan, then remove it. Once it's cooled, crumble it. Drain most of the bacon fat. Leave about a tablespoon or so. Add some of our Fresh Churned Garlic Butter to the pan, and saute some onion in the Garlic Butter and bacon fat.
Add your green beans and saute for another 5 minutes. Don't forget to season with salt and pepper! And add some red pepper flakes for a little spice. Put your crumbled bacon back in the pan along with some slivered almonds. Both add crunch and flavor!
It's that simple!
Nutrition
Green beans are really good for you! They're high in Vitamins A, C, and K. Beans are also a good source of fiber and folic acid. And while that might not be appealing to young children, we've still got them to eat their veggies.
At Chef Shamy, we've heard countless parents say that putting our butters on veggies is the only way they can get their kids to eat them. And we're proud of that! Tell us your stories!
Enjoy!
Bacon Green Beans
Course: Sides
Ingredients
½ lb bacon

1 small yellow onion, finely chopped

24 oz green bean, trimmed

½ cup toasted sliced almonds

Salt and pepper to taste

½ tsp red pepper flakes
Directions
Over medium heat, crisp bacon in a pan. Set aside and crumble. Drain all bacon fat, leaving one tablespoon in the pan.
Add Garlic Butter and melt with the bacon fat. Saute onion for 5 minutes, then add the green beans into the pan.
Stir to coat with the Garlic/onion mixture, and cook for 5 minutes. Add crumbled bacon back into the pan, along with the sliced almonds.
Season with salt, pepper, and red pepper flakes. Serve.