Peach Crisp
There are a lot of fruit based desserts in the world, but crisp is one of my favorites. A classic peach crisp is one of summer's best treats! Fresh peaches, gently sweetened, and a buttery crispy flour and oat mixture on top! Serve warm with some vanilla ice cream or cold for breakfast. Not ashamed.
Our recipe for peach crisp is extra delicious because of two special flavors: vanilla and pecan!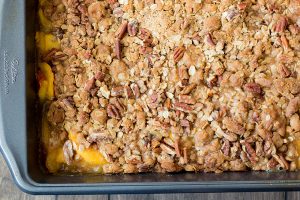 Vanilla and Pecan
Adding pecans to the crisp topping adds a delicious nutty crunch that compliments the sweet peaches. Peaches and pecans go really well together anyway, but our other special ingredient makes it even better!
Chef Shamy Vanilla Honey Butter is the key! The crisp topping calls for butter anyway, so why not use honey butter instead? Vanilla Butter has a great vanilla flavor that comes from real vanilla beans.
The amazing vanilla flavor lifts both the crisp and the peaches– it's a subtle sweet touch on the tip of your tongue!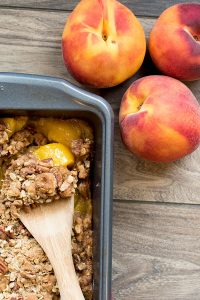 Peaches
Peaches are my favorite. Fresh peaches are only around for 6-8 weeks late in the summer, and it's a glorious time of year. But if you happen to make this recipe sometime during the other 44 weeks of the year, what should you do?
Frozen peaches will work just fine if you need. Just make sure to thaw them completely, or you'll end up with watery crisp.
Enjoy!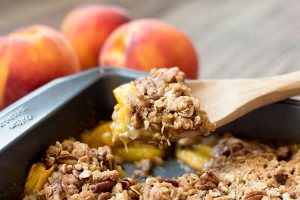 Vanilla Pecan Peach Crisp
Course: Dessert, sweets
Ingredients
FILLING

5-6 peaches, peeled and sliced

¼ cup flour

½ cup sugar

Pinch of salt

TOPPING

3/4 cup brown sugar

⅔ cup all-purpose flour

⅔ cup old-fashioned rolled oats

1 cup chopped pecans

1 tsp ground cinnamon

½ cup (4 oz) Chef Shamy Vanilla Honey Butter, at room temperature

Vanilla ice cream for serving
Directions
Preheat oven to 350° F
In a medium mixing bowl, toss sliced peaches in flour, sugar, and salt. Spoon into a 9×13 pan.
In a separate bowl, combine brown sugar, flour, oats, and pecans. Add butter and stir together with a fork, breaking butter up and incorporating it.
Sprinkle crisp topping evenly over the peaches. Bake at 350° for 40-45 minutes, or until peaches are bubbly.
Serve with vanilla ice cream!