Gnocchi
Gnocchi Mac and Cheese is one of my favorite ways to use gnocchi. Have you used gnocchi before?
Pronounced, "Nyaw-kee" if you want to sound Italian or "Noh-kee" if you're fine being American, gnocchi is a delicious little surprise. It's made from riced potatoes, flour, and eggs. It's cut into little squares that are boiled and puff into soft, cloud-like dumpling-like pillows. Anything that you use pasta for, you could substitute gnocchi instead.
And I love experimenting with that! So we figured that we'd take one of the pasta classics and do a little switch-er-oo. And let me tell you, it did not disappoint.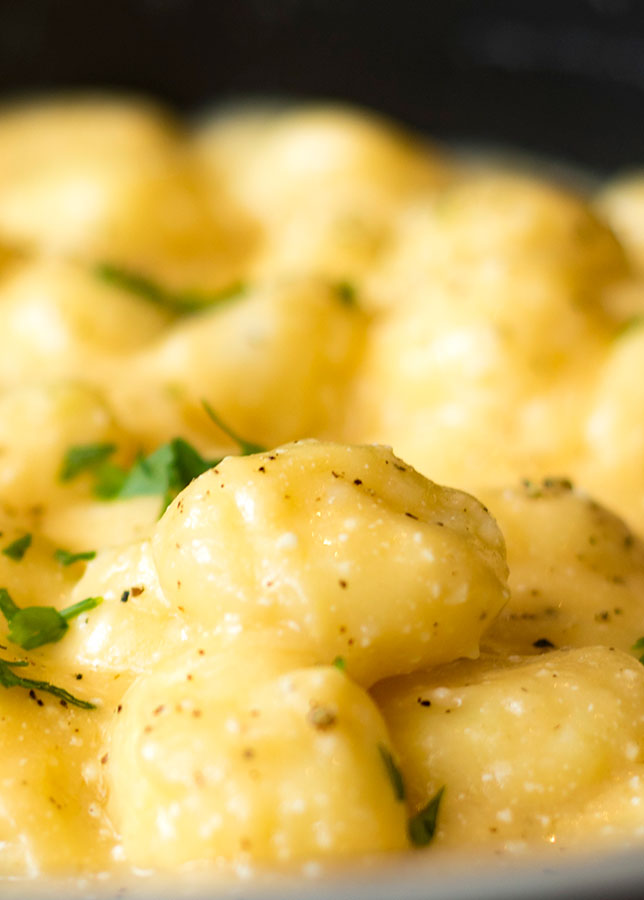 Mac and Cheese
Many of us grew up eating Mac and Cheese from the box. It was good enough– if you didn't think too much about the cheese powder. Making a homemade cheese sauce is an essential skill for any mac and cheese lover– and there are lots of different ways to do it.
This sauce starts with a simple roux. But for added flavor, be sure to use Chef Shamy Garlic Butter! It gives your sauce an amazing flavor that cannot be beat!
Add some chicken stock and milk, and once it's slightly thickened, add cheese!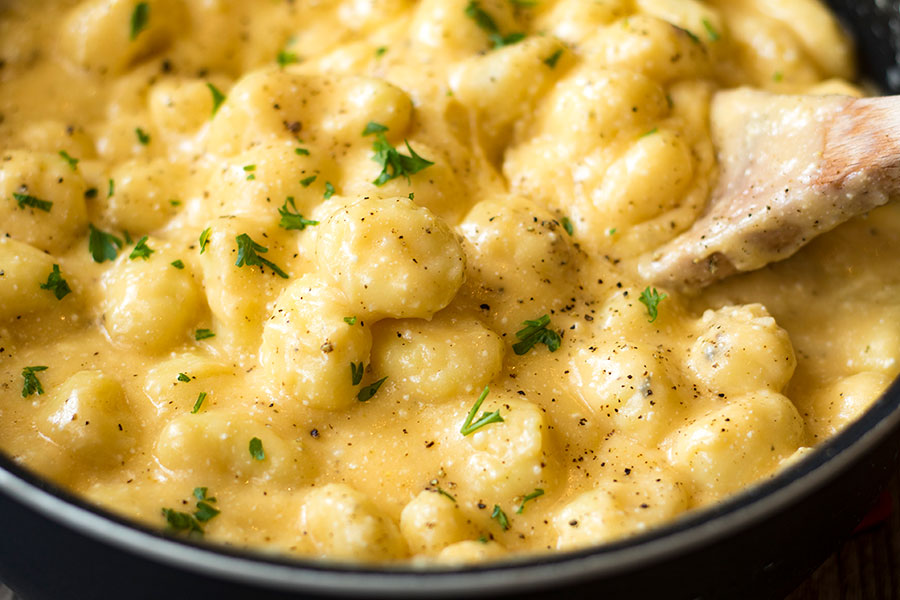 Cheese
There's no such thing as too much cheese! Gnocchi Mac and Cheese is living, breathing proof.
Our recipe calls for 4 different cheeses– fontina, cheddar, Parmesan, and mizithra.
The mizithra is a salty, powdery cheese that is unique and delicious. It can be hard to find, which is why it's "optional" in the recipe.
But any recipe that calls for multiple cheeses can be simplified. Just use whatever you have in your fridge! All cheese is tasty, so have some fun making different cheese combinations!
Enjoy!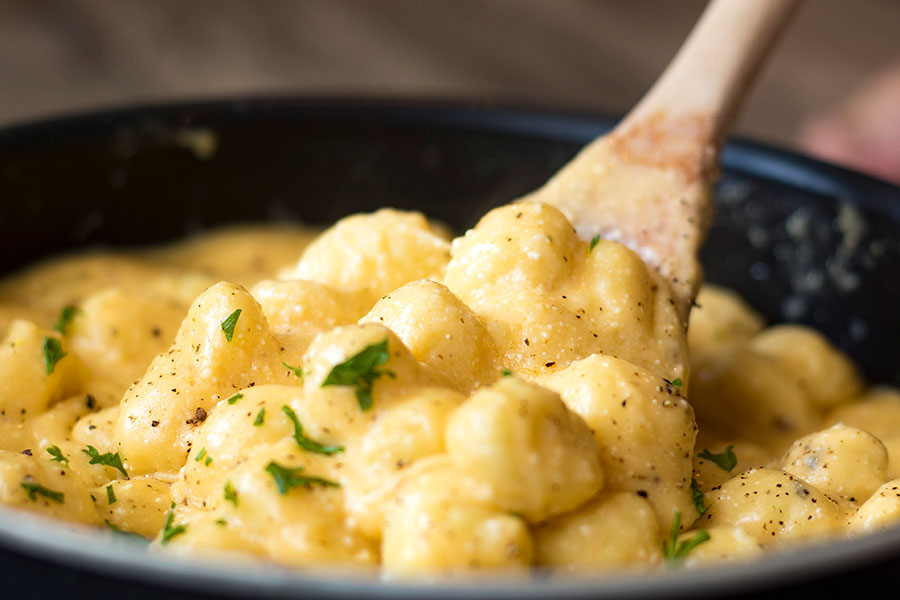 Gnocchi Mac and Cheese
Course: Dinner
Ingredients
2 lb gnocchi

3 T flour

1 cup chicken stock

1 ½ cup milk

¼ cup grated fontina cheese

1 ½ cup grated sharp cheddar cheese

¼ cup grated Parmesan cheese

2 T mizithra cheese (optional)

Salt and pepper to taste
Directions
Cook gnocchi according to package directions.
In a large sauce pot, melt Garlic Butter. Whisk in flour and cook for 1 min. Slowly whisk in chicken stock and milk. Once the mixture has thickened slightly, add cheeses. Cheeses will melt and thicken up the sauce even more. Add cooked gnocchi and stir to combine. Add salt and pepper to taste.
Serve immediately.