Vegetable Soup
Okay, let's be honest. Vegetable soup can sound… well, a little boring. It's a bunch of vegetables and some broth: what's so interesting about that? Well, buckle up, because you're about to be blown away. This French Onion Super Vegetable Soup is packed with flavor!
There's two keys to the amazing flavor of this soup.
1. Chef Shamy French Onion Butter with Asiago. The butter is packed full of onion flavor that lends a deep richness to the soup and the vegetables in it. It doesn't take a lot, but really brings a lot to the table.
2. Lemon zest and lemon juice. Acidity lifts things up and the lemon makes the vegetables feel very fresh and bright as well.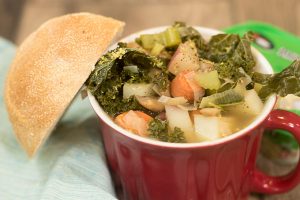 S(o)uper Vegetables
I love puns.
Truly, I'm not kidding when I say "Super Vegetables." First of all, every vegetable in this Super Vegetable Soup can be found during the winter, which I really like. It's nice to feel like I can still have a soup full of fresh vegetables during the bleak, cold, months.
So let's talk about nutrition!
Kale is full of Vitamin K, Vitamin C, Vitamin A, and a bunch more. Carrots are high in Vitamin A and C, and leeks are full of Vitamin K. Black beans are high in fiber and protein. And potatoes are even a good source of Vitamin C!
But don't let all of those letters confuse you. Here's a quick cheat sheet:
Vitamin A: good for your immune system, eyes, heart, lungs, and kidneys
C: good for you immune system and heart
K: good for your bones and blood
Suffice it to say that this Super Vegetable Soup is REALLY good for you! It's the perfect soup to enjoy on a cold winter's day. Don't get bogged down with a heavy soup, full of cream and cheese. Take joy in eating vegetable soup!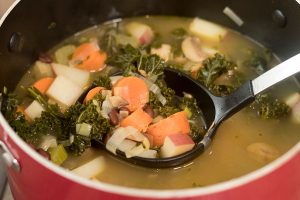 French Onion Super Vegetable Soup!
French Onion Super Vegetable Soup
Course: Dinner
Ingredients
5 oz mushrooms, sliced

2 leeks, white parts only, chopped

1-2 medium carrot, diced

2 stalks celery, diced

8 cups vegetable broth

3 medium red potatoes, diced

1 can black beans, rinsed and drained

1 small bunch kale, thick stems removed, roughly chopped

Salt and Pepper to taste

Zest of 1 lemon

4 T fresh lemon juice

2 T fresh parsley leaves, roughly chopped
Directions
In a large pot, melt French Onion Butter over medium high heat..
Add mushrooms, leeks, carrots, and celery, and stir to coat with the butter. Saute 2-3 minutes.
Add vegetable broth, potatoes, black beans, and kale.
Season with salt and pepper to taste.
Bring to a boil, then reduce heat to low. Cover and simmer for 15-20 minutes, or until potatoes are tender and kale is cooked.
Add lemon zest, lemon juice, and fresh parsley.
Serve immediately. Season with additional salt and pepper if needed.
Notes
You may substitute any other type of bean for black beans[br]Roughly chopping your vegetables gives the soup a more rustic feel!