My New Favorite
French Onion Soup is my new favorite. French Onion French Onion Soup is actually my new favorite.
Sorry, wanted to make sure I didn't bury the lead there. When it comes to soup, I'm a french onion novice. I'd heard of it, and maybe tasted it a couple of times, but I wasn't well versed. And who can blame me? I almost always get salad instead of soup at restaurants, and anyway, I didn't care for onions much a child. But since then, I've grown, and onion soup is now one of the best.
French Onion Soup is great because the slower you cook it and the more patient you are, the better your soup will taste. It's truly an important lesson in cooking: the more care you take with your ingredients, the better your finished recipe will be.
Because, really, what are the ingredients here? Onions. I mean, that's basically it. And yet, the flavor is so amazing!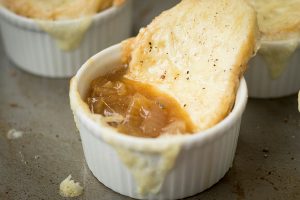 French Onion French Onion
Many people have pointed this out to me as an error. In fact, it's one of the best things about this recipe; it's the thing that kicks this soup a notch or two above others' soups. Chef Shamy French Onion Butter with Asiago is the other French Onion!
And it's pretty simple. Saute the onions in French Onion Butter at the very beginning of the process, and you'll impart an extra special onion flavor that pays dividends at the end. It's a deeper, more complex flavor with the butter added.
So good.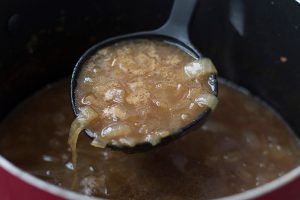 The Baguette Slices
Okay, so the bread.
There are a lot of ways to serve French Onion Soup. The classic way is with a toasted baguette slice and some cheese like in the photos. But you can do whatever you want.
Toast the bread beforehand and just let the cheese melt in the oven.
Keep the bread soft.
Toast the bread, tear it up, and put it in the soup like croutons.
Just serve bread on the side.
However you want to do it. I'm not here to tell you otherwise!
I am here to tell you that this will be the best French Onion Soup you've ever had. Cause it will!
Enjoy!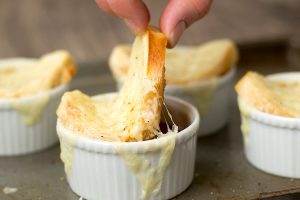 French Onion French Onion Soup
Course: Lunch, Dinner
Ingredients
2 1/2 lbs yellow onions, peeled and cut into half moon strips

1 tsp salt

1/2 tsp pepper

1/2 tsp sugar

3 T flour

8 cups beef broth

1/2 cup white wine, optional

6 to 8 baguette slices, toasted

6-8 slices Gruyere cheese
Directions
In a large pot, melt the French Onion Butter over medium to low heat. Add the onions (you'll have about 6 cups of sliced onions) and stir to coat onions in the butter. Cover and cook 15 minutes.
Add salt, pepper, and sugar, then cook the onions an additional 30-40 minutes, stirring every few minutes, until caramelized.
Add flour and cook about 1 minute.
Slowly add broth and white wine, and bring to a boil, then turn down the heat and simmer for 1 hour.
Divide soup into rammekins, then place a piece of bread on top. Add a slice of cheese over top the bread, and bake 350° F for 10 minutes, until cheese is melty
Serve immediately