Spinach Puffs
My spinach puffs! I cannot make or think or write about this recipe without thinking of Kronk from "The Emperor's New Groove." If you haven't seen it, watch it. If you have, you know what I'm talking about.
Regardless of the reference, you need to make these stat. They're easy to make, can be eaten hot or cold, and are perfect to grab on the go. They could make a light lunch or a snack.
Simply put, this is a cheesy spinach mixture enveloped by puff pastry. Let's talk about it.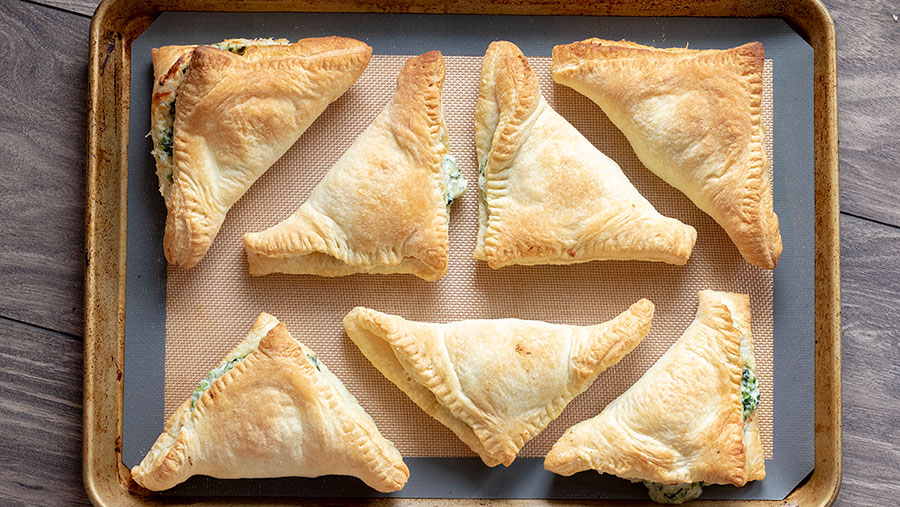 Cheesy Spinach Filling
This recipe starts with our Fresh Churned Garlic Butter, as many good recipes do. Saute some diced onion in the Garlic Butter, and allow them to cook while soaking up all that delicious garlic butter flavor.
Then we add 3 cheeses: ricotta, mozzarella, and Parmesan. Ricotta is creamy and acts as a great binder, like an egg would. Mozzarella is also creamy, melty, and delicious. Parmesan is sharp and salty, and pairs really well with the spinach.
All three cheeses go straight into the pan where your onions and garlic butter are cooking.
Then add the spinach. This recipe calls for frozen spinach. It tends to have a little less water content than fresh, but here's the key: thaw the spinach, then squeeze as much of the moisture out of it as possible. We did three or four rounds before we were satisfied. If there's too much moisture in the spinach, the filling will be runny, and the puff pastry will be soggy instead of crisp.
Add your spinach, some salt and pepper (don't forget it), and stir everything around. Once the cheese is melted and everything is together, take it off the heat and allow it to cool before putting it in the pastry. If you put hot filling in the pastry, it will cook unevenly, and the butter will run out, leaving dry, cracked pastry.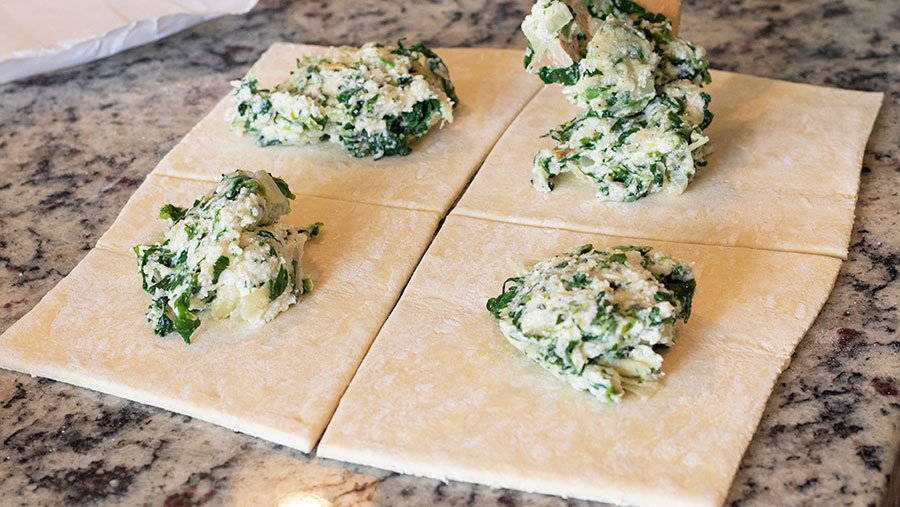 Puff Pastry
Speaking of pastry: this recipe calls for puff pastry. You can find it in the freezer section of most grocery stores. If you're unsure where it is, ask someone to help you– I'll bet they have it somewhere. There are usually two sheets of pastry in a box, which is what you need!
The pastry should be thawed but still cold. Roll each sheet into a square, then cut each sheet into four squares. Put the mixture in the middle of each square, then fold over one of the corners.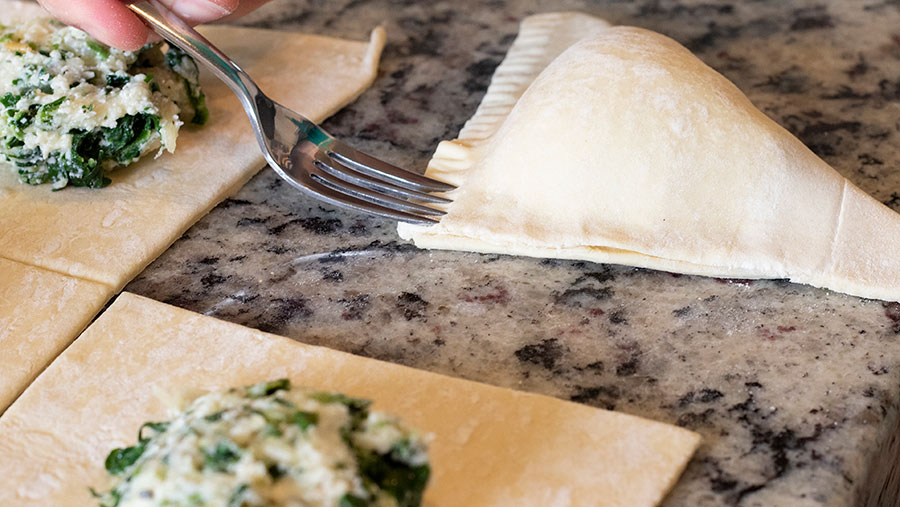 Use a wet fork to seal the pastry. You have to do this– the steam causes the pastry to rise, so if you don't force it together, it will split open. You'll notice that even though we did that, we still had a little filling poke through on a couple of ours.
Don't let them burn! (Kronk reference again– see, I can't not)
Enjoy!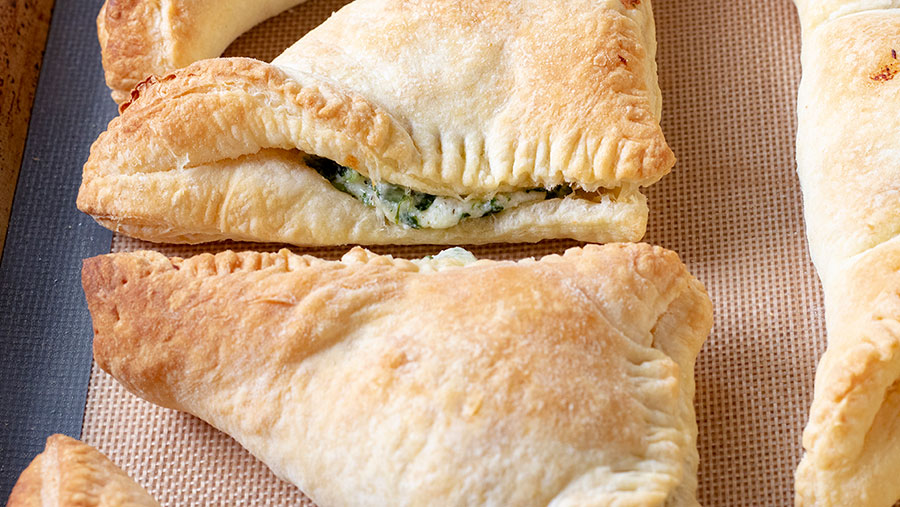 The Recipe
Cheesy Spinach Puffs
Course: Snacks, Sides
Ingredients
½ an onion, diced

½ cup ricotta cheese

2 cups shredded mozzarella cheese

1 cup grated Parmesan cheese

1 lb frozen chopped spinach, thawed and dried

Salt and pepper, to taste

2 sheets packaged Puff Pastry
Directions
In a large skillet or pan, melt Garlic Butter over medium heat. Add diced onion and saute 3-5 minutes, or until translucent.
Turn heat down to medium low and add ricotta, mozzarella, and Parmesan cheese.
Squeeze as much of the liquid out of the thawed spinach as possible, and add it to the pan. Stir to combine everything. Allow to cook 3-5 minutes, or until cheesy is melty.
Season with salt and pepper to taste.
Remove from heat and allow to cool.
Preheat oven to 350° F.
Meanwhile, roll out sheets of Puff Pastry. Cut each sheet into 4, so you have 8 squares.
Divide spinach mixture evenly between the 8 squares, then fold each square over into a triangle. Crimp with a fork.
Transfer to a baking sheet.
Bake at 350° for 15-18 minutes, or until puff pastry is a light golden brown.
Cool completely, then serve.