Spinach Artichoke Dip
Dips are great for any occasion, whether it's a holiday party, a football game, or a lazy weekend. And one of my favorite dips is Spinach Artichoke Dip! Our super cheesy recipe is absolutely delicious! And it's a one pan dish– so not a ton of dishes to do!
I'm normally not a huge fan of artichokes, but this recipe is an exception. They work well to cut through the richness and fat of all the cheese. Let's talk about the recipe.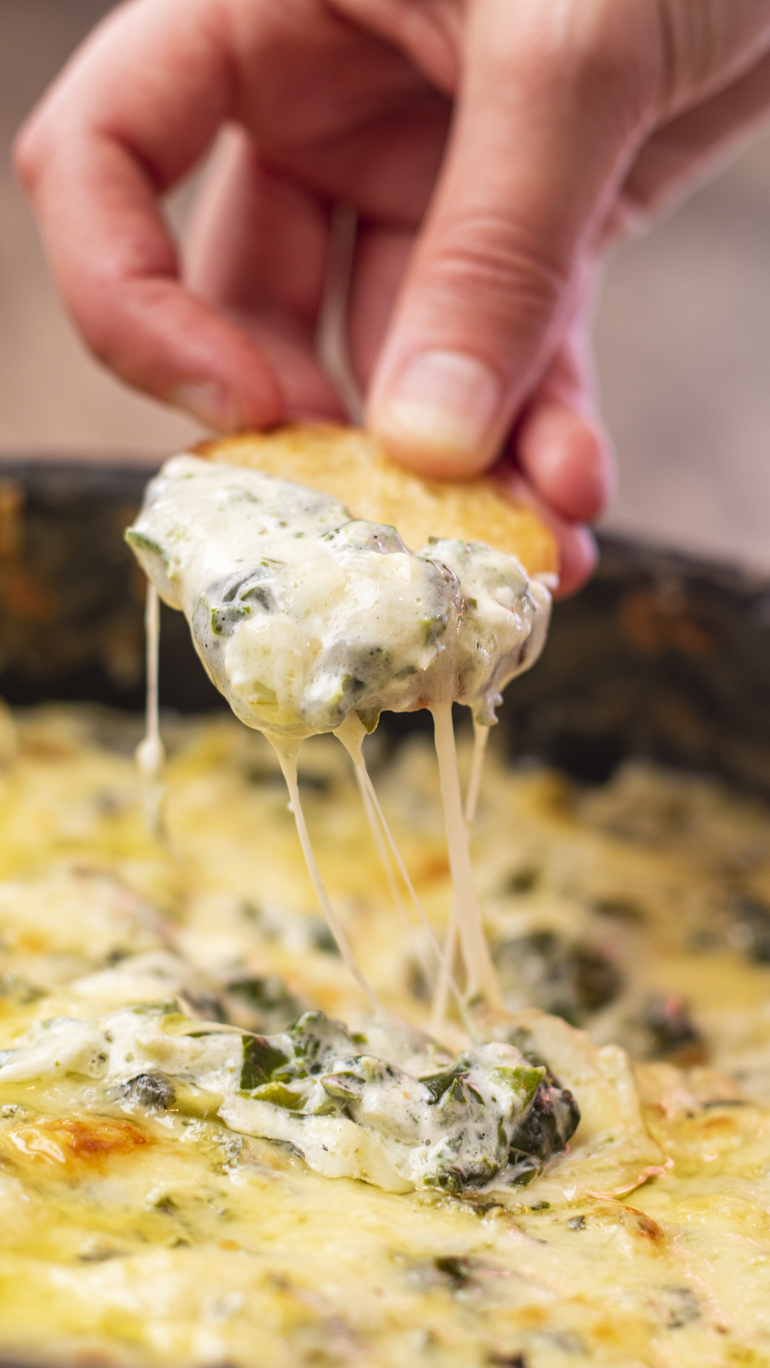 How To
This recipe starts, like many good ones do, with an onion sautéed in our Fresh Churned Garlic Butter. The onion soaks up all those great flavors– the garlic and spices. Yum! Then we turn off the heat and add cream cheese, mayo, sour cream, and three different cheeses: Parmesan, white cheddar, and gruyere. Once it's all melty and combined, we'll add artichokes and spinach.
We found it's best to use canned artichokes (drained and chopped) and frozen spinach (thawed and chopped). This prevents the dip from being too wet and runny.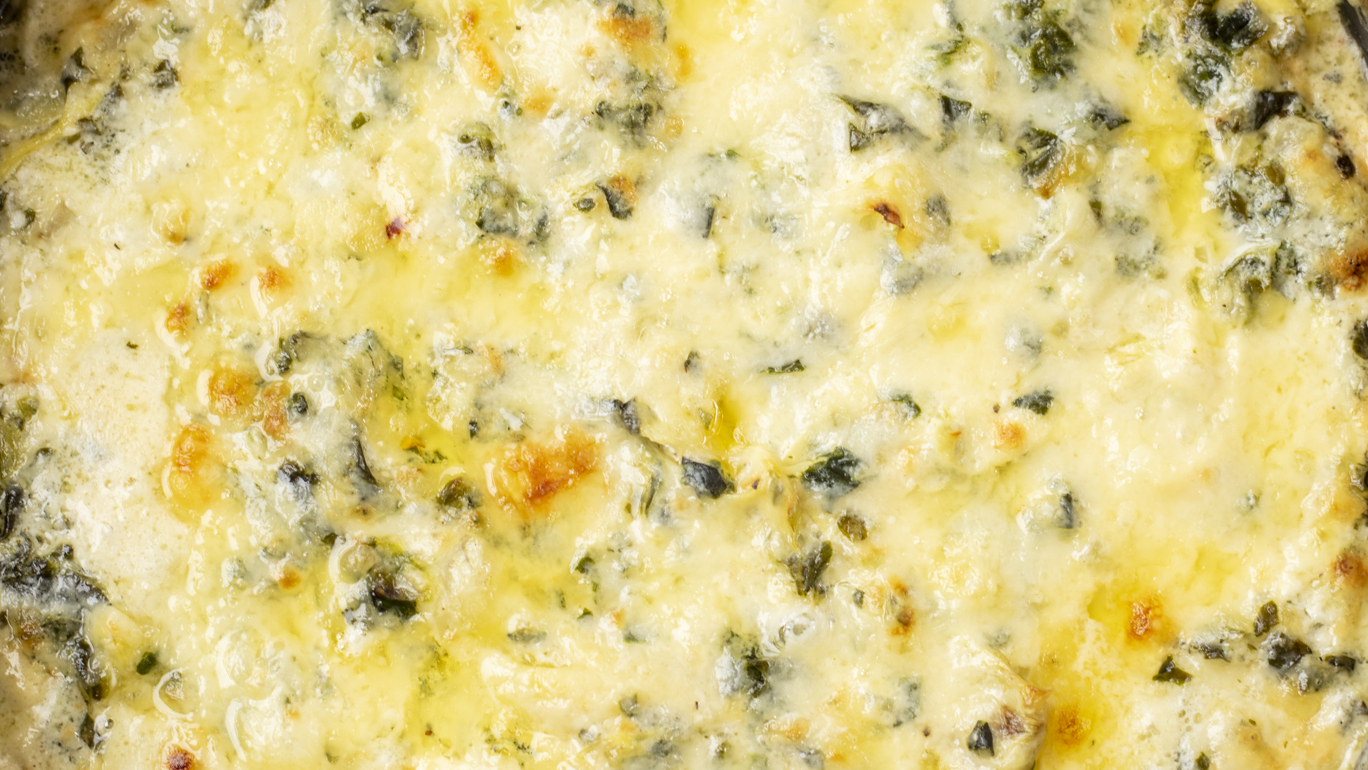 Dipping
You can use all sorts of things to scoop up this delicious dip. Toasted slices of baguette (what we used– amazing) chips, crackers, or a spoon.
Whatever you use, you won't be able to dip fast enough– this stuff is SO good!
Enjoy!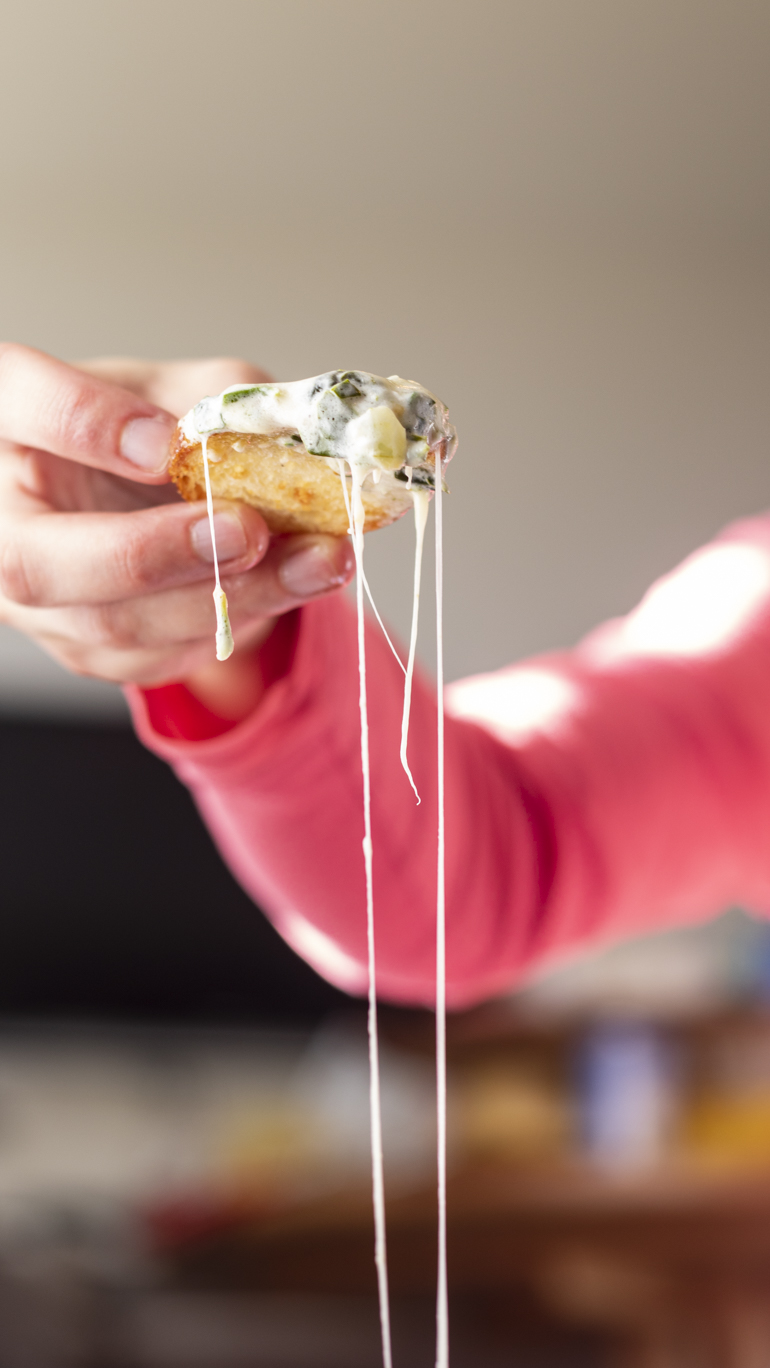 Cheesy Garlic Spinach Artichoke Dip
Course: sides
Ingredients
1 onion, finely diced

8 oz cream cheese, softened

¾ cup mayonnaise

¾ cup sour cream

1 cup grated Parmesan

1 cup white cheddar cheese

½ cup shredded Gruyère

14 oz can artichoke hearts, drained and chopped

10 oz package frozen spinach, thawed and chopped

½ tsp red pepper flakes

Salt and pepper, to taste

Toasted baguette or chips, for serving
Directions
Preheat oven to 350° F.
Melt Garlic Butter over medium heat in a cast iron pan or oven safe skillet. Add onion and saute 5 minutes. Turn off heat and add cream cheese, mayo, sour cream, Parmesan, white cheddar, and Gruyere. Stir to combine.
Mix in artichokes and spinach. Season with red pepper flakes, salt, and pepper.
Top with additional cheese, if desired.
Bake at 350° for 30 minutes.
Serve with baguettes, chips, or crackers.