Chicken Wings
Fried chicken has long been a staple in Southern cooking, but our recipe is a little bit healthier. Our Garlic Parmesan Baked Chicken Wings are baked instead of fried, but you can't tell the difference. They're so delicious– with only 4 ingredients!
Chicken wings and football go together like peanut butter and jelly. Chicken wings with a spicy sauce actually originated in Buffalo, NY (hence Buffalo Wings) in the 1960s, and grew in popularity immediately. Restaurants and bars realized that if you served them during a game, beer sales went through the roof due to their salty/spicy flavor. Which is why we can't bear to watch a football game without some wings! It almost feels wrong not to!
Our wings aren't Buffalo wings– in fact, they're not spicy at all. But they are loaded with flavor and they're absolutely amazing.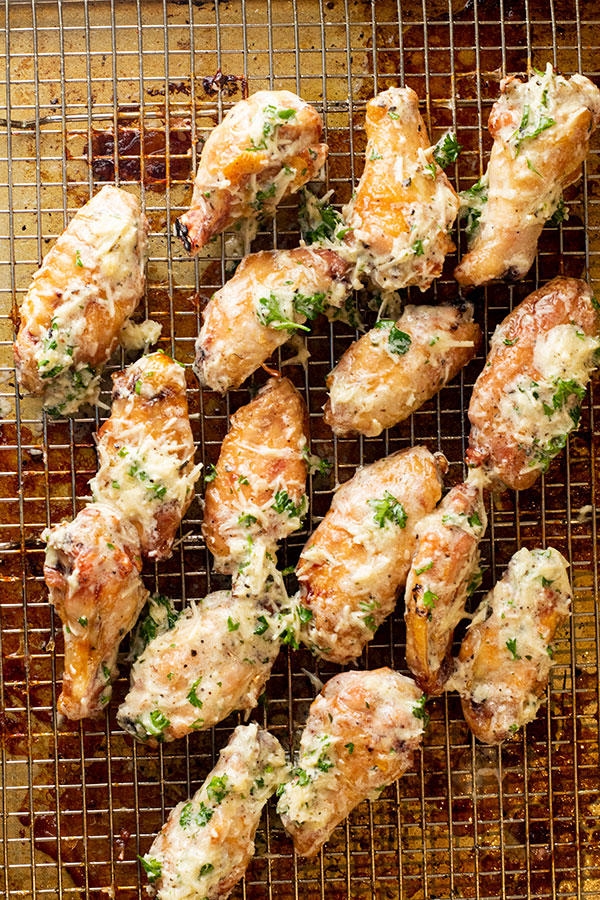 Garlic Parmesan
The "sauce" for our wings is really simple. First, melt some of our Fresh Churned Garlic Butter in the microwave or in a pan. Add some Parmesan cheese and fresh chopped parsley and stir it together.
It's easy, but the flavor is great. There a nice hit of garlic from the butter. Parsley adds freshness, while Parmesan contributes a salty tang. It's important to add shredded Parmesan instead of powdered– shredded has better flavor and texture.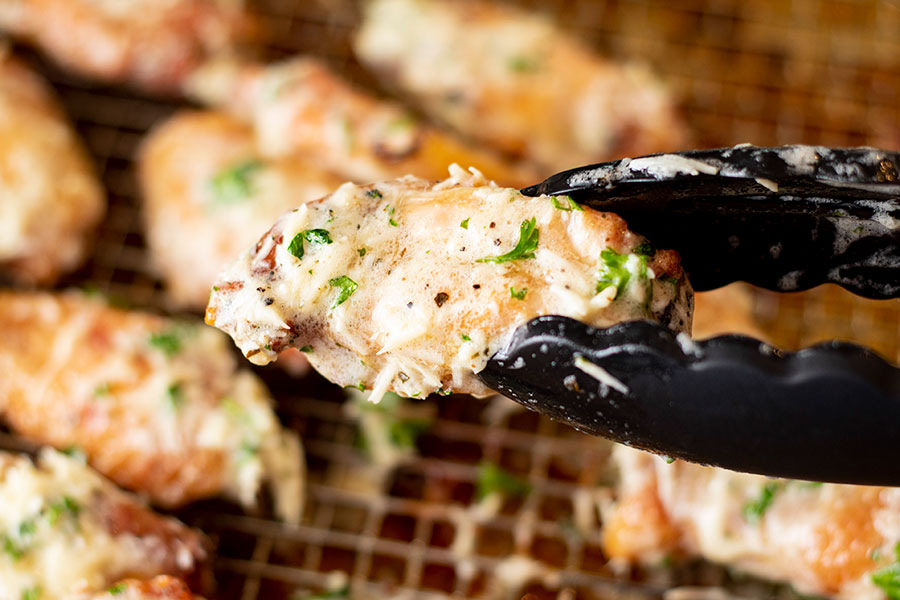 Baking the Wings
The timing depends on whether you use boneless wings or not. I prefer boneless, but we couldn't find them at the store. So we had wings with bones and the skin on. Use a roasting rack in a sheet pan. The roasting rack allows for even distribution of heat around the meat. Make sure you spray it with cooking spray though, or the wings will stick.
Throw your wings in the oven at 450° and bake for about 20 minutes. Flip and then cook another 15-20 minutes.  If you're using boneless wings, they won't take as long. Use a thermometer to determine when the chicken is cooked through. It needs to reach 165°.
Once the wings are out, toss them in the Garlic Parmesan sauce, and serve immediately with lots of napkins!
Enjoy!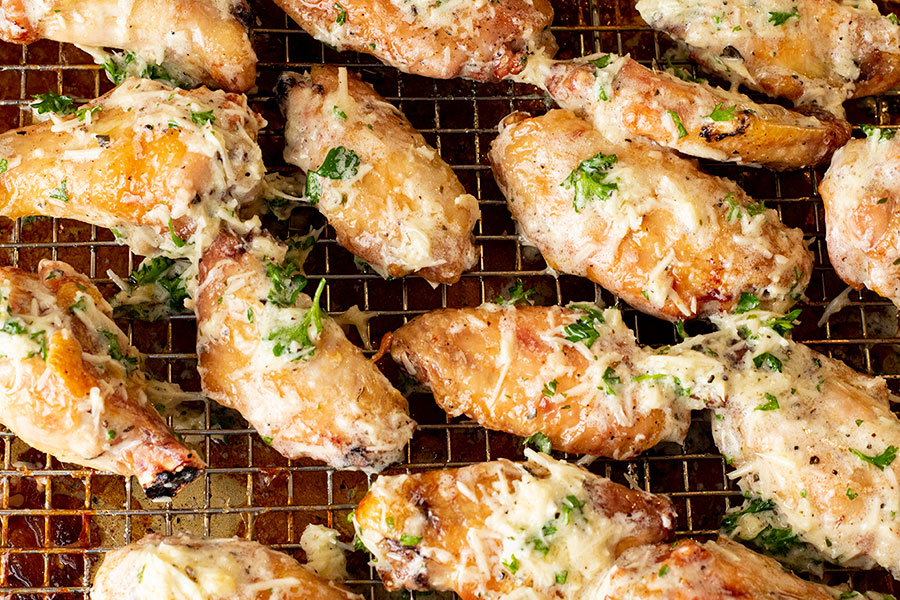 Garlic Parmesan Baked Chicken Wings
Course: Dinner, Sides
Directions
Preheat oven to 450° F
Place chicken wings on wire rack of a roasting pan. Bake at 450° F for 20 minutes. Flip, then bake for an additional 15-20 minutes, or until internal temperature reaches 165°.
Meanwhile, melted Garlic Butter in a bowl. Add parsley and Parmesan, then mix to combine.
When the chicken wings are cooked, put them into bowl. Toss in the butter mixture until coated.
Serve.