Cheese Bread with a Twist
We've all had cheese bread before. We all love it. You can never have enough cheese! This recipe is a little bit unexpected, and a little unusual. You expect cheesy garlic bread. But you'll fall head over heels for our French Onion Cheese Bread. It's the cheesy bread that you love with an onion twist.
The secret is Chef Shamy French Onion Butter with Asiago Cheese. There's something about the salty onion-y flavor that's just so satisfying. And the hint of Asiago in the butter is elevated by a little bit fresh grated Asiago on top of the bread. It really elevates the flavor!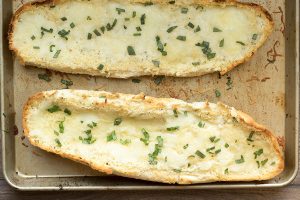 The Many Uses of Cheese Bread
I used to be pretty unimaginative when it came to stuff like this. I could only think of eating it with pizza, like cheese sticks. But French Onion Cheese Bread has unlimited ways to improve your meal.
Try it next to a soup. Dip it in your favorite Tomato Soup! Or even as the compliment to chicken noodle! Literally would be delicious with all things.
When you have spaghetti, lasagna, or some other lovely Italian dish with sauce to spare, dig in! Use it to clean your plate!
Use it as a sandwich. We actually used the leftovers to make an amazing sandwich with some pork that had been slow cooked. Try this Slow Cooker Pulled Pork recipe! Or do a simple club sandwich!
Cheese Bread is the food of the gods! Enjoy!
If you're craving some Cheesy Garlic Bread, look no further!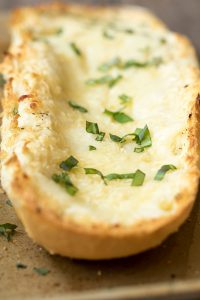 French Onion Cheese Bread
Course: Sides, Snacks
Directions
Preheat oven to 350° F
Cut the loaf in half lengthwise
Spread softened or melted Chef Shamy French Onion Butter evenly over both halves
Sprinkle Mozzarella cheese over bread, then sprinkle Asiago lightly on top
Bake at 350° for 5-10 minutes, or until cheese is melted.
Turn oven to Broil, and broil for 2 min, allowing cheese and the edges of the bread to brown slightly
Garnish with fresh parsley or basil.
Serve immediately
Notes
Use a full 4.5 oz tub– otherwise the bread will become super dry!