Creamy Chicken Pasta
Instant Pot Creamy Chicken Pasta will rocket to the top of your easy weeknight dinner list. It's absolutely delicious, and it comes together really quickly. It's chicken cooked in our Fresh Churned Garlic Butter with pasta in a creamy Parmesan sauce, and yes — it's just as yummy as it sounds!
Let's talk through this easy recipe.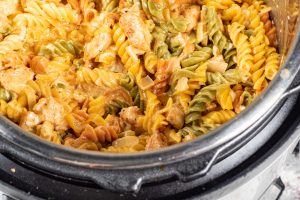 Chicken
Start by seasoning a pound or so of chicken breasts. We used salt, Italian seasoning, paprika, and pepper. The smokiness of the paprika and the Italian herbs combine really well.
Use the saute function of your pressure cooker to saute the chicken in the Garlic Butter. Add some onion. The chicken doesn't need to be cooked all the way through, just enough to soak up that amazing garlic flavor from the butter.
Then add some chicken stock and deglaze the pot. This just mean stir it around and soak up all those flavors in the pot from the chicken cooking.
Now add your uncooked pasta!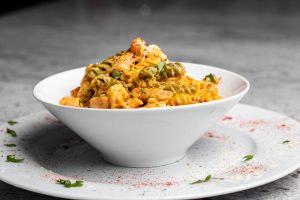 Pasta and Sauce
You can use any pasta you want. We used multi-colored rotini, but you can use any pasta you want. Close the lid and cook for 3 minutes.
Release the pressure, then add some cream cheese and Parmesan cheese. Stir everything together, and voila! You're done!
Make sure to taste for seasoning, and serve!
Enjoy!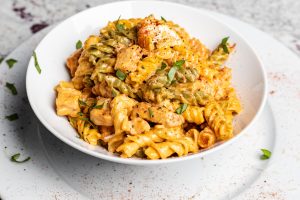 Instant Pot Creamy Chicken Pasta
Course: Dinner
Ingredients
1 pound chicken breast, diced

1 tsp salt

3 tsp Italian seasoning

2 tsp paprika

½ tsp black pepper

1 small onion, finely chopped

16oz rotini pasta

3 cups chicken broth

1 cup heavy cream

2oz cream cheese

1 cup finely grated fresh Parmesan cheese

Fresh chopped basil, to garnish
Directions
Season diced chicken breast with salt, Italian seasoning, paprika, and black pepper.
Turn on the pressure cooker and press the SAUTE function. Melt Garlic Butter in the pot, then add chicken. Saute chicken pieces on all sides, then add chopped onion. Saute for about 4 minutes.
Turn OFF the saute function and deglaze the pot with some of the chicken stock. Add the pasta and chicken stock and give everything a good stir.
Cover with the lid and lock it into its position. Turn the vent to the SEALING position. Press the MANUAL button (pressure cooking) and adjust the time to 3 minutes. When cooking is finished, release the pressure.
Stir in heavy cream, cream cheese, and Parmesan cheese. Taste and add more seasoning if needed. Sprinkle with finely chopped basil and serve.
Notes
Chef Shamy's note: Add ¾ cup maple syrup when you add the cream cheese. He had a recipe like this in Canada and the sweet just added that much more.