Grilled Chicken
We love this time of year. Warm weather, fresh produce, and grilling! We'll find any excuse to light the grill, and we'll use it to cook just about anything. But there's something special about this delicious Lemon Herb Grilled Chicken.
It's a moist, beautifully flavored piece of meat. Let's talk through it!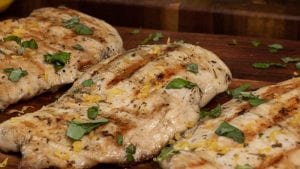 Chicken Breast
Chicken breasts can be a difficult thing to grill. It's hard to know when it's done, and overcooked chicken is never good. Especially white meat. It dries out quickly and can have a bland flavor.
That's why our recipe calls for chicken breasts cutlets. You can usually find them in the meat section of any grocery store, but if you can't, it's simple to do yourself. Simply cut a chicken breast in half lengthwise, creating two thinner pieces of meat.
The slimmer width helps the chicken to cook more evenly and more quickly. You won't be burning the outside while waiting for the inside to get up to temperature.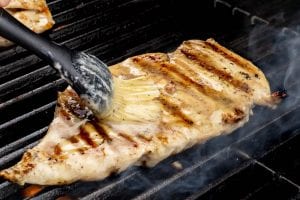 Lemon Herb
Speaking of temperature: that's the best way to make sure the chicken is cooked. Chicken needs to reach 165° F, or it may not be safe to eat. Have a meat thermometer close by, and keep checking.
The flavor is really simple. Just use our Chef Shamy Lemon Herb Butter. It's got a lovely lemon-y zest and a punch of herbs. Every time you flip the chicken, baste it with some melted butter. Just make sure you wait until the first flip, so your brush isn't touching raw chicken.
Enjoy!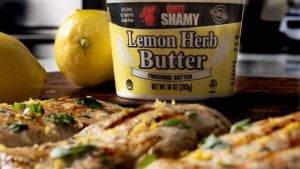 Lemon Herb Grilled Chicken
Course: Dinner
Ingredients
1 1/2 pounds thin-sliced boneless skinless chicken breast cutlets

8 T Chef Shamy Lemon Herb Butter, melted

Salt and pepper, to taste

Fresh basil, for garnish

Lemon slices, to garnish
Directions
Preheat and grease grill.
Place chicken cutlets on grill. Cook 3 minutes, then flip. Baste generously with melted Lemon Herb Butter.
Cook until chicken reaches 165° F, flipping as needed. Continue to baste with Lemon Herb Butter. Season with salt and pepper, to taste.
Allow chicken to rest 5 minutes, then garnish with fresh basil/lemon slices, and serve.