Keto
This delicious Egg Roll in a Bowl recipe is keto-friendly! That means that there are no carbs! Not only that, it's packed with protein and vegetables, while tasting amazing. That's the keto way!
Keto is a shorter way to say "ketosis." This diet stresses the importance of putting your body into ketosis, which forces your body to burn fat. It's a great way to lose weight, but sometimes eating this way can be a little monotonous. We love introducing great flavors in dishes that are low carb!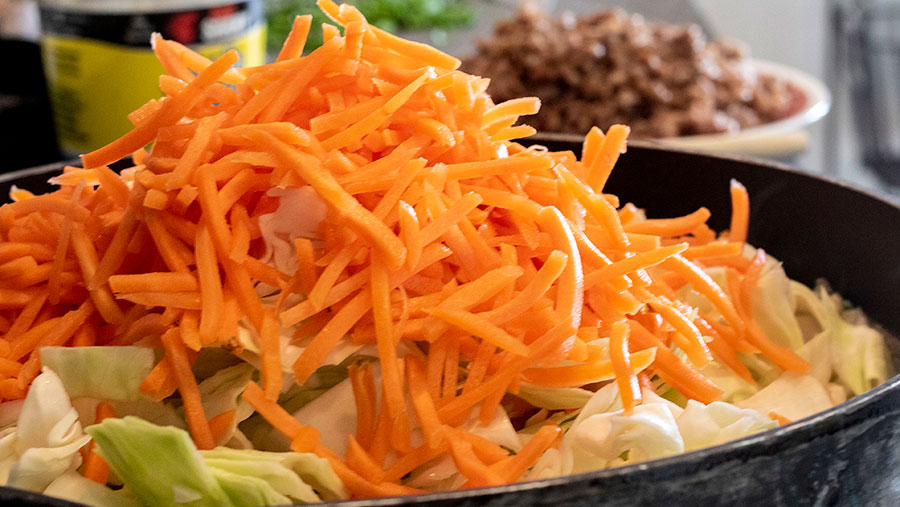 Egg Roll
Egg Rolls are one of my favorite things to get when I go to a Chinese restaurant. They're so simple, yet so good. This recipe takes all of those ingredients out of the wonton wrapper and puts it in a bowl.
The ingredients here are pork sausage, cabbage, and carrots. That's it!
Start by browning your sausage. The remove it from the pan. The start working on those amazing flavors.
We start with our Fresh Churned Garlic Butter. It adds some much needed fat, and a great garlic punch. We melt it over medium heat, then add sesame oil, fresh ginger and green onions. The butter soaks up those extra flavors, and transfers them to the vegetables.
Once everything is cooked, you'll add the sausage you browned back into the pan with some soy sauce, and you're done!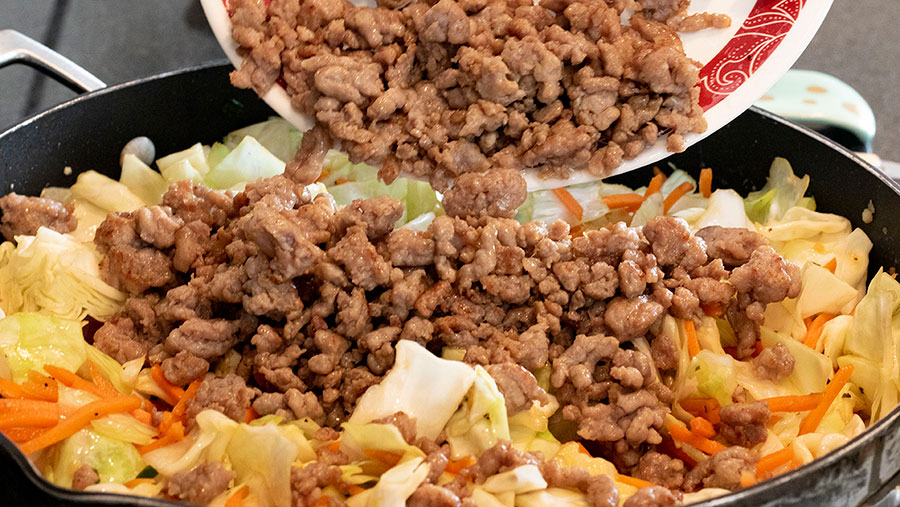 Cooking Vegetables
It's better to leave these veggies with a little crunch. If you saute them all the way until soft, they'll actually become mushy. The residual heat of the pan will continue cooking the cabbage and carrots, taking them past "done" to "overdone."
So when the recipe says to cook for 5 minutes, try to keep to that timetable. You want the cabbage to still have a bit of bite to it! Depending on the size of your carrots, you may want to add them a few minutes after the cabbage, since smaller carrots will cook faster.
Enjoy!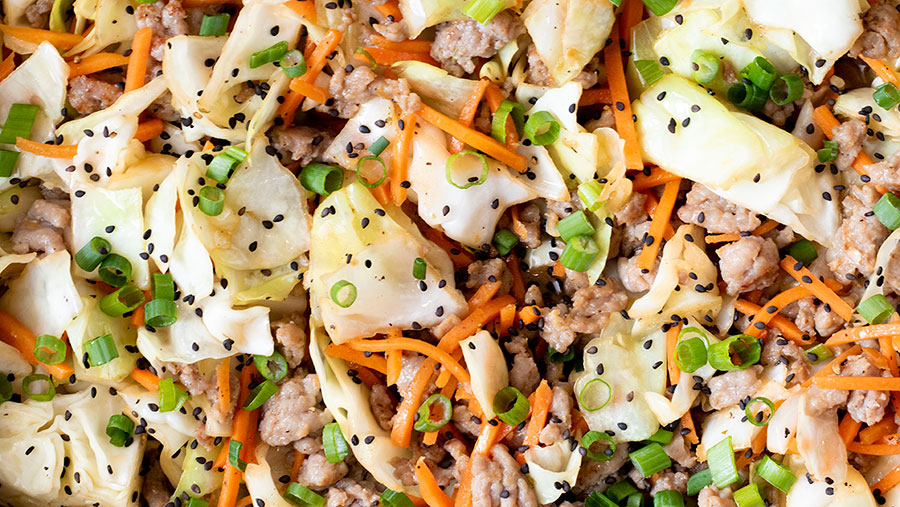 Egg Roll in a Bowl
Course: Lunch, Dinner
Ingredients
1 lb ground pork sausage

2 tsp sesame oil

2 T minced ginger

3 T chopped green onions

6 cups shredded cabbage

2 cups matchstick carrots

2 T soy sauce

¼ cup chopped green onions, for garnish

1 T black sesame seeds, for garnish
Directions
Heat pan over medium heat, and brown pork sausage, stirring to crumble, until fully cooked through. Remove from pan and set aside. Drain fat.
Melt Garlic Butter oven medium heat. Add sesame oil, ginger, and green onions. Cook 1-2 minutes, or until fragrant.
Add cabbage and carrots and toss to combine. Cook 5 minutes, until slightly tender, then add soy sauce. Stir.
Remove from heat, and garnish with additional green onion and sesame seeds.