Pizza!
Good pizza crust = good pizza
Bad pizza crust = bad pizza
The crust makes or breaks the pizza. So why do so many people throw the crust away? They eat the "good part" with all the cheese and sauce but then leave the edge. No more, my friends. No more.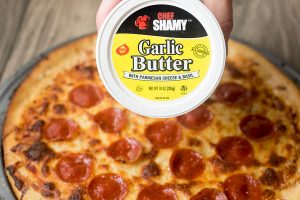 Garlic Crust
The thing that can make the crust even better is turning it into a garlic crust! It's the latest craze when it comes to pizza– any pizza chain worth its salt offers flavored crusts. But luckily, you can do it yourself. The trick is to use Chef Shamy Parmesan Basil Garlic Butter. Spread it all over your crust, and you won't be sharing your crust with the trash can anymore.
Feel free to be as creative as you want with the toppings. That's what pizza is all about. But don't forget that Garlic Butter– that stuff is delicious!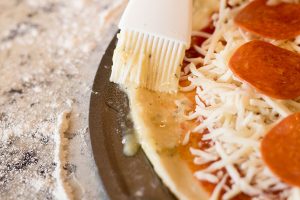 Dough
Let's put aside the amazing Garlic Butter for a second and talk dough. I love making bread dough. I love kneading, and I especially love all the science behind dough. It's really cool!
Here's an article you can read: Breadmaking 101
And since pizza crust is yeast dough, the science still applies.
Learn lots, and enjoy!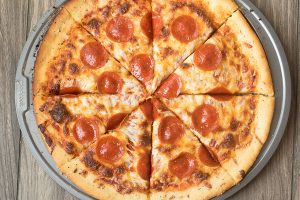 Garlic Butter Pizza Crust
Course: Dinner
Ingredients
1 T yeast, dissolved in

1 3/4 cup warm water

4 1/2 cups flour

1 tsp. salt

1/4 olive oil (plus more for pans)

3 T Chef Shamy Parmesan Basil Garlic Butter, melted

Pizza fixings: pizza sauce, cheese, pepperoni, etc.
Directions
In a bowl, mix together yeast and warm water.
In a separate bowl, whisk together flour and salt. Add olive oil and warm water/yeast. Mix together until combined.
Knead until the dough becomes a smooth ball, about 5 minutes.
Cover with a towel and leave to rise, about 30 minutes, or until the dough has doubled in size.
Preheat oven to 425° F
On a lightly floured surface, roll half the dough out into a circle, and place on a pizza pan.
Brush melted Garlic Butter all along the crust.
Add pizza toppings as desired.
Bake pizza at 425° F for 15-18 minutes.
Serve immediately
Notes
Dough makes enough for 2 (14 inch) pizzas