Yellow Cake Mix
We love baking here at Chef Shamy. And we believe in baking from scratch! But let's be honest, sometimes you just don't have the time and energy to make a cake from scratch. So our Easy Yellow Cake recipe uses a boxed cake mix and our very own Chef Shamy Chocolate Buttercream Frosting.
There's no shame in using a cake mix. We'll teach you how to pimp it up to make it taste the best it can possibly be.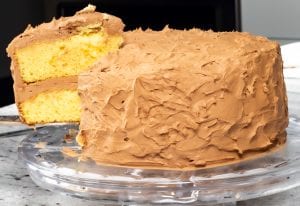 The Recipe
The back of each cake mix box includes a recipe that usually calls for oil, water, and eggs. But here's our secret: replace the water with an equal amount of milk and the oil with the same amount of melted butter. We used our new European Style Butter— this butter is delicious– it has a higher fat content than most other butters in the United State, which translates into a super creamy butter.
Substituting water and milk into the recipe makes the cake softer and more moist.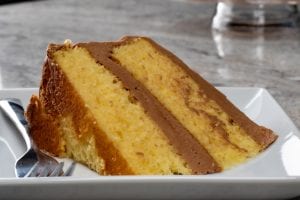 Follow the back of the box for baking instructions, and make sure to keep an eye on your oven. There are three ways to determined if your cake is baked. It's done when 1) a wooden toothpick inserted into the center of the cake comes out clean, 2) the cake bounces back to the touch, and/or 3) the cake pulls away from the sides of the cake tin.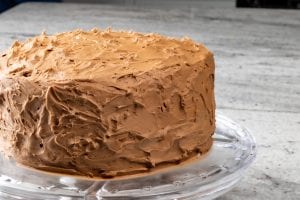 Chocolate Buttercream
Make sure the cake is completely cool before frosting it with our delicious chocolate buttercream. Yellow cake and chocolate frosting is a classic combo, and our buttercream is amazing. The perfect amount of chocolate, just the right sweetness.
Frosting takes practice and patience. Don't be too hard on yourself, it doesn't need to look perfect!
Enjoy!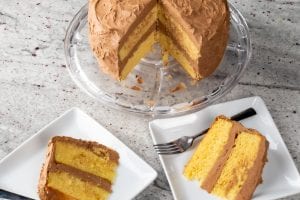 Easy Yellow Cake with Chocolate Buttercream
Course: Dessert
Directions
Preheat oven to 350° F.
In a large mixing bowl, mix together cake mix, milk, butter, and eggs. Beat until well combined.
Pour batter in two well greased 9 inch cake pan, and bake at 350° F according to package directions.
Let cake cool completely before frosting with Chef Shamy Chocolate Buttercream.
Serve.