Galettes
Making a peach galette with puff pastry is so easy, and it's one of the most delicious peach/pastry desserts you'll ever taste!
But what is a galette? A galette is a French (surprise, right?) dessert similar to a pie. It's usually circular, and free form. Ours is rectangular, but its shape doesn't matter. All that matters is it's delish!
We used puff pastry to form our galette, partly because I like puff pastry, and partly because you can buy it pre-made in a package, and it turns out really well. Who doesn't love a bit of puff pastry?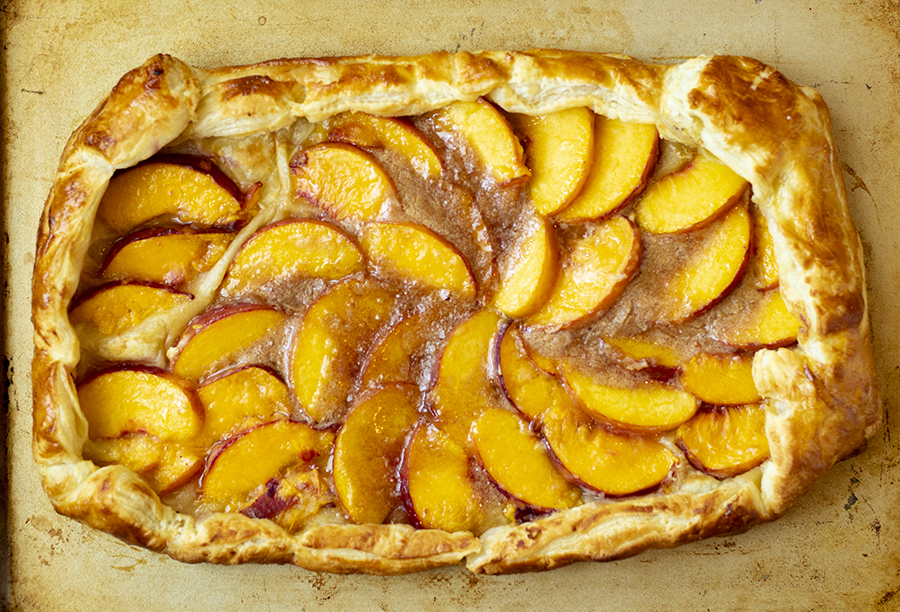 Peaches
If I had to identify my favorite food, without a doubt, it would be fresh peaches. Maybe it's because there's a limited window during the year that they're in season, but something about them make my taste buds sing. Do you love peaches as much as I do?
The trick when making any sort of fruit dessert is to let the fruit shine. Adding a little bit of sugar is fine, but the flavor of fruit is sweet to begin with, so you don't want to do too much. Peaches are no different. When cooked, they ooze all sorts of delicious sweet juices, and too much sugar can ruin those natural flavors.
The compliment to the peaches is Chef Shamy Cinnamon Brown Sugar Honey Butter. A couple of dollops on top of the peaches melt down into a beautiful cinnamon-y caramelized glaze for the fruit.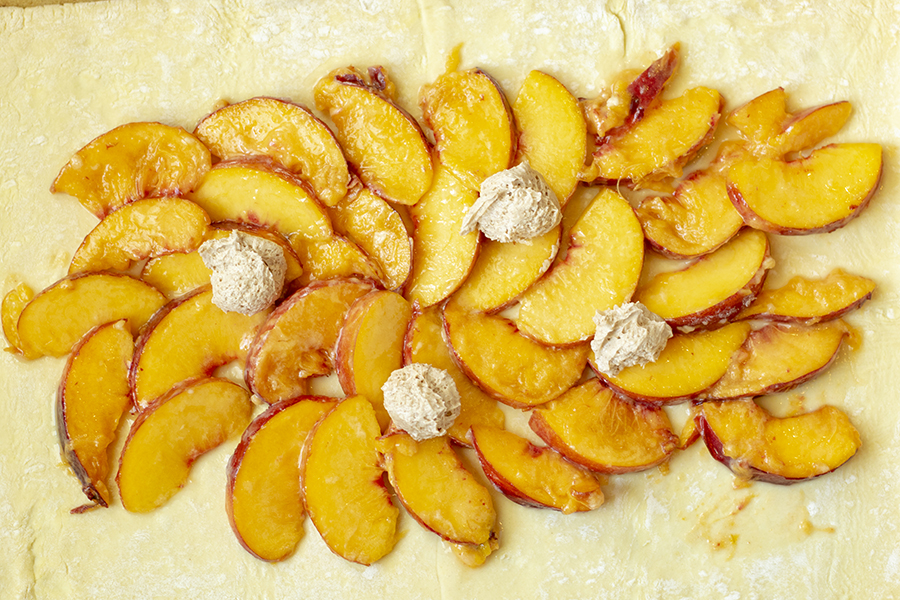 The Method
Because a peach galette may be a new thing, let's go through the process step by step. When in doubt, just remember you're essentially making a free form peach pie.
Toss your sliced peaches with a little bit of sugar and flour. Flour helps soak up some the juices in the oven.
Take two sheets of puff pastry (boxes of puff pastry come with two sheets) and pinch them together to make a long rectangle. There should be about an inch of overlap.
Arrange your peaches in a pretty pattern.
Dot the top with some dollops of Chef Shamy Cinnamon Brown Sugar Butter.
Fold the pastry over , just on top of the most outer peaches to make your own crust.
Brush the crust with an egg wash, then bake!
It's pretty simple!
Enjoy!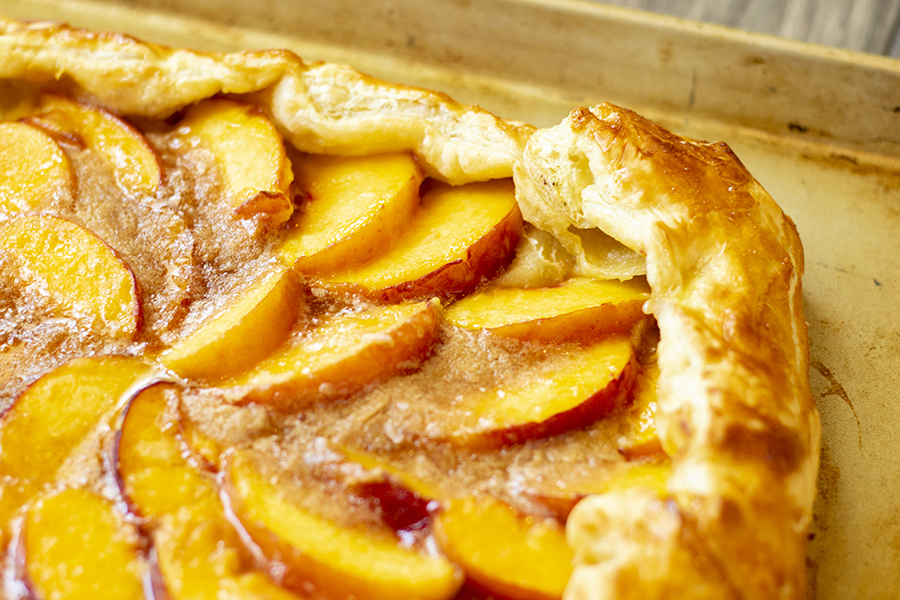 Puff Pastry Peach Galette
Course: Dessert, Sweets
Ingredients
1 package puff pastry dough (2 sheets)

2-3 large peaches, pitted and sliced

3 T sugar

1 T flour

½ tsp vanilla extract

1 egg, beaten
Directions
Take puff pastry out of the freezer, and allow to sit at room temperature for about 30 minutes.
Preheat oven to 425° F.
In a medium mixing bowl, toss together peach slices, sugar, flour, and vanilla.
Pinch sheets of puff pastry together to make a long rectangle. Allow about an inch of overlap.
Arrange peaches in the middle of the pastry in a single layer.
Place 4 dollops of Cinnamon Honey Butter on top fo the peaches.
Fold the edges of the pastry over to create a crust. Brush the crust with egg wash.
Bake at 425° F for 20-25 minutes, or until pastry is done.
Cut into pieces and serve.