Apple Time
Hands down, my favorite season is fall. I love the changing leaves, the cooler air, and of course, apples! You can get apples year round, mostly, and they're still pretty good. But fall is the time– the true apple season — where you get variety and big, juicy apples. And there are so many things you can do with them. Sweet or savory, apples can be a welcome addition to many recipes. But you'll flip for this Cinnamon Caramel Apple Crisp, the perfect way to use the perfect fruit.
We used Granny Smith apples– here's a handy dandy Guide to Baking Apples.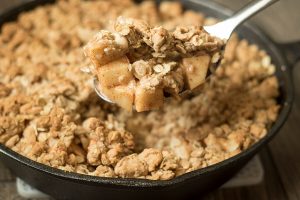 Apple Crisp with a Twist… or Two
And I don't want to sound dramatic, but this is maybe one the BEST things we've EVER made. The caps make it dramatic, don't they? Well. I stand by my statement.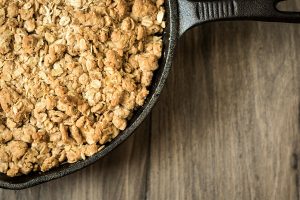 There are a couple of special ingredients in this Cinnamon Caramel Apple Crisp, and both of them are in the title. The first is Chef Shamy Cinnamon Honey Butter. It's really a perfect flavor for fall, and we know that cinnamon and apple is a winning combination. One of the things I like about the Cinnamon Butter is that it's sweet without being too sweet. You know what I mean?
The second special ingredient, is, of course, caramel. I love caramel, and adding caramel chips on top of the apples really hit the spot for me. And caramel and apple is definitely another winning flavor combination.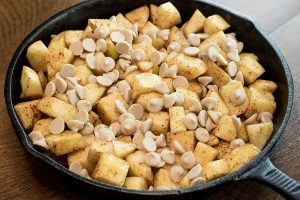 Apple Crisp 101
It's pretty much a no-brainer that you're going to want a scoop of vanilla ice cream with your Cinnamon Caramel Apple Crisp– that's Apple Crisp 101. We drizzled some caramel sauce on top as well.
Another bit of basic knowledge– we want it to be Apple Crisp, not Apple Soggy. Make sure to keep it in the oven until the crumbly topping is nice and brown. It's such a nice texture contrast to the soft apples!
Lastly, I like Apple Crisp warm. I also like it cold. The great thing about it is that it can be either temperature and still be delicious. What do you like? Warm or cold? Speak up! And ENJOY!!
Love apples? Try our Cinnamon Apple Chips!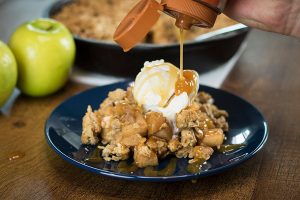 Cinnamon Caramel Apple Crisp
Course: Dessert, Sweets
Ingredients
Topping:

1 1/2 cups oats

1 cup flour

Filling:

5 Granny Smith apples, peeled and cubed

1 tsp cinnamon

1/2 tsp vanilla

2 Tbsp lemon juice

4 oz caramel chips
Directions
Preheat oven to 350°
For the topping, mix oats and flour. Cut in butter until you have crumbly mixture.
For the filling, mix apples, cinnamon, vanilla, and lemon juice together
Place filling in a prepared cast iron skillet.
Sprinkle caramel chips evenly over the apples
Layer the topping mixture over top, making sure it covers the apples completely and goes all the way to the edges
Bake at 350° for 50-60 minutes, or until golden brown.