Chicken Alfredo with a Twist
One of my favorite pasta dishes is fettuccine with a delicious Alfredo sauce and chicken. But it's summer, and pasta is full of carbs. So we've made a substitution that's both healthy and carb-free! Introducing Chicken Zucchini Alfredo!
This is a twist on the classic, and it's worth it! Instead of fettuccine or another type of pasta, we're using ribbons of zucchini squash. And we're cooking them right in the sauce.
Let's talk about it.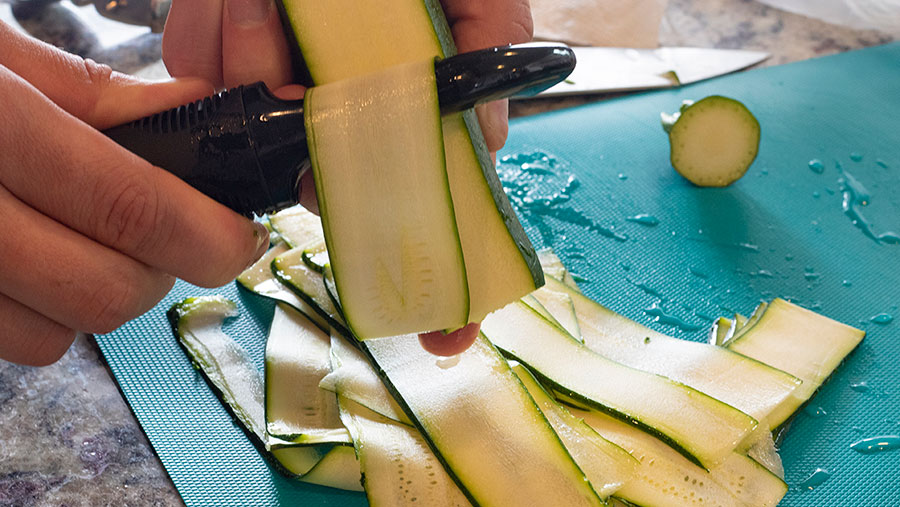 Zucchini Alfredo
Zucchini is one of many different varieties of squash, and possibly my favorite. Use a peeler to cut wide ribbons of zucchini and get them ready to go.
The sauce is pretty easy to make. Start with our delicious Fresh Churned Garlic Butter. Melt it down and then add some half and half and cream cheese. Stir everything together, until the cream cheese is incorporated. Low and slow is the name of the game– Alfredo sauce is a process.
Add some Parmesan cheese and your sauce will thicken up a little bit. Then throw those zucchini ribbons in and let the sauce bubble for a few more minutes. The zucchini will cook in that time! You don't want to overcook zucchini or it will get mushy.
Add the cooked chicken, and season the whole dish with salt and pepper, as needed.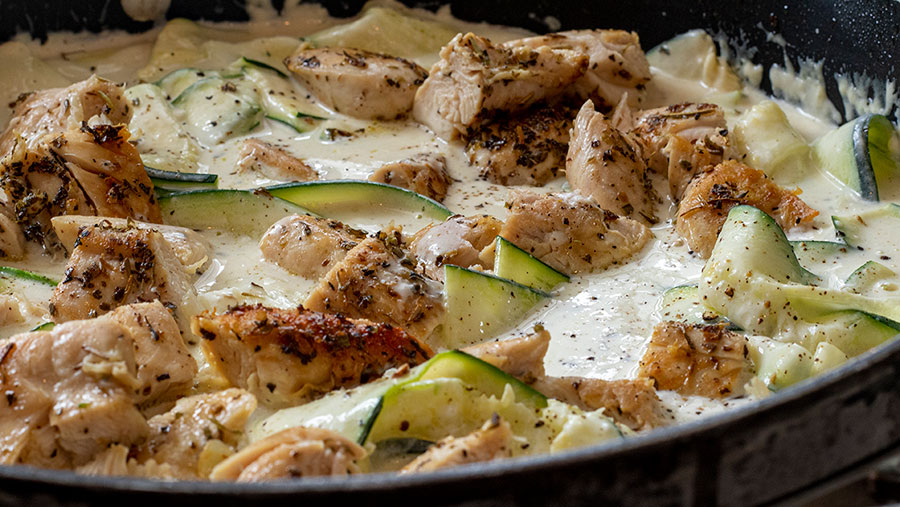 Lunch or Dinner?
Chicken Zucchini Alfredo can be a filling dish, even though it's low-carb and healthy. It would be a great summer lunch, but it could also be a quick weeknight dinner for the whole family!
Enjoy zucchini while it's in season!
Enjoy!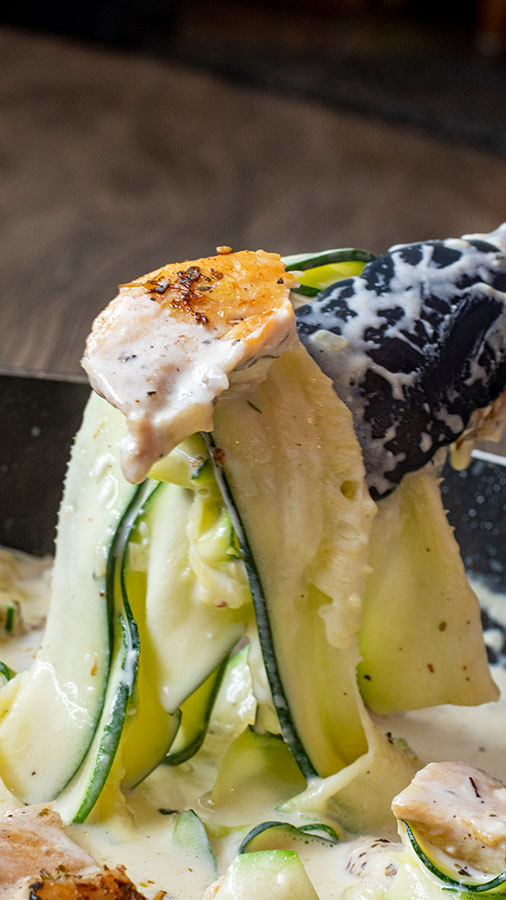 Chicken Zucchini Alfredo
Course: Dinner, Lunch
Ingredients
3 large zucchini

½ tsp Italian seasoning

2 cup half-and-half

4 oz. cream cheese, softened

1 cup Parmesan cheese

1 lb cooked chicken, cut in cubes

Salt and pepper, to taste
Directions
Use a vegetable peeler to cut zucchini ribbons. Set aside.
In a large skillet or saucepan, melt Garlic Butter. Add Italian seasoning, half and half, and cream cheese. Stir continuously, until cream cheese is fully incorporated.
Add Parmesan cheese and allow sauce to thicken. Then add zucchini ribbons and cook in the sauce for 3-4 minutes.
Add cooked chicken and stir to combine.
Season with salt and pepper, and serve.