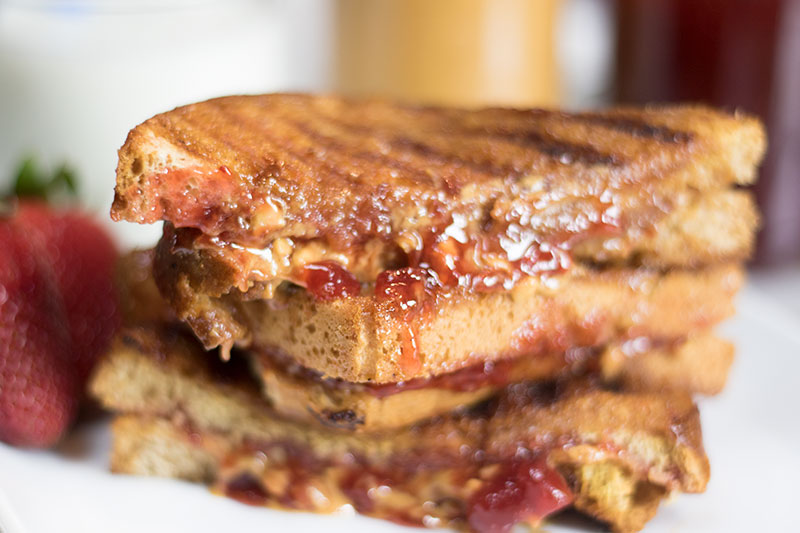 There's nothing more nostalgic for me than a peanut butter and jelly sandwich. Nowadays I don't eat them very much because of the high sugar content, but once in a while you simply have to indulge and take a trip back to your childhood. I can still remember my favorite all-time peanut butter and jelly.
Lake Powell Peanut Butter and Jelly
We were at Lake Powell in Southern Utah and hiking to delicate arch at arches national park. It took us nearly an hour by jet ski or boat and then another half hour of hiking. When we got there we were famished! To our surprise, my dad had packed lunch: peanut butter and jelly sandwiches. Now when my dad makes a PB&J, he makes sure the jam ratio to peanut butter is nearly double. I don't know about you, but I really like it done this way because then you don't get a dry sandwich that sticks to the top of your mouth. The only trouble with this is that it gets ALL OVER THE PLACE. No problem for us, we just jumped in the lake on that sweltering day. Of course, if you don't have a lake, maybe you can start eating them in the shower… like oranges.
Tips and Tricks
There really aren't too many tricks to making a peanut butter and jelly sandwich. But let's have a go at it:
To avoid soggy bread, try spreading peanut butter on both sides of the sandwich before spreading the jelly.
Try switching it up, there are a myriad of nut butters, breads, jams, and jellies to create seemingly endless combinations
Put more jam than peanut butter to avoid sticky mouth
Use two knives so you don't contaminate each respective jar
Grilled Peanut Butter and Jelly Sandwich
Cinnamon Grilled Peanut Butter and Jelly
Prep time:
Cook time:
Total time:
So easy a 3-year-old could do it!
Ingredients
2 slices of bread, any kind
Jar of Peanut Butter
Jar of jelly
Instructions
Lay bread flat
With a knife spread peanut butter on both sides of bread
With a separate knife spread desired amount of jelly on one side
Bring the two halves together
Spread a thin to medium layer of Chef Shamy Honey Butter on one side, then transfer to a hot grill pan. Cook for about 2 minutes or until grill marks appear
Flip and cook for an additional two minutes. Peanut butter should be slightly melted
Let cool