Football Food
This time of year is what we call Football Season. It's a wonderful time of year, especially because the possibilities with food are endless! There's nothing quite so satisfying as watching football while eating some delicious food. But have no fear– Chef Shamy has you covered with our Garlic Loaded Potato Skins!
Potato Skins are the perfect thing to serve if you're hosting a party– especially if you're having a bunch of people over to watch the game. It's also perfect for a family on a Sunday night, gathered around the TV. Potato skins are one of those finger foods that rides the line between appetizer and entree, because they're much bigger than bite size, but not quite enough to fill you up.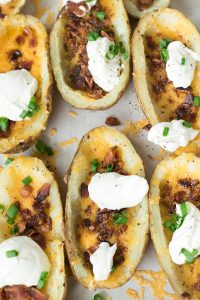 Loaded
The first step to a Loaded Potato Skin is, of course, Chef Shamy Parmesan Basil Garlic Butter. You could put that stuff on a flip flop and I'd eat it. The flavor is killer, and we already know that it's great on potatoes. So it's a must.
But after the Garlic Butter, your definition of "Loaded" might be different than anyone else. Basically, whatever you think is good on a baked potato is fair game. For example, I put cheese (LOTS of cheese), some crumbled bacon, a little sour cream, and green onions. I'd call that the classic version of "Loaded."
Think outside the box! Mix up the kinds of cheese, or put a cheese sauce! Spoon some chili on top, or even some marinara sauce! There's no wrong way here, at least, as long as you've got Garlic Butter!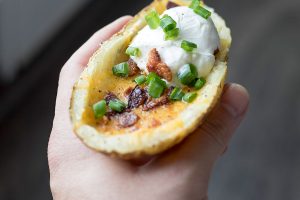 Easy and Simple
I'll say it in a sentence: these Potato Skins are EASY and SIMPLE! Seriously, you can whip them up in no time. The hardest thing about it is baking the potato– but even that's not hard, it just takes a while. And with customizable and mostly pre-made toppings, this can be a winner in the taste and the easy department!
Here's a lovely guide to help you Bake the Perfect Potato!
And you'll need something to do with the inside of the potatoes after you scoop them out: Try our Mashed Potato Bites!
Garlic Loaded Potato Skins
Course: Sides
Directions
Preheat oven to 425°
Cut the baked potatoes in half lengthwise. Use a spoon to scoop out the middle, leaving a 1/4 to 1/2 inch on the skin
Brush inside of potato skin with melted Garlic Butter
Bake for 10 minutes, or until edges are starting to brown.
Reduce oven temperature to 375°
Sprinkle cheddar cheese over the potato skins and bake for 10 minutes, or until cheese is melty.
Top with bacon, sour cream, and green onion, and serve warm