Dumplings in Soup
Dumplings come in all sorts of shapes and sizes, and are cooked in many different ways. Some are baked, some fried, some boiled. My favorite kind of dumpling is a dumpling that dropped into a delicious soup. And there's no better soup than a flavorful chicken soup. In this recipe, the dumplings replace noodles, but I don't miss them. Dumplings are lovely and soft, and take carry pretty much any flavor that you impart them with. With something so easy and tasty, making our Chicken Soup with Garlic Dumplings is a no-brainer!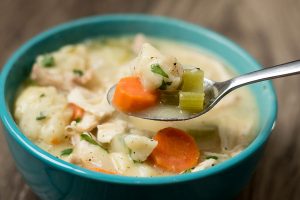 Garlic Dumplings
Some dumplings are just flour and water. But the best dumplings use butter. So why not let Chef Shamy Parmesan Basil Garlic Butter flavor your dumpling for you? The Garlic Butter gives a beautiful flavor– the right amount of salt and garlic. It's not overpowering, but it's a great flavor that improves an already good chicken soup. The basil in the butter is complimented by some chopped fresh basil. Believe me, it kicks the flavor up another notch.
Dumplings are easy enough to make. Mix together the flour, baking powder, and salt together, then rub in the Garlic Butter with the mixture is crumb like. Add the milk and fresh basil and voila! Done! Then use a teaspoon to form little balls. Roll them tight, and drop them in the boiling soup. They only take about 10 minutes to cook through. Easy peasy!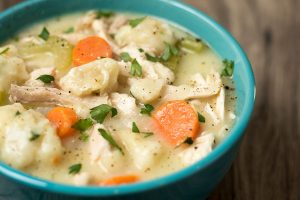 Soup Weather
It's been cold outside pretty consistently now. And when the weather's frightful, I love a good soup. The chicken soup here is pretty basic, but tastes fantastic. As I was eating my (2nd) bowl, I thought that this soup is comfort food at its finest. A delicious soup with a tasty garlic butter dumpling: what more could you ask for?
Try our Loaded Baked Potato Soup!
If you're feeling adventurous, try learning How to Make Filled Chinese Dumplings!
Enjoy!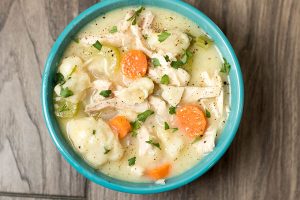 Chicken Soup with Garlic Dumplings
Course: Dinner
Ingredients
Soup:

1 onion, diced

3 stalks celery, chopped

3 carrots, peeled and chopped

8 cups chicken broth

2 cups cooked chicken breast, chopped

Dumplings:

1 cup flour

1 1/2 tsp baking powder

1/2 tsp salt

2 T Chef Shamy Parmesan Basil Garlic Butter, melted

1/2 cup milk

1 T chopped basil (optional)
Directions
In a large pot, melt the Garlic Butter over medium heat. Add chopped onion, celery, and carrot and saute until about tender.
Pour in chicken broth and bring to a boil.
Meanwhile, make the dumplings. Combine flour, baking powder, salt, melted Garlic Butter, milk, and fresh basil. Mix together with spoon.
Use a teaspoon to portion out little balls of dough. Roll them with both hands and drop them into the boiling soup.
Reduce to simmer, put the lid on, and cook for 5-10 minutes until the dumplings are done.
Add the chicken, allowing to heat through.
Serve warm.
Garnish with salt, pepper, and more fresh basil.
Notes
We used a rotissiere chicken– it was easier than having to cook it ourselves!