Blueberry Muffins
You will absolutely love our newest recipe: Almond Streusel Blueberry Muffins! Even though you can have muffins any time of the year, I think some are better in the summer. Anytime you're able to use fresh berries in a recipe, you should! And summertime is blueberry time, so we decided to take advantage.
These muffins are soft, moist, flavorful, and will be gone before you know it! Let's talk about it.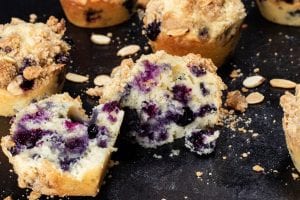 The Muffin
The muffin batter is pretty basic as far as the dry ingredients: flour, sugar, salt, baking powder, baking soda. The wet ingredients include both sour cream and buttermilk. The sour cream keeps it moist, while the buttermilk encourages a fluffy crumb. We're also using some of our European Style Butter in the batter. Fold the melted butter in at the end and your batter will become silky smooth.
Don't forget to coat your fresh blueberries in a little flour, so they don't sink to the bottom of the muffins. We want evenly distributed berries!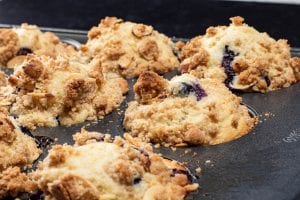 The Streusel
The streusel on top does two things: first, it gives a nice bit of crunch on top. A difference in texture is always welcome. Second, it adds tremendous flavor.
Besides the basic ingredients (flour, sugar), we're using sliced almonds and our Cinnamon Brown Sugar Honey Butter. Both add fantastic flavor that compliments the muffin itself really well.
Sprinkle a bit of streusel on top on top of the batter before you bake. And you might want to make a double batch — when we made these in our test kitchen, they disappeared fast!
Enjoy!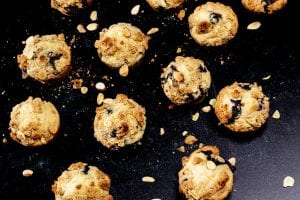 Almond Streusel Blueberry Muffins
Course: Snacks, Dessert, Breakfast, Brunch
Ingredients
MUFFINS:

2 cups all-purpose flour

1 cup granulated sugar

1 tsp baking powder

½ tsp baking soda

½ tsp salt

3 eggs

1 cup sour cream

½ cup buttermilk

¼ cup Chef Shamy European Style Butter, melted

1 tsp almond extract

1½ cups blueberries

1 tsp flour

STREUSEL:

¼ cup all-purpose flour

2 T firmly packed brown sugar

2 T granulated sugar

Pinch of salt

¼ cup sliced almonds

¼ cup Chef Shamy Cinnamon Honey Butter, softened
Directions
Preheat oven to 375°.
In a large mixing bowl, whisk together, flour, sugar, baking powder, baking soda, and salt. In a separate mixing bowl, mix together eggs, sour cream, and buttermilk until completely combined. Gently fold in melted European Style Butter and almond extract.
Mix wet ingredients and dry ingredients together until just combined — don't over mix.
In a small bowl, toss blueberries in 1 tsp flour, then add to the batter. Mix in gently.
Then, make the streusel. In a small mixing bowl, mix together flour, brown sugar, sugar, salt, and sliced almonds. Use a fork to cut in Cinnamon Honey Butter.
Divide batter between greased muffins tin wells. (Recipe makes about 18) Top with streusel mixture.
Bake at 375° F for 20-28 minutes, or until a toothpick inserted into the center comes out clean.
Allow to cool 10 minutes, before removing muffins from tin. Cool the rest of the way before serving.