Strawberry Cookies
There's really only one way to make strawberry cookies: Chef Shamy Strawberry Honey Butter!
How else will you get such a natural strawberry flavor into a cookie? I've never seen fresh strawberries in cookie before, and I think that would be weird anyway. Using Strawberry Honey Butter is the best way to get a great and unique flavor!
And boy, are these cookies delicious. I might have eaten an entire batch by myself.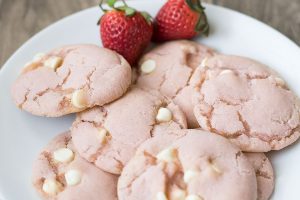 White Chocolate Chip Strawberry
White chocolate is my least favorite chocolate, but in the right place, it can be absolutely fantastic. Such is the case here.
White chocolate and strawberries is kind of a classic pairing; think Valentine's Day. And I've had white chocolate chips in cookies before– in my opinion, a little goes a long way. I don't like my cookies as full of white chocolate chips as I do of semisweet.
But the great thing about baking is you can add as many as you want– it's your choice!
Enjoy!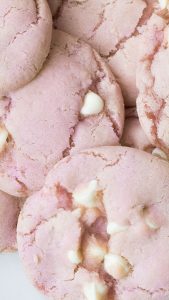 White Chocolate Chip Strawberry Cookies
Course: Snacks, Dessert
Ingredients
1 cup brown sugar

½ cup sugar

2 eggs

2 tsp vanilla

3-4 drops red food coloring (optional)

2 ½ cups flour

1 tsp baking soda

1 tsp salt

1-2 cup white chocolate chips
Directions
Preheat oven to 350° F
In a large mixing bowl, cream together Strawberry Honey Butters and sugars until light and fluffy. Beat in eggs, vanilla, and food coloring (if desired).
Then add flour, baking soda, and salt, and mix until combined.
Use a wooden spoon spatula to gently fold in the chocolate chips.
Drop dough onto a greased cookie sheet using rounded tablespoon.
Bake at 350° F for 8-10 minutes.
Allow to cool then serve.
Makes 3 dozen.