Brownies!
It's baking season! It's finally cold enough that you don't overheat your whole house by turning on the oven! There are all kinds of baked goods to be made. One of my favorites is brownies! Vanilla Bean Marshmallow Brownies are a twist on the classic.
This recipe came from my grandmother's collection– in the 1970s, they were called 'Glorified Brownies.' And they are indeed glorious! What's not to like here? A delicious brownie with a layer of marshmallows, topped with melted chocolate? Sign me up twice.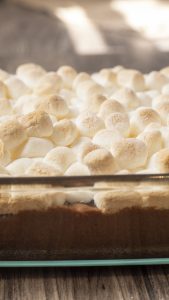 Vanilla Bean
Vanilla Bean Marshmallow Brownies use Chef Shamy Vanilla Bean Honey Butter. It's a delicious butter! There are real vanilla beans inside, providing a fantastic flavor! The sweetness of the honey makes it the perfect butter for baking. Most brownies call for butter and vanilla anyway, so you can kill two birds with one stone!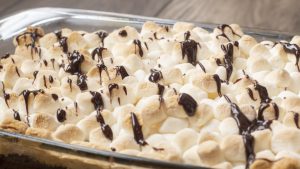 Enjoy baking season!
Try these Puff Pastry Cinnamon Apple Turnovers!
Or get in the holiday season with Holiday Butter Cookies! Try using Vanilla Honey Butter!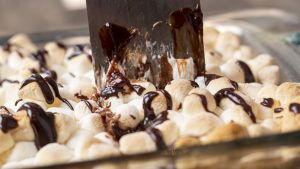 Vanilla Bean Marshmallow Brownies
Course: Dessert, Snacks
Ingredients
Brownies:

1/3 cup cocoa

2 cups sugar

4 eggs, added one at a time

2 scant cups flour

1 cup chopped pecans (optional)

1 lb. mini marshmallows

4 oz. chocolate chips
Directions
Preheat oven to 350° F.
In a large mixing bowl, cream together butter, cocoa, and sugar. Then add eggs, one at a time, until the mixture is smooth and creamy.
Add flour and pecans, and mix until incorporated.
Pour brownie mixture into a greased 15×12 sheet pan, and bake at 350° for 25 minutes.
Spread marshmallows on top evenly, then bake for another 8-10 minutes.
Allow to cool for at least an hour.
Melt the chocolate, stirring frequently. Drizzle over the top. Serve.