Tabouleh
Summer is here and lettuce is ready in the garden!  That means it's time for salad. One of my very favorite salads is a traditional Lebanese salad called tabouleh (tab-oo-ley) and this recipe was brought to the states in the 1920's by my Great-Grandmother. Now I hate to start off anything with an apology, however I must apologize to my gluten-free friends: this is not for you.  It's LOADED with gluten in the form of Bulgar Wheat, which is an ancient grain superfood that used to be considered sacred (around 2800 B.C) due to its resistance to insects and spoilage. Therefore, the very thing that makes this salad, well, this salad, is the bulgar wheat.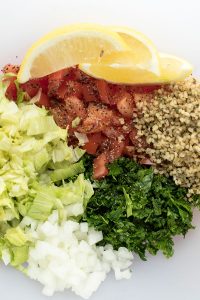 Good for You
Tabouleh is highly nutritional so it's high in fiber and good carbs, lycopene, Vitamins C & K.  Isn't it already sounding complicated?  Don't worry, it is extremely simple to make, yet quite tasty.
There are many variations on tabouleh salad, and some don't even really use lettuce, however our family tradition is to finely chop iceberg lettuce.  In most salads my least favorite lettuce is iceberg, but due to tradition I haven't tried anything else- feel free to use a different crunchy lettuce like romaine and make it even healthier!  [update] Grandma has since told me that my great-grandmother used romaine in her original salad too, but apparently they grew up using iceberg because it was cheaper.
In conclusion:  Simple. Delicious. Healthy.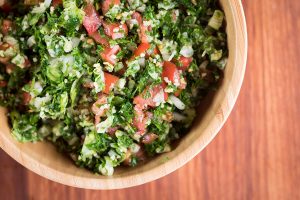 Tabouleh – Easy to Make Lebanese Salad
Course: Sides, Salads
Ingredients
2 Bunches Parsley

1/2 head iceberg lettuce

1 Small Sweet Onion

1 Tomato

Sprig Fresh Mint

1/4 C Bulgar Wheat

2 Lemons

Salt and Pepper

Olive Oil
Directions
Cover bulgar wheat with juice from 1 lemon and warm water.
Let sit for 60 minutes or until wheat is soft.
Finely mince lettuce, parsley, onion, tomato and mint.
Combine all ingredients with lemon juice, olive oil and salt and pepper to taste.
Serve with Lebanese Bread or Pita.