Strawberries and Cream
To me, there's nothing that screams summer more than strawberries and cream! So it's the perfect time of year to make a strawberries and cream cake!
I absolutely LOVE this cake. It's got a beautiful strawberry flavor, topped with fresh whipped cream and fresh, sweet strawberries.
I dare you to only eat one piece. Seriously, I dare you.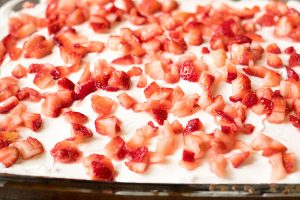 Cake
Cake can be a difficult thing to get exactly right. So it's so important to keep an eye on your oven when baking. Each oven is a little different, and baking times may vary. The amount of time between a cake that's done and a cake that's over baked and dry is pretty small, so it's a good idea to stay close during the bake.
As for flavor, Chef Shamy Strawberry Honey Butter is here to impart an amazing strawberry flavor into the cake. Honestly, there's something about a cake made with butter that's so delicious.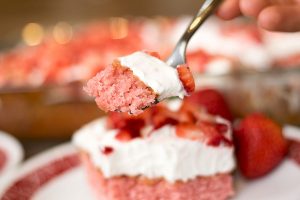 Toppings
But, my favorite thing about this dessert is the topping. A lot of strawberries and cream cakes will throw some frosting on top, but I reject that idea! It's strawberries and cream, so we've gotta have cream!
To me, cakes are so refreshing with just whipped cream instead of frosting. And it's up to you– put as much whipped cream on top as you want. Come on, there's no such thing as too much!
Don't forget to toss your strawberries in a little bit of sugar! Not only does it sweeten them, it creates a glaze that will sit on top of the cream. YUM!
Enjoy!
Strawberries and Cream Cake
Strawberries and Cream Cake
Prep time:
Cook time:
Total time:
Ingredients
CAKE
2 cups sugar
2 eggs
2 tsp lemon juice
1 cup buttermilk
3-4 drops red food coloring
2¼ cups flour
5 T cornstarch
3 T dry strawberry jello mix
½ tsp baking soda
¼ tsp salt
CREAM
1 pint heavy whipping cream
2 T powdered sugar
TOPPING
1-2 cups diced strawberries
1 T sugar
Instructions
Preheat oven to 350° F.
In a large mixing bowl, cream together Strawberry Honey Butter and sugar until light and fluffy.
Add eggs and lemon juice, and mix.
Beat in buttermilk and food coloring (if desired).
In a separate bowl, mix dry ingredients together: flour, cornstarch, jello mix, baking soda, and salt.
Gently sift dry ingredients into the wet ingredients and mix until just combined. Don't overmix!
Pour batter into a greased 9x13 pan, smoothing out the top.
Bake at 350° for 30-40 minutes, or until a toothpick comes out clean.
Meanwhile, beat the whipped cream and sugar together until holding semi stiff peaks.
Then, stir the diced strawberries and sugar together and let sit for at least 30 minutes.
Allow the cake to cool completely, then frost with the whipped cream. Arrange the diced strawberries on top.
Serve.