Kebabs: Steakhouse Edition
We've already done a kebab recipe. But this one was so delicious, and so different, that I thought it merited another post.  The major difference is the butter– for these kebabs we used Chef Shamy Steakhouse Butter. I love this butter just as much as the Garlic.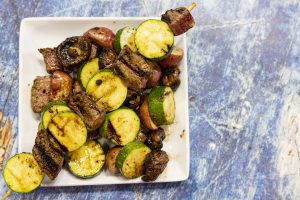 Kebabs with Steak
The other obvious difference, of course, is using steak as our protein. Unlike chicken, you don't have to be as concerned with cooking steak all the way through. Now, I know there are those of you that will only eat steak well done. You do you. But I prefer a nice medium to medium-rare, and grilling is actually a perfect way to get that. Flip once and your steak will be cooked perfectly.
The potatoes can be tricky as well. I can guarantee that if you leave the kebabs on the grill long enough for the potatoes to be cooked all the way through, your steak will be tough and chewy, and your vegetables will be shriveled. Our solution: cook your potatoes for about five minutes in the microwave before you skewer them. That will allow for all of your ingredients to be cooked at the same time.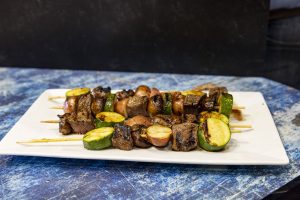 Choices
We beefed up (haha) our Steak and Potato Kebabs by adding mushrooms and zucchini to the mix. You can whatever you want. That's the beauty of the kebab! Go to the produce section of your local market and get whatever's in season!
Here's the Grilled Chicken and Vegetable Kebabs I referred to.
And here's a list of 16 Easy Side Dishes for Kebabs! Enjoy!
Steakhouse Steak and Potato Kebabs
Course: Dinner
Ingredients
1 lb steak, cut into cubes

1/2 lb mushrooms, stems removed

1 zucchini, cut into squares

1 lb baby potatoes, cut in half
Directions
In a microwave safe bowl, microwave potatoes for 5 minutes, or until just soft
Skewer steak, potatoes, zucchini, and mushrooms
Grill on medium heat
Brush Chef Shamy Steakhouse Butter on the kebabs
Flip
Brush again with Chef Shamy Steakhouse Butter
Flip and brush as many times as needed to reach desired cooking on the steak