Cheese Ball!
Guys. Cheese!!!! Something we can all gather around and agree is delicious. A cheese ball is a wonderful thing– if it's made correctly. Not everyone can just whip up a cheese ball and call it a successful thing. You've got to have the right cheeses, to start. And no problem there with three creamy, delicate cheeses: classic Old English, Blue Roka, and of course, cream cheese. The mix of the cheeses is to die for– and then once you add the salt and pepper and Worcestershire– Yummy!
Parsley and Pecans
Good cheese balls have a lovely crust on the outside to help the ball hold its shape and add some texture. And while pecans and parsley may be an unusual combination to throw on the outside, boy does it work! The pecans add a lovely nuttiness against the parsley wonderful herb-alicious flavor. And it adds a different texture that works super well.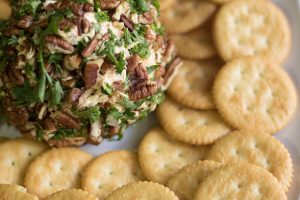 The Perfect Party Food
Cheese balls are the absolute perfect thing to serve for a party. It's a great bite size appetizer that full of flavor. It also has the added benefit that everyone will love it, because, come on. I think the best thing for entertaining are fun, tasty, and easy to eat. You could serve this with crackers, or chips. Or take the healthier route and serve it with some carrots or celery sticks. What ever you choose, this will become a go-to appetizer for you and your family and friends.
Here's a couple more ideas if you're looking for some party foods in addition to this Cheese Ball:
Try our Fresh Garlic Bread Caprese, a light and flavor packed garlic bread variation!
Or have a go at these Cocktail Meatballs!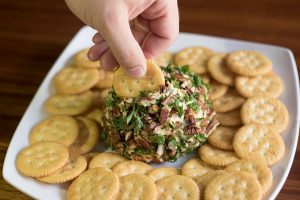 *Photos courtesy of Standford Investment Systems, all rights reserved
Easy to Make Pecan Cheese Ball
Course: Sides, Snacks
Prep time
2
hours
15
minutes
Ingredients
2 5oz Old English Cheese Spread

1 5oz Blue Roka Cheese Spread

2 8oz packages of cream cheese

1/2 tsp Citric Acid (or substitute a Tablespoon of Vinegar or Lemon Juice)

1/4 C Heavy Cream

1/2 tsp Black Pepper

1/2 tsp Salt

1 T Worcestershire

1/4 C finely minced Onion

1 Bunch Fresh parsley (minced)

1 C Pecans (finely chopped)
Directions
Combine cheeses and spices (except parsley). Mix thoroughly.
Chill 1-2 hours until firm
Mix pecans and parsley
Using two serving spoons, form cheese into softball sized balls
Roll each ball in pecan mix until completely covered
Serve with crackers or vegetable sticks