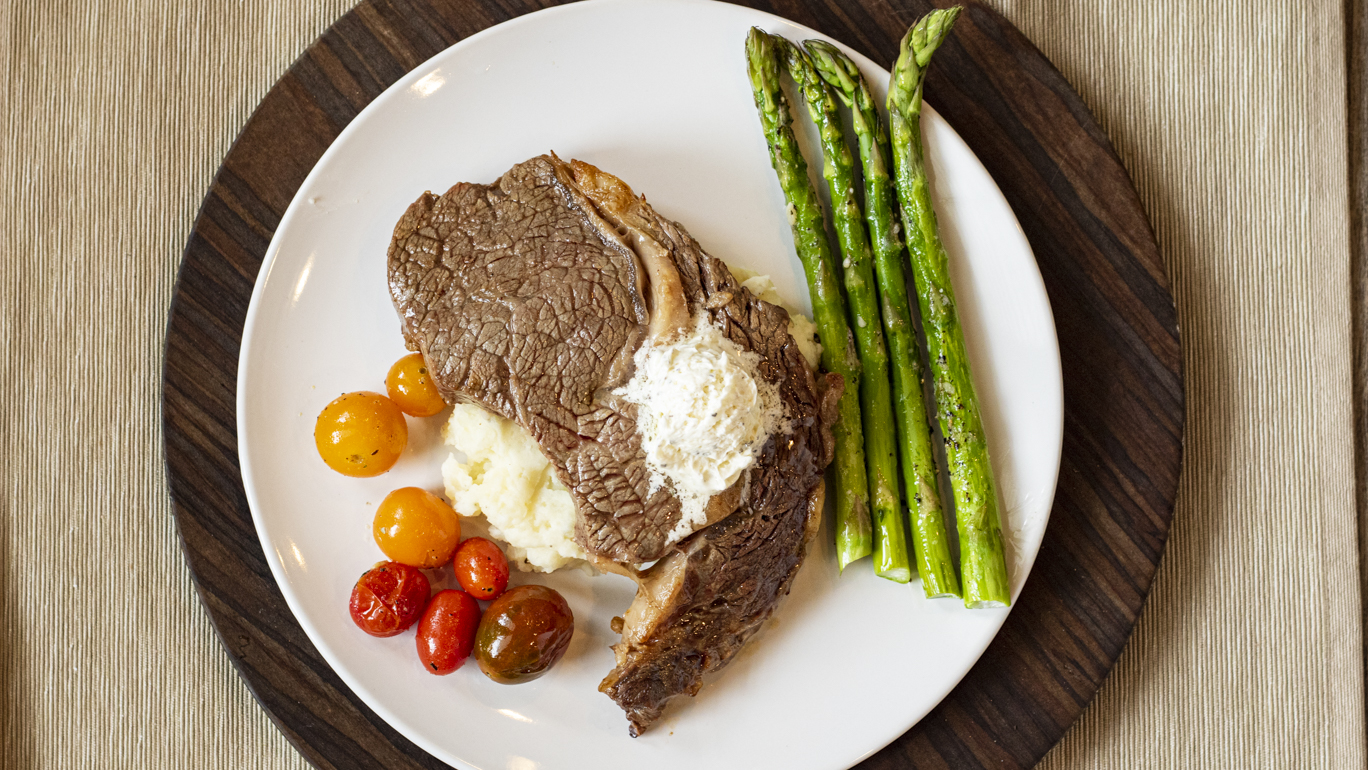 Steak Dinner
Is there anything better than a good steak dinner? I don't think so! But when going to a restaurant, I've found that unless you're willing to spend $60 a plate, you end up disappointed. But it doesn't have to be that way! You have have a delicious steak at home, sides and all!
Our recipe can be used for a romantic Valentine's Day dinner, a celebration, or just a regular dinner. The recipe is meant for two, but if you need to feed four, just double the recipe.
But on any of those occasions, it's still important that the process is easy. And it is; let's talk through it.
Steak
Steak is actually not that difficult to prepare, as long as you have the correct equipment. I recommend a cast iron skillet, and a reliable meat thermometer.
Season your meat with salt and pepper, and let your oil heat in the pan. You want it to be super duper hot, otherwise you won't get a good sear. Get that sear on both sides, then finish in the oven. Depending on the thickness of your steak, and the way you like it cooked, it might not be very long. That's where your thermometer comes in. Cook it to the temperature you like it.
Most important is to let the steak rest. Put a big dollop of Chef Shamy Garlic Butter or Chef Shamy Black Truffle Butter on top as it rest. It will melt and impart delicious flavor.
The Sides
Our sides are mashed potatoes, asparagus, and roasted tomatoes. The mashed potatoes are pretty straightforward. We make sure they're extra creamy by adding Garlic Butter, sour cream, and milk.
The asparagus and cherry tomatoes are roasted in the oven, again flavored by Garlic Butter.
Enjoy!
Steak Dinner for 2
Prep time:
Cook time:
Total time:
Ingredients
For the steaks:
2 steaks
Salt and pepper, to taste
2 T olive oil
2 T Chef Shamy Butter (Garlicor Black Truffle), to finish
For the mashed potatoes:
2 potatoes
Salt and pepper, to taste
¼ cup sour cream
¼ cup milk
For the veggies:
8 stalks asparagus
1 cup cherry tomatoes
2 T Chef Shamy Garlic Butter, melted
Instructions
To make the steak:
Preheat oven to 450° F.
Season steaks with salt and pepper. Heat oil in cast iron pan until VERY hot. Sear both sides 3 minutes. Finish in a 450° oven until it reaches your preferred temperature.
Rare: 123°
MediumRare: 128ˆ
Medium: 138°
MediumWell: 148°
Well: 158°
Rest steaks with a dollop of Chef Shamy Butter on top.
To make the mashed potatoes, peel and quarter potatoes. Place in pot and cover with water. Bring to boil, and cook until potatoes are fork tender. Drain and place cooked potatoes back into the pot. Season with salt and pepper, then mash in Garlic Butter, sour cream, and milk.
To make the veggies:
Preheat oven to 400° F. Place asparagus stalks and cherry tomatoes on a baking sheet. Brush with melted Garlic Butter. Bake at 400° for 10 minutes.
Plate entire dish. Mashed potatoes in the middle of the plate, steak on top, asparagus on one side, and cherry tomatoes on the other.