Tacos
Shrimp Tacos are the best kind of tacos! Some people may disagree, but when the shrimp is well cooked, there's nothing better. Add a delicious homemade slaw and a spicy mayo sauce, and this recipe shapes up to be an amazing, easy dinner!
Tacos have become a staple in many households for 2 reasons. The first is that they're easy to make! Shrimp tacos are the easiest, because shrimp are so quick to cook; certainly faster than chicken or pork. The second reason is that tacos are a really versatile dish– we've already mentioned three different meat options, and there are a thousand different combinations are toppings. Cheeses, vegetables, sauces– there are lots of way to customize tacos to your personal taste.
So as we discuss this recipe, remember that you can substitute here and there, or add anything else that you think will taste good!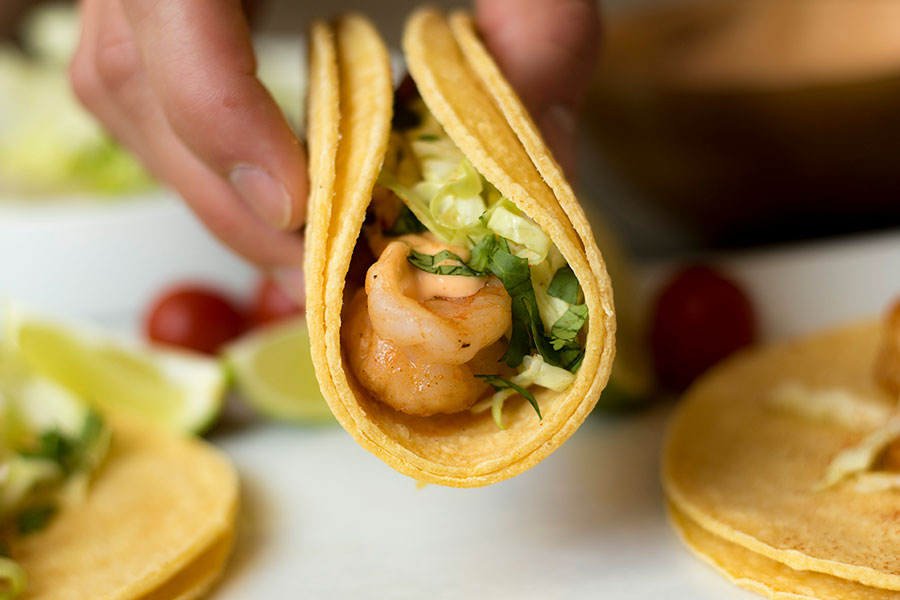 Shrimp
Not everyone likes shrimp– to those people I say, "Have you had good shrimp?" Shrimp, while fairly easy to make, can be overcooked and rubbery if you aren't careful. They really only take a few minutes to make.
If you can't find fresh shrimp, or fresh shrimp are expensive, it's totally okay to use frozen. Make sure they are completely thawed, peeled and deveined before cooking.
Then throw them in a skillet with Chef Shamy Garlic Butter! Our Garlic Butter is the secret to delicious shrimp– it's how to make frozen shrimp taste amazing! Add a dusting of paprika, a sprinkle of cayenne pepper, some salt and pepper, and you're done! Don't overcook them! 90 seconds on each side should be enough!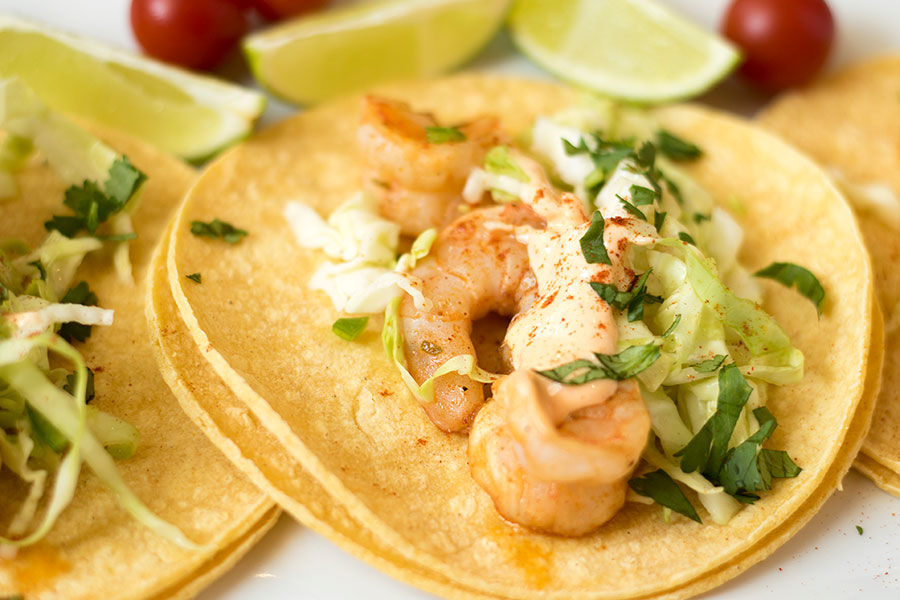 Slaw and Sauce
Do you have to make a homemade cabbage slaw and your own sauce? Nope. But you should when they're this easy and tasty! A traditional shrimp taco has a slaw and sauce– so why not be traditional for once?
Slaw is easy to make. Cabbage, jalapeno, sugar, some vinegar, and lime juice. Mix it up and let it sit. Letting everything marry together for about 30 minutes make the slaw more slaw-y. Have I invented a new word? Probably not.
As for the sauce, it couldn't be any more simple. It's literally just mayonnaise and Sriracha mixed together. I like it because you can control the heat. If you want more spice, add more Sriracha. Less spice, less Sriracha.
Make every Tuesday Taco Tuesday!
Enjoy!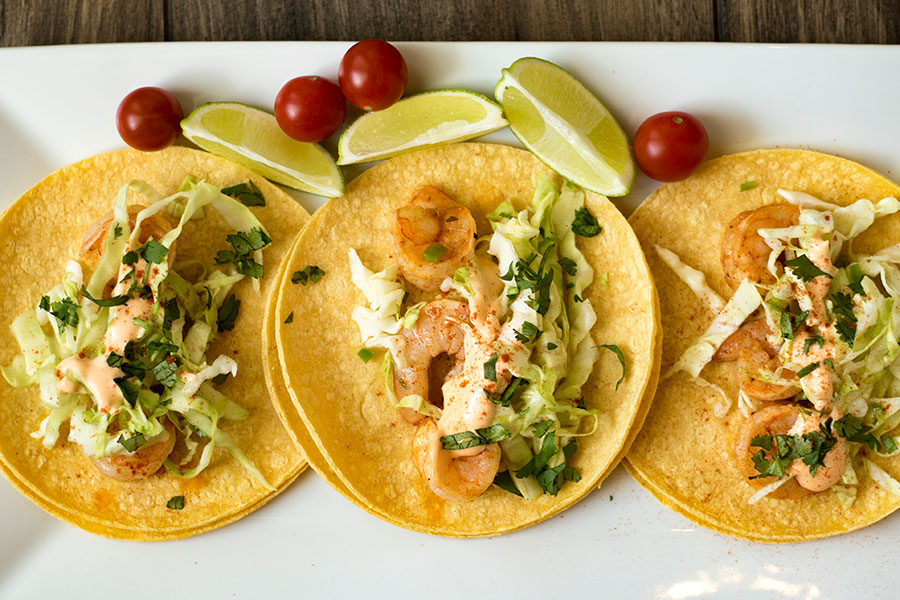 The Recipe
Shrimp Tacos with Spicy Sauce and Cabbage Slaw
Course: Dinner
Ingredients
8-12 soft corn tortillas

For the Shrimp:

1 lb shrimp, peeled and deveined

1 tsp paprika

¼ tsp cayenne

Salt and pepper, to taste

For the Sauce:

½ cup mayonnaise

1 T Sriracha Chili Sauce

For the Slaw:

1½ cups finely shredded cabbage

1 jalapeño pepper, diced

1 T apple cider vinegar

½ T sugar

1 T fresh lime juice

fresh chopped cilantro, to taste
Directions
In a large mixing bowl, prepare the slaw: mix together cabbage and jalapeno. In a small bowl, whisk together the vinegar, sugar, and lime juice. Pour over vegetables and mix. Add cilantro to taste. Allow slaw to sit for 30 minutes while you prepare the rest of the meal.
Over medium high heat, melt Garlic Butter in a skillet. Add shrimp. Season with paprika, cayenne, salt and pepper, and cook for 90 seconds. Flip and cook an additional 90 seconds. Remove shrimp from heat.
In a small mixing bowl, mix together mayo and Sriracha to make the sauce.
Build your tacos with toasted corn tortilla, shrimp, slaw, and sauce. Add additional fresh chopped cilantro and lime juice if desired.