Cereal Bars
These PB&J Cereal Bars are absolutely delicious! A cereal bar is similar to a granola bar, but instead of an oat base, it's a cereal base. It's also not like aRice Krispie Treat– our recipe calls for an oat cereal (Cheerios) instead of a rice cereal.
They're really easy to make, and they don't need to be baked! They hold together well, and can be cut into whatever size bar you want!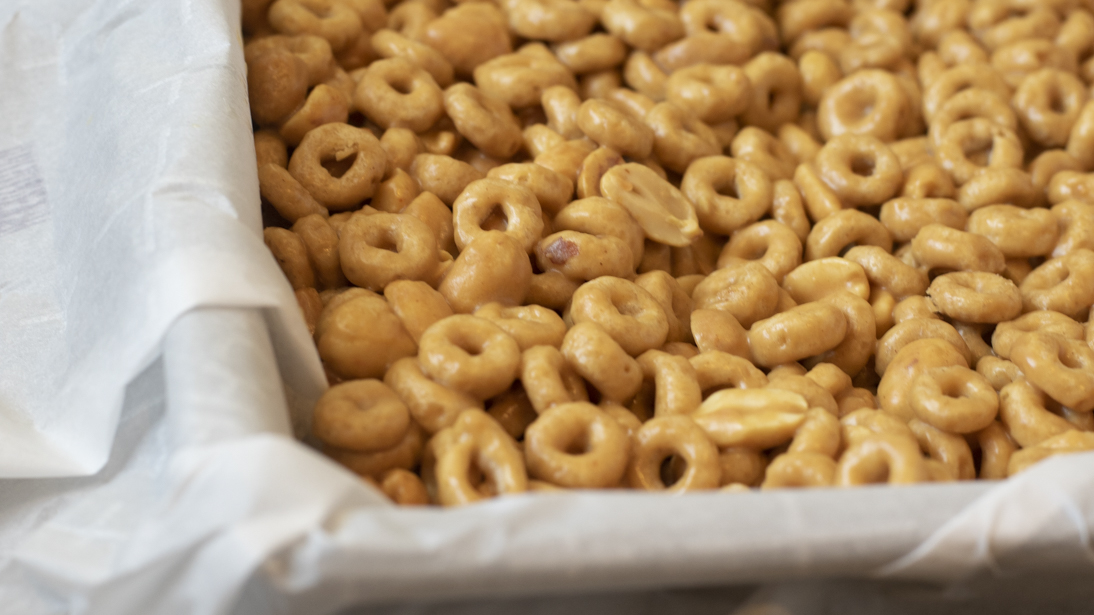 PB&J
It's shorthand for peanut butter and jelly. Everyone loves this classic flavor combination! And when we say it taste like a PB&J, we're not kidding! Let talk through the process.
The dry ingredients are oat cereal and peanuts. Super simple.
Then, peanut butter (are you Team Crunchy or Team Smooth?), honey, and our Fresh Churned Strawberry Honey Butter are melted together in a pot, then poured over the cereal and nuts. Stir it together, then press it into a lined pan! Let it set up in the fridge, and you're ready to go!
The combination of the peanut butter, honey, and Strawberry Honey Butter tastes just like a peanut butter and strawberry jam sandwich! The nuttiness of the peanut butter is really nice with the sweetness of the Strawberry Butter.
A tip: make sure you press the mixture into the pan. Really pack it in there– otherwise the bars may fall apart.
When to Eat
Anytime. That's the short answer.  These bars can be used for so many things. They're great to throw in your kids lunchbox! They also work well as an after-school or pre-practice snack. They could even make a good breakfast on the go. There's no added sugar (it's honey instead), so it's a healthier option than many other choices!
You'll end up making these a lot– they'll disappear fast!
Enjoy!
PB&J Cereal Bars
Course: Snacks, Sweets
Ingredients
4 cups oat cereal

1 cup roasted peanuts

¾ cup creamy peanut butter

¼ cup honey
Directions
In a large bowl, mix together cereal and peanuts.
In a medium pot, stir together peanut butter, honey, and Strawberry Honey Butter together until completely melted and combined. Bring to a boil. Remove from heat.
Pour over cereal and peanut. Stir to combine.
Press mixture into a lined 8×8 pan.
Refrigerate 1 hour or until firm, then cut in 16 pieces.
Serve.